'King Hedley' play dates, times and ticket info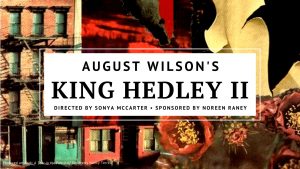 Play:  King Hedley II
Playwright:  August Wilson
Synopsis: Placing his hopes and dreams on the line, a man pieces together his life in Pittsburgh after seven years in prison. Set in 1985, Hedley II features stories of characters initially presented in Seven Guitars and asks the question: will the seeds of neglect, resentment and pride breed pain and self-destruction or can forgiveness and compassion produce healing and self-renovation?
Director:  Sonya McCarter
Cast:
King– Derek Lively
Ruby– Tijuanna Clemons
Mister– Lemec Bernard
Elmore– Dwayne Donnell
Tonya– Cantrella Canady
Stool Pigeon- Chris McCarter
Play Dates and Times: March 7, 12, 13 & 14 at 7:30 with 2:00 p.m. matinees on Sunday March 8 and 15.
Special Events:  There will be a Community Talk-Back with the cast after the closing matinee on Sunday, March 15.
Tickets:  $26 for Non-Members; $22 for Alliance for the Arts Members
Place:  Fould Theatre at the Alliance for the Arts, 10091 McGregor Boulevard, Fort Myers, FL.
February 25, 2020.
RELATED POSTS