'Auditions, Diners and Weddings' consists of trio of one-act plays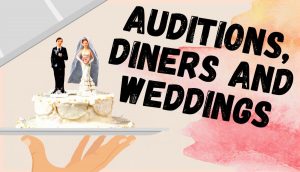 Next up at the Alliance for the Arts is Auditions, Diners and Weddings, a trio of one-act comedies.
The first is The Role of Della by Nina Shengold . It depicts an eager young actress who has her heart set on playing the role of Della, but can she convince a cold, sarcastic director that she's right for the part? The Role of Della presents a riveting and riotous look at the contemporary audition process, giving new meaning to the term "stealing a scene."
After that comes Lives of the Great Waitresses by Nina Shengold. In this one-act comedy, four women of uncommon zen wisdom serve up some very pithy humor as they explain what it takes to be a great waitress.
The final play is The Wedding Story by Julianne Homokay. It's a play told by a storyteller, bride, and groom. The storyteller is reading a story out of a book to an audience of children. Although he wants to tell them a happy love, the bride and groom keep correcting him on how the story really goes. Finally fed up and angry, he tells the children a horrified comical version of the bride and groom's love story that does not have a happy ending.
There will be just six performances, on Thursday, Friday and Saturday, February 11-13 and 18-20 at 7:30 p.m.
Seating is limited and attendees will purchase a pass for a 6×6 square space on the Alliance's GreenMarket lawn. In order to maintain social distancing, all lawn spaces will be 6 feet apart. Guests are required to bring their own lawn chairs and blankets. A pass for a 6×6 square space is $12.50 for 1 person, $25 for two people or $50 for a group of four people. No pets are allowed and seating is limited to inside each square, You cannot buy two squares and then "spread out" across the squares and walkways. Seating is INSIDE the squares only.
Please note that event staff and volunteers are required to wear masks at all times. Attendees are required to wear masks when going indoors to use the bathrooms and when social distancing is not possible. In the event of inclement weather, the Alliance will reach out to you to either refund or reschedule the performance.
February 4, 2021.