'Wedding Story' rebukes Disney's 'Disenchanted' princesses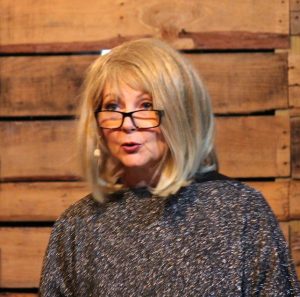 Several months ago (September, to be exact), Lab Theater brought to the screen (in a hybrid filmed theater production) Disenchanted: Stay-at-Home Version, in which eight Disney princesses take old Walt and the Brothers Grimm to task for filling the impressionable young minds of little girls with all that drivel about falling head-over-heels for some dashing young prince, marrying and living happily ever after. Now, compliments of playwright Julianne Homokay, Walt, the Brothers and storytellers of their ilk exact their comeuppance in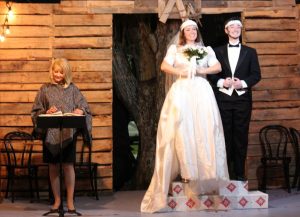 The Wedding Story, which asks whether it's better to tell a truth that draws a horrified gasp or a lie that draws a smile.
Lauren Drexler turns in yet another vintage, picture-perfect performance as a serene, tender-hearted storyteller who is valiantly assaying to tell a group of children a modern-day fairy tale of a bride and groom who meet in high school, fall in love, and marry with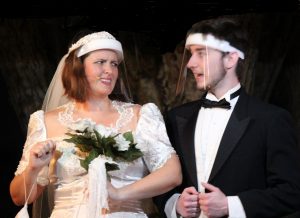 their families' blessings at an old Vermont inn. But in the best tradition of Disenchanted's Snow White, Cinderella and Sleeping Beauty, the Bride and Groom, comically played by Madison Michele Mitchell and Cameron Rogers, are not having it. Refusing to heed the old adage about being careful what you wish for, they keep interrupting and the Storyteller in a persistent effort to temper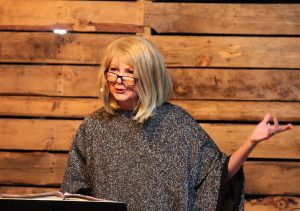 her fantasy with their reality. Finally, flummoxed and perturbed (emotions that Drexler nails with the forcefulness of a Mike Holmes (of HGTV's Holmes on Homes fame)), the Storyteller levels with her bedtime audience.
The bride was 35, not 24; the groom 24 not 27. And they weren't high school sweethearts. They met instead at a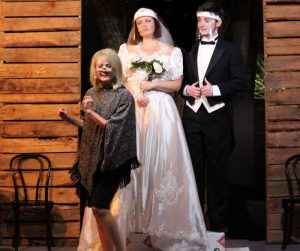 bar and dated on and off for five years before marrying at a drive-thru chapel in Las Vegas. The reception was in the back room at the Star Dust Lounge, and the groom only proposed to keep himself locked in the closet. But he can only delude himself and his betrothed for just so long. He eventually leaves her for a drag queen. Embarrassed and disgraced, she dies alone following an accidental overdose. He fares even worse, being dragged to his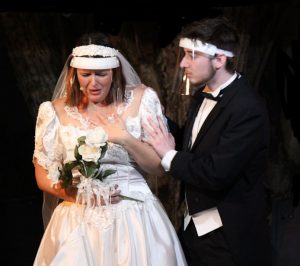 death behind a 4×4 in Wyoming by homophobic rednecks.
It's doubtful that Homokay intended The Wedding Story as a rebuke of Disenchanted, but it does raise an interesting question. How do we strike a balance between inspiring and challenging young minds to reach for the stars and strive not only to realize their full potential, but to attain self-confidence, self-acceptance and happiness and clubbing them with the reality that life is filled with challenges, is rarely fair,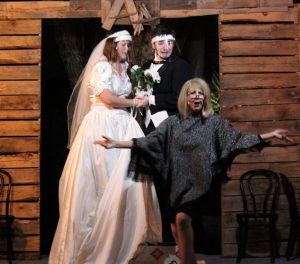 and that relationships take continual care and effort, without which there can be no happily ever after.
It's easy to lose sight of this and the other themes expressed by Honokay in The Wedding Story because of the mounting tension she builds into the plot, the graphic language she employs as the plot unfolds and the horrific denouement that the Storyteller ultimately conveys. It's also easy to lose oneself in the quality of the acting.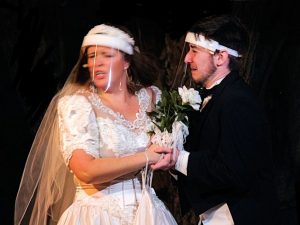 Drexler, Mitchell and Rogers are superlative in their portrayals and delivery. For her part, Drexler takes full advantage of the opportunity to marry benevolence with vengeance tied into a hangman's knot by her sweetly acerbic, rapier tongue [imagine a pissed-off Glinda the Good Witch of the South]. On the other side of that equation, Mitchell and Rogers play the part of a couple of free spirits who've outsmarted themselves to the hilt. You will absolutely love, love, love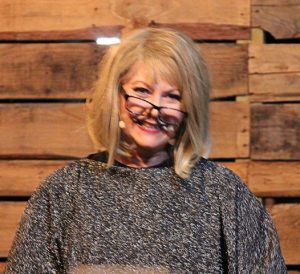 their "oh shit, wait a hot minute" moment when Drexler's Storyteller gives the Bride and Groom exactly what they've been clamoring for – the bitter truth.
BTW, Snow White, Cinderella and Sleeping Beauty, how do you take your dose of reality – straight up or on the rocks?
February 15, 2021.