Galyean, Reed and Sanders star in Alliance's 'Laundry and Bourbon'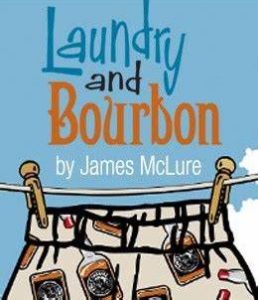 Laundry and Bourbon comes to the Alliance's GreenMarket stage November 19 – 29. Directed by Sonya McCarter, the show stars Dena Galyean, Shelley Sanders and Anne Reed.
The setting for the play is Elizabeth Caulder's porch on a hot summer day in Maynard, Texas, a tiny town plunked down, like so many others of that state, in the middle of a nowhere that seems to consist of burning sun and empty vistas. The action centers on the discontent and hilarious gossip of three small-town wives whose marriages have turned out to be less than they'd hoped.
Elizabeth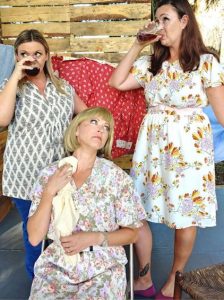 (Dena Galyean) is a housewife whose Vietnam veteran husband has been missing for two days. She is visited by her two gossiping pals, Hattie (Anne Reed), whose rambunctious children wreak havoc wherever they go, and Amy Lee (Shelley Sanders), born into poverty but now married to money. As drinks are imbibed, secrets are revealed.
Laundry and Bourbon furthers the legacy of Theatre Conspiracy at the Alliance for the Arts for producing plays written by female playwrights and featuring strong female characters. In this vein, Producing Artistic Director Bill Taylor designated 2015-2016 as the "Season of the Female Playwright," producing in succession Jessica Dickey's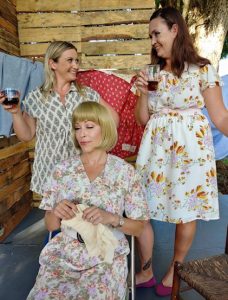 The Amish Project, Jordan Hall's Kayak, Anne Washburn's Mr. Burns: A Post-Electric Play, Lydia R. Diamond's The Bluest Eye, Jennifer Haley's The Nether and Lillian Hellman's Toys in the Attic. Last season, he produced Marian, or the True Tale of Robin Hood, featuring Shelley Sanders in the role of a female Robin Hood. And with Laundry and Bourbon, he brings Southwest Florida theater-goers an all-female show featuring three of Southwest Florida's dominant women actors.
Since relocating to Southwest Florida from Chicagoland, Dena Galyean seems to have a penchant for landing fascinating roles. Among her most recent – and memorable – are Susan B. Anthony in The Agitators and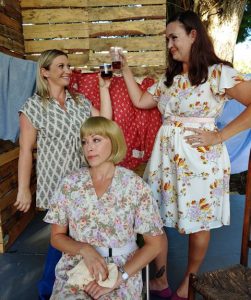 Nora Helmer in Henrik Ibsen's A Doll House for Theatre Conspiracy at the Alliance, and Stella Kowalski in The Studio Players' production of Tennessee William's A Streetcar Named Desire at the Golden Gate Community Center.
A true triple threat, Shelley Sanders is equally adept at dramatic, comedic and musical theater roles. Her astonishing resume includes Columbia in Richard O'Brien's Rocky Horror Show (New Phoenix Theatre), the lead in Marian, or the True Tale of Robin Hood and Minka Lupino in Murderers (for the Alliance), Marjorie in Hand to God (Lab Theater),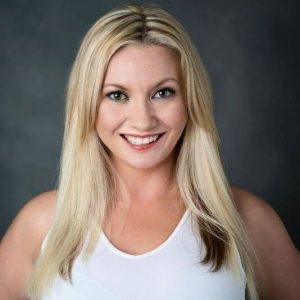 Marjorie Pinchwife in The Country Wife (Theatre Conspiracy at the Alliance), Bitsy Mae Harling in Sordid Lives (Lab Theater), Miss Georgia Katherine Chelsea Hartford in The Taming (Theatre Conspiracy at the Alliance), Lulu in Cabaret (Lab Theater), Cassie in A Chorus Line (Creative Theater Workshop) Dinah in South Pacific (Cultural Park), Grace Farrell and Lilly St. Regis in Annie, Mona in Chicago and Fermina in Man of LaMancha.
Writer and theater professional Anne Reed is actually best known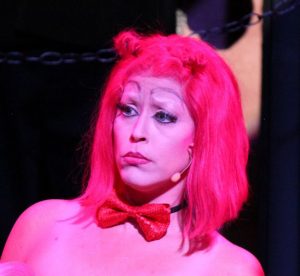 for her involvement in the Southwest Florida Storytellers Project and in Fort Myers philanthropic circles as the genius who wrote the script and assembled the cast and wardrobed the actors for "A Roaring '20s Heist on Wales Drive," the sleuth-style dinner party of the century held earlier this year (just as people were beginning to take notice of the COVID-19 outbreak) at Fran Fenning's home in the fabled Jewett-Thompson House to benefit the Lee Association for Remarkable Citizens (LARC).
Obviously,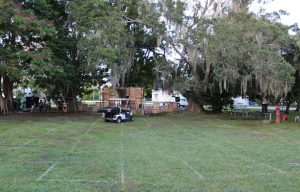 Laundry and Bourbon is poised to be an intriguing and well-acted show.
Go here for play dates, times and ticket information.
October 30, 2020.
RELATED POSTS.