'The Cake' gives theater-goers a lot to sink their teeth into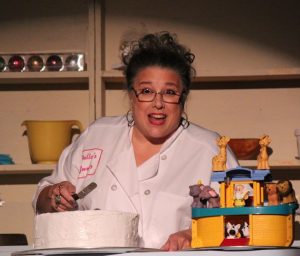 Playwright Bekah Brunstetter's poignant comedy The Cake recently completed and extended run at The Naples Players. Now it's Fort Myers' chance to see what the fuss is all about. As you'll happily discover, there's a lot in this play for theater-goers to sink their teeth into.
Bekah Brunstetter drew her inspiration for The Cake from a 2012 court case that originated in Lakewood, Colorado when Masterpiece Cakeshop baker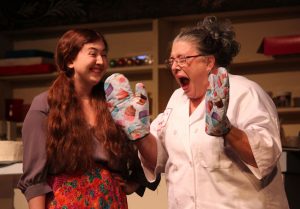 Jack Phillips refused to bake a custom wedding cake for a same-sex couple because it "expressed messages that contradict his religious beliefs." Brunstetter's play neither recreates nor parodies the facts or people involved in that case. Rather, Brunstetter uses this premise to delineate the price that's paid on both sides when love is sacrificed on the altar of religious principle.
At the center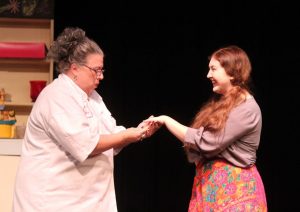 of the story is an amiable North Carolina baker named Della and her best friend's daughter, Jen, who lives in New York City.
When the play opens, Della's biggest problem is getting ready to compete in The Big American Bake-Off, a reality TV show which airs on CBS. But then Jen arrives in her shop to ask her honorary aunt to make a cake for her wedding in the fall. The two are extremely close.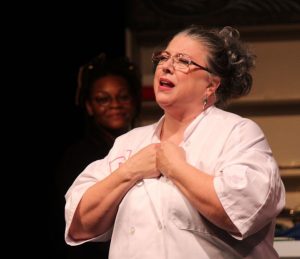 In fact, since her mom's untimely death five years ago, Jen has regarded Del as her surrogate mother. For her part, Del thinks of Jen as the daughter she never had.
No, Jenny Penny! Oooooooh my gooooodness, it's you!! Ha, ha, ha, ha, ha.
But more than the distance from Brooklyn to Winston-Salem separates these two, as we quickly learn when Jen tells Del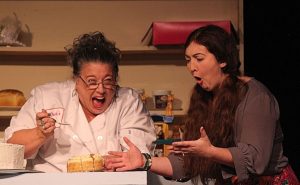 she's getting married … to another woman. This disclosure forces Del to backpedal her offer to make Jen's wedding cake in a disquieting scene that's rife with awkwardness and heartbreak – for both women.
You know what, I am so sorry but, but I think you're right. I am all booked up for October. A lot of fall weddings. Fall is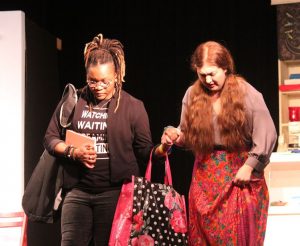 a favorite time for a lot of people. A lot of people like the fall air, apple cakes, hot cider and jumpin' into piles of leaves. 
The Bible condemns gay relationships and, to Del's way of thinking, making Jen's wedding cake would be tantamount to condoning her immorality.
"Della is a person who is steeped in her Faith and her belief system, and it's the way she has lived her entire life," observes Dianne Fussaro, who plays Della.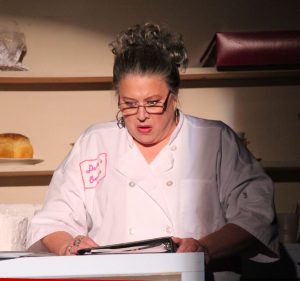 "She really believes that this is the way life should be. Her whole community, everything around her tells her that this is the truth."
In fact, for Del, the guiding principles of Christianity are like a recipe. They're to be followed to the letter, without question or equivocation, lest you ruin the batter.
Ya gotta follow the directions. That's the only way you're ever gonna get that taste. It's the taste of time and obedience. All the scientists in the world could sit in a lab for an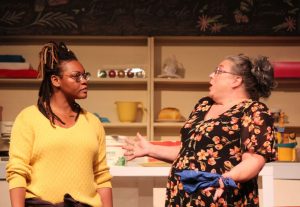 eternity and never re-create it. So if you want results, if you want a cake you could take a nap in, one that you would crawl inside of, one that you would die for, THEN YA GOTTA FOLLOW THE DIRECTIONS!
Jen's betrothed is a gorgeous African-American woman by the name of Maci, brilliantly portrayed by Chantel Rhodes. In addition to being gay, black and female,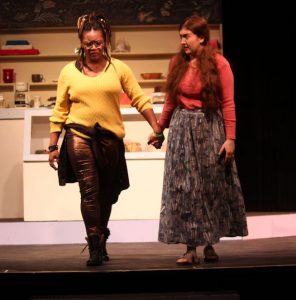 Maci is agnostic, and she challenges Del – and everyone like her – for basing their entire belief system on book that's thousands of years old. In Maci's estimation, this is pure intellectual arrogance and it's high time that it be replaced by tolerance born of Socratic humility.
"She says that in one of her lines," Rhodes amplifies. "Shouldn't we be humble when we're talking about the God of the universe, when we're talking about the Creator or the Almighty or just any force that is just indicative of the difference in people?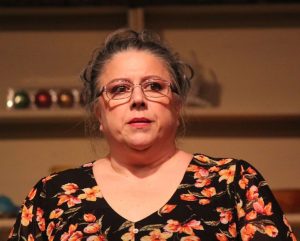 We should have a humble approach instead of feeling like this is the way things should be, this is the way things have always been, and this is the way things will be going forward."
In this view, Maci represents Millennials and, to an even greater extent, Generation Z. Almost half are nonwhite; a fifth identify as LGBTQ; and more than a third describe themselves as secular – unaffiliated with any religious tradition. While they may understand,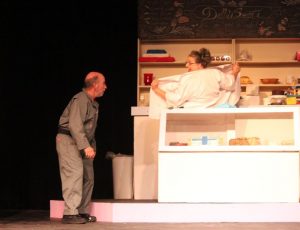 they increasingly question the religious convictions of older white Christians, the politicians they elect, and the social priorities they are legislating in laws like Florida's "Don't Say Gay" bill.
Notwithstanding their differences, Del, Maci and Jen push themselves and each other to find common ground:
"Often times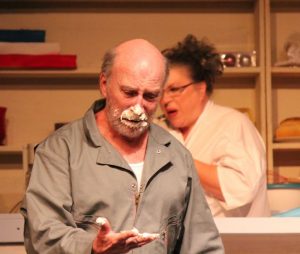 people are in a position where they have to choose or where they feel conflicted inside and I think [The Cake] gives us an opportunity to re-evaluate what it is that we believe and it gives us an opportunity to ultimately make love and put love at the forefront of our minds," Chantel Rhodes remarks.
Dianne Fussaro agrees:
"It has really become apparent in the world that we really do live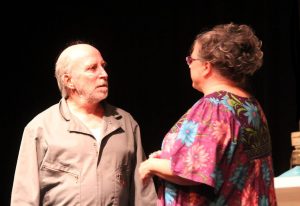 within our tribes and we don't really leave our five block radius when it comes to our beliefs. But then suddenly there's somebody right next to us who is completely different and so, yes, that is what the play is trying to say, is that why can't we get along and why can't we learn tolerance for each other and our differences because we are not all cookie cutter. We're not all exactly alike."
But no
matter how hard you try, sometimes it's just not possible to find common ground with someone to holds intransigent, inflexible religious, political or social views. That's precisely what Jen discovers, and it puts her in the unenviable position of having to choose between people she's known and loved for such a large part of her life and the woman she now considers family.
I feel like I am straddling two worlds so far apart that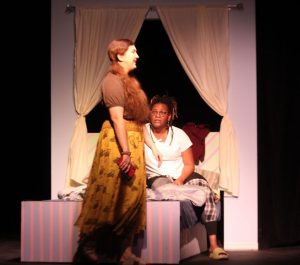 I have a tear in me down through my cunt up to my eyes. Yeah. I said the word cunt. It's a word I've always been afraid to say. I am so sick of being scared.
Madelaine Weymouth plays the part of Jen with an open, raw, heart-on-her-sleeve vulnerability that is guaranteed to reduce even the most hardened audience members to a puddle of tears  – not once, but a handful of times.
"Jen takes
a lot of hits emotionally in this show," Weymouth states. "She is trying to serve as this mediator or diplomat of viewpoints, and this go-between with Della and her and Maci, with her trying to play mediator from both sides. The reward that she gets for that for a significant amount of the play is rejection."
But although she cannot bring herself to accept Jen's sexual orientation or choice of life partner, she suffers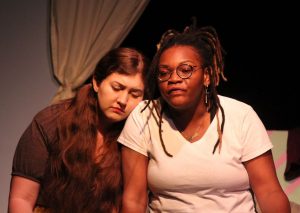 as a result of this inability.
"[S]he says that she has a brain and a heart war," Fussaro points out. "She loves this girl like her child and wants to be there for her but, um, all of the peer pressure and pressure from her church and her husband and everything she's been taught keeps stopping her. So she's like a car engine that can't really start but she keeps trying to get it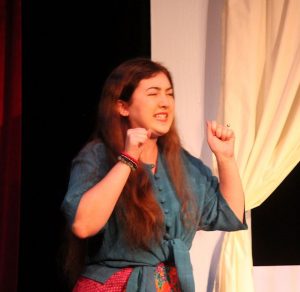 started."
In the end, Jen finds that there's one kind of rejection that's worse than Della's – and that's rejecting who she really is.
Maci is the only person I've ever loved. I tried not to love her but I do. She's beautiful and strong. I don't know how to turn myself off, but she puts an arm over my chest and I just sink into sleep.
"Eventually, she has to make a choice because she can't do the caring for somebody else," Weymouth concedes.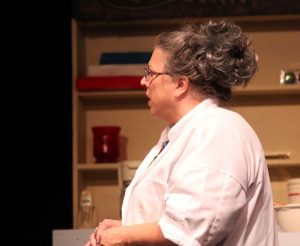 "She eventually has to love herself for who she is and if people cannot do that then she comes to the understanding that they don't care for her and they're not good for her in her life. Which is a tough decision to come to."
And it's a tough role to play because of the emotional toll the part exacts.
"[But] if Stephanie Davis asks you if you want to be in something, the answer is yes," Weymouth adds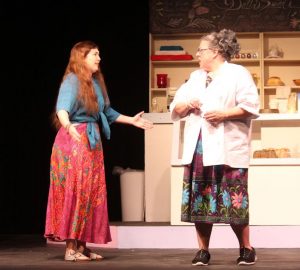 with a breezy laugh. "Stephanie doesn't miss. She's really great at picking scripts that make us think. She does what a good vegetarian restaurant does. She gives you something that is good for you but also makes you enjoy it. I think that's what The Cake does. It tackles incredibly difficult timely topics, but it doesn't do it in a way that makes you think you're watching an after-school special. Every person on stage feels real and feels like you know them, and it's a joy to act in a role that is so fully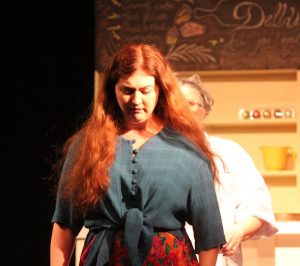 developed."
The Cake plays at the Alliance for the Arts this weekend and next. Go here for play dates, times and ticket information.
Della: Jenny … Jen, I would love more than anything, truly, anything in this world to make your cake, but …
Jen: I don't need you to make me a cake. I need you to love me.
Della:  I do love you, so much that this is killing me. So I have been searchin' my heart, but I just can't support what you're doing. I am so sorry to say that.
Jen:  I tried not to love her. I tried so hard, but I do love her so much….
Della: I know, honey, but it just does not sit right with me.
Jen: Well, then, I don't think I can have you in my life any more.
Della:  Oh! No! Sweetie, wait.
Jen: No, I think that's the way it has to be right now.
Della: Well, if that's the way you feel.