Theatre Conspiracy New Play Contest winner 'Noli Timere' opens in Foulds Theatre May 5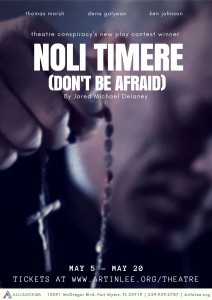 Jared Michael Delaney's Noli Timere (Don't Be Afraid) won Theatre Conspiracy's 2016/2017 New Play Contest. The play opens in the Foulds Theatre at the Alliance for the Arts on May 5.
Noli Timere tells the story of a newly-ordained priest and his sister who are made to confront something from their past when a strange man knocks on the door of the rectory late one night. The ensuing confrontation leads them both into a frightening world that may, in fact, just be our own.
Now in its 18th year, Theatre Conspiracy's New Play Contest provides opportunities for audiences to get involved with play selection and production. The three finalists for this year's New Play Contest were selected from entries submitted by more than 600 playwrights throughout the United States, Canada, Israel, Thailand and England. An excerpt from each of the finalists was presented as a staged reading, without costumes or props. Following the final reading, the audience voted for the play they wanted to see performed. Noli Timere (Don't Be Afraid) was the chosen for this honor.
"New playwrights need support and we're honored to use this opportunity to propel the future of theatre," says Theatre Conspiracy Founder and Artistic Producing Director Bill Taylor, who directs the production. "The script of Noli Timere captivates you from the beginning and you're left wondering what's coming next."
The cast features local actors Thomas Marsh (as Thomas), Dena Galyean (as Mary) and Ken Johnson (as the man who comes calling).
Marsh has been a regular face at Theatre Conspiracy over the past two seasons. He was in The Country Wife earlier this season. Prior to that, he appeared in Toys in the Attic, Mr. Burns: The Post-Electric Play and The Nether, where he had a break-out performance as a Victorian dandy named Woodnut, an undercover agent who enters a virtual world called The Hideaway to investigate claims that paying customers go there to have sex with, murder and dismember the prepubescent virtual children who reside there.
Dena Galyean was in The Country Wife with Marsh. Prior to that, she played Elaine Navazio in Last of the Red Hot Lovers for the Off-Broadway Palm, the sexually-charged preacher's daughter, Elaine Harper, in Arsenic and Old Lace for the CFABS Community Players, the indignant, conflicted and quietly resigned victim of Santa's sexual harassment and assault in Lab Theater's 2015 Christmas hit The Eight: Reindeer Monologues, and Louise in Lab Theater's 2015 summer stock production of Steve Martin's The Underpants.
Ken Johnson was last seen in Theatre Conspiracy's 2014 production of Relatively Speaking.
April 13, 2017.
RELATED POSTS.