'Noli Timere' play dates, times and ticket info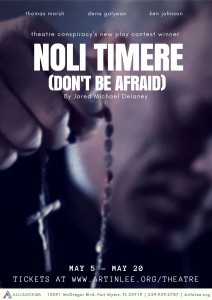 Play:  Noli Timere (Don't Be Afraid)
Playwright:  Jared Michael Delaney
Synopsis: Noli Timere tells the story of a newly-ordained priest and his sister who are made to confront something from their past when a strange man knocks on the door of the rectory late one night. The ensuing confrontation leads them both into a frightening world that may, in fact, just be our own.
Play Dates and Times:  May 5 through May 20 on Thursdays, Fridays and Saturdays at 8:00 p.m. with one Sunday matinee on May 14 at 2:00 p.m.
Director:  Producing Artistic Director Bill Taylor
Cast:  Thomas Marsh, Dena Galyean, Ken Johnson
Ticket Info:  $24 ($22 for Alliance members; $11 for students with ID); Thursday nights are "buy-one-get-one-half-off"
Where: Foulds Theatre at the Alliance for the Arts, 10091 McGregor Blvd., Fort Myers
Info: Call 239-936-3239 or visit www.ArtInLee.org/Theatre.
April 13, 2017.
RELATED POSTS.
Theatre Conspiracy New Play Contest Winner 'Noli Timere' opens in Foulds Theatre May 5