Erin Coleman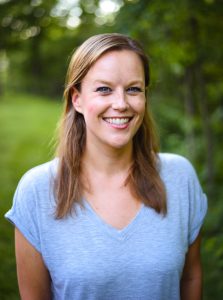 Erin Coleman died at 8:43 p.m. on June 16th from injuries she sustained when a southbound driver on I-75 lost control of his pickup truck, crossed the median and struck her head on. She had just left rehearsal at Fort Myers Theatre, which included a workshop by Michael Blevins, the longtime Broadway veteran who played the part of Mark Anthony in the 1985 film adaptation of A Chorus Line starring Michael Douglas.
The loss to our local theater community is immeasurable. It wasn't just that Erin was a true talent. She possessed a sense of history that gave her rare perspective about the roles she reprised and the shows in which she performed. More, she willingly shared that context with younger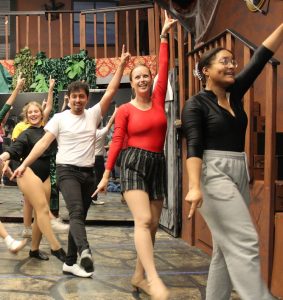 cast members, inviting them to benefit from her experience, which included eight years in New York community theater at venues like the St. Jean's Players in Manhattan and The Heights Players in Brooklyn. While she never performed on Broadway, she was Broadway adjacent, meaning that she'd watch all kinds of aspiring actors line up for auditions while she waiting for voice lessons.
"I remember seeing these kids fly in for the day from Texas or wherever," said Erin in an interview she gave during a break in what turned out to be her final rehearsal. "They'd fly in,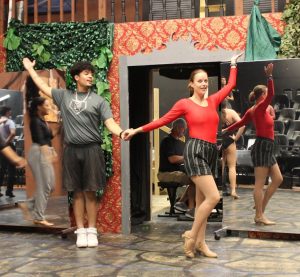 do the audition and then fly home."
"They were so [young], probably 18, but maybe not," Erin added somewhat nostalgically. "Actually, it depended on the role, but when you're talking about chorus lines, it was still pretty young. So there's something of an historical note to A Chorus Line because of the way the audition process has changed over the past 40 or so years."
Possessing the heart of an instructor, Erin explained those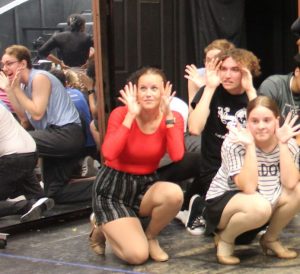 references "to some of the kids."
During the workshop, Michael Blevins emphasized to those same kids that their characters in A Chorus Line weren't auditioning for the fun and glamor of being in a Broadway show. Living in New York was expensive, even in the '70s, and they needed to pay their rent, buy groceries and pay for their acting, dance and voice lessons. "These people are young, most of them, I think, teenagers and stuff who haven't been out on their own yet," Blevins said thoughtfully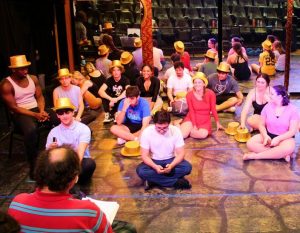 a short time after Erin had completed her interview for the show.
For her part, Erin sought to impress a different reality on her young cast mates, most of whom travelled to the theater from the comfort of their homes in their own or their parents' cars. But the theater district in Manhattan in 1975 (which was the timeframe in which A Chorus Line takes place) was dicey.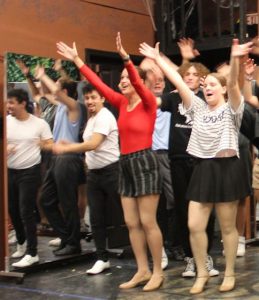 A "survival guide" distributed by cops and firefighters at the City's airports in 1975 warned visitors to stay off the streets after 6:00 p.m., travel by taxi and never on foot if they had to go out at night, avoid public transportation (because subway crime was so high, the City had to close off the rear half of each train in the evening so passengers could huddle together  to be better protected) and hold handbags and luggage firmly with both hands, even in restaurants and cocktail lounges.
"It was a grittier time for New York," Erin summarized. "And it was a grittier time in theater. You [get a feel for this in] the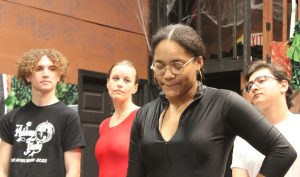 stories the Chorus Line auditioners tell [Zach]. They're all coming from different families and different backgrounds and different locations, and they're all just 'whatever it takes,' you know. They're just focused and there is a grittiness … I don't know what the word is … a stubbornness to try to make it."
Director/choreographer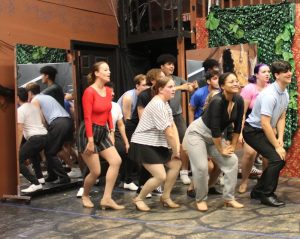 and Fort Myers Theatre co-founder Michelle Kuntze cast Erin in the break-out role of Cassie Ferguson. She was extremely well-suited to play Cassie. Like her character, Erin was older than the other auditioners. At forty, she was twice the age of most of the "kids" in Kuntze's cast. While none of them had anything on her when it came to singing, Erin admitted that dance wasn't her forte and Chorus Line is, in the final analysis,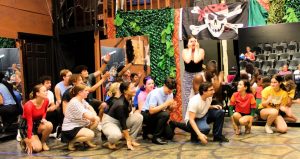 all about the dance.
"I feel my age a little bit," Erin acknowledged, breaking into a laugh that reverberated through the small room in which the interview took place. "A lot of the cast in this particular version of Chorus Line are very young. Most of them are either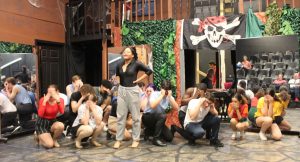 high school or college students, and I'm an adult. I have a full-time job, a husband. So it's been interesting because I do have affinity to Cassie. I do feel, some of my reactions to watching the kids learning everything. I feel that. I feel that they're in a different place than I am in life and it's exciting to see. It's
exciting to remember what it was like to be that age and get to be given these opportunities. So that's been fun. That's been definitely something that's given me some insight."
Erin had affinity for Cassie Ferguson for yet another reason. Once upon a time, Cassie was at the top of her profession. She'd worked her way up through the chorus to principal, and then left New York for California to pursue a career in film.
"Life is hard and it didn't quite work out the way she expected, so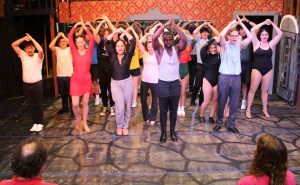 she's back in New York and humbling herself to … to see if she can get a spot back in the chorus line with the dancers. There's a hardness to her, not too much, but there's a little bit of an edge to her because she has been through it [laughing] to get where … all the years in California and then she's back in New York and having to start over.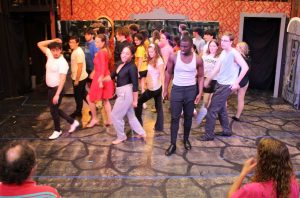 She's been through a lot. So there is a little bit of an edge there. But thank God she has it because that's probably what's keeping her going, you know."
Erin knew what that's like. After relocating from New York to Southwest Florida, she too found it necessary to start at the bottom again. And like Cassie,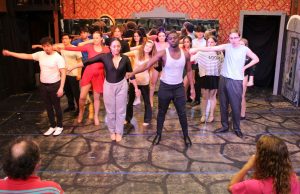 she was thrilled to land a role in the chorus. In Erin's case it was as one of the ancestors in The Addams Family Musical. She embraced the role. In fact, you could read the enthusiasm and, yes, appreciation in the features of her pancake white Society Girl face. She would have undoubtedly transferred those very emotions to Cassie Ferguson during "One"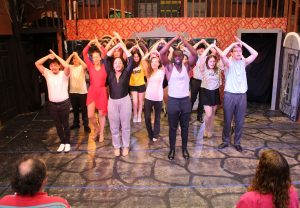 had she gotten to dance the finale.
In the show, Paul San Marco goes down with an injury and has to be helped off the stage and to a nearby hospital. Erin certainly understood that could happen to anyone at any time. And when it does, the other cast members have to pull together and support each other. Performers live by the adage, even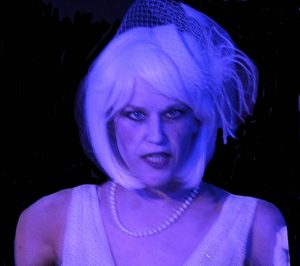 post-pandemic, that the show must go on. In this case, in the specific instance of A Chorus Line, it's a certainty that Erin would want the show to go on in her absence.
"I'm excited for this generation of kids to have their friends come see it because I think it's an important part of musical theater," Erin insisted. And while they won't get to see Erin reprise the role of Cassie Ferguson, Michelle Kuntze has that same grit, that same hard edge that Erin brought to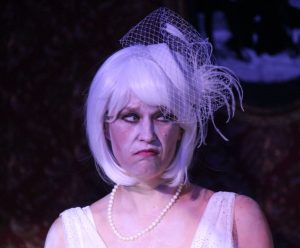 the character.
Erin made her Southwest Florida theater debut as Society Girl "dancestor" in The Addams Family musical at Fort Myers Theatre. Originally from Kansas City, Missouri, Erin graduated with a vocal music education degree from William Jewell College and was very active in her musical theater community there and then for eight years in New York City. Favorite past roles included Rosemary in H2$, Nikki in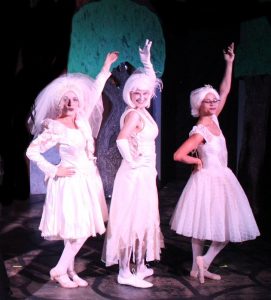 Curtains, Carrie in Carousel and Vivian in Legally Blonde.
Erin Coleman, gone too soon.
April 26, 2022; revised June 24, 2022.