Kinley Gomez
Based on her performance as Abigail Williams in Lab Theater's production of The Crucible, Kinley Gomez is an emerging star in the Southwest Florida theater scene. She first appeared at The Lab in the Vagina Monologues ("Ask a 6 Year Old"), as well as the 24-hour playwriting challenge. She has also performed in the ensemble of Willy Wonka and Big River for Florida Repertory Theatre, Alice in Wonderland Jr. (Rose) for Creative Theater Workshop (CTW) and numerous shows at Canterbury School, including 22 Pebbles, Nine Worst Breakups (Wilma), Alfie Dungworth: A Day in the Life of a Daydreamer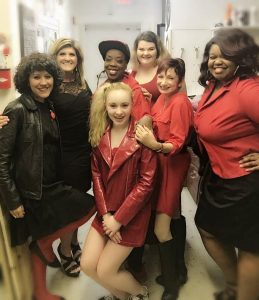 (Crypta), The Great Pecan (Priscilla), Legally Blonde (Enid) and #Viral (Troll). Kinley also hosted the 2019 Canterbury Talent Show.
Kinley is a member of the International Thespian Society and accomplished in improv. "I take improv classes through Second City in Chicago, which is the best comedy school in the country – where all the SNL people get their start. I take classes online, and whenever I'm in Chicago I go to their show. That's one of the things I'm inspired by and put a lot of time into."
She also aspires to become a screenwriter and playwright.
Her many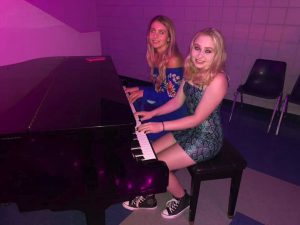 talents include not only stage combat, but swordsmanship. Having started at the age of nine, she is now an experienced fencer and assistant to Coach Charlie Johnson at the Southwest Florida Fencing Academy.
"When I tell people I fence, they think I do side jobs where I install fences around people's yards," she jokes. "I coach at my school for elementary and middle school kids. I spend two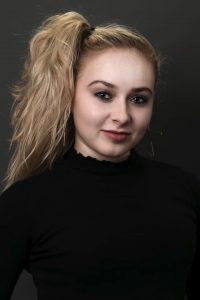 hours after school every Thursday teaching drills and techniques, shaping them as better fencers. I also attend their competitions, standing by to provide directions and pointers."
Kinley maintains that height (she's only 5′) is no drawback. "Shorter people are usually quicker and it's harder to defend upward thrusts."
You can follow Kinley on Instagram and Facebook.
September 26, 2019; revised May 28, 2020.