Gabrielle Lansden's accelerated 'Rocky Horror' learning curve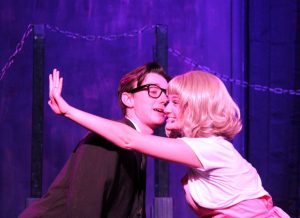 From a cushy blue seat in the middle of the New Phoenix proscenium, Gabrielle Lansden surveys the empty set of the Rocky Horror Show with a mixture of awe and satisfaction. To say that her selection to play the part of Janet Weiss has been a monstrous learning experience is to indulge in the art of understatement. "Whew, people on Broadway are learning things every single day," she says, her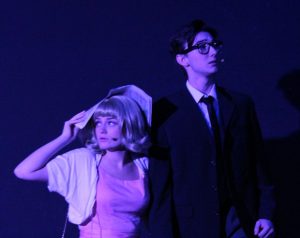 slender shoulders rising in a self-deprecating shrug.
Lansden is by no means a novice. She's a Florida Gulf Coast University theater major with just one more semester of work remaining to earn her degree. During her two year stint at Florida SouthWestern State College, she appeared in Paragon Springs and Sonnets for an Old Century, and played the lead in the musical She Kills Monsters.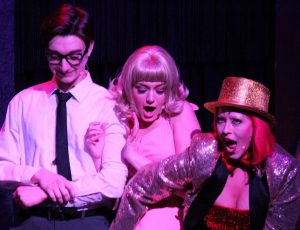 But the 21-year-old has been doing dance recitals, competitions and shows since she was three.
"But Rocky Horror is my first community theater show," she demurs.
She had no idea if New Phoenix founder and Rocky Horror director Brenda Kensler would choose her at all when she auditioned for the show. "I'd have taken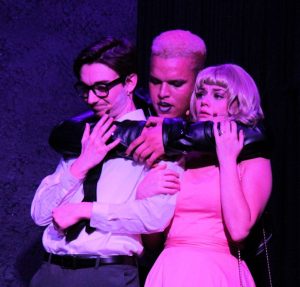 any part she offered, even if it were fourth tree," she jests.
To her amazement, Kensler wanted her for the iconic role of Janet Weiss, a timid, innocent, sexually-inexperienced young woman who's engaged to a wholesome young lad by the name of Brad Majors. But their plans and relationship change suddenly when they seek refuge on a drear and rainy night in the mansion of Dr. Frank N Furter where, sans their outer garments, they are induced to dance,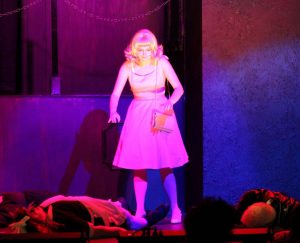 party and be seduced by their host and his strange and intimidating house guests.
"It's a great role for an actor who's just starting out because it teaches you to be comfortable with yourself and your body and the other actors and their bodies," says Gabrielle, a nervous laugh briefly escaping her pursed lips.
Prior to Rocky Horror,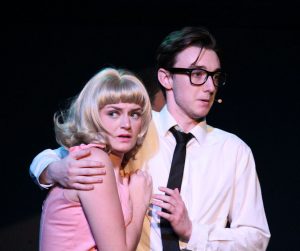 Gabrielle was uncomfortable even with giving or getting an onstage kiss on the cheek. It's not that she's timid or innocent like the character she plays, but cognizant that the actor she's playing opposite has someone in real life with whom they're involved. But not only does Rocky Horror require her to perform almost all of the show in a white bra and matching knee-length Crinoline petticoat, she's pawed periodically by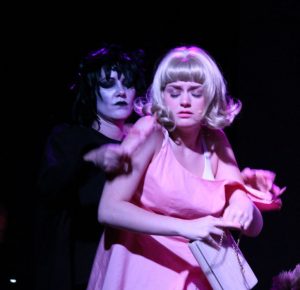 phantoms, mauled by Sam Bostic's character, Riff Raff, and shares an erotic bed scene (think When Harry Meets Sally fake orgasm scene) with Joey Bostic, who plays bisexual genderbender Frank N Furter.
"I've gained a lot more confidence with this role than I have with any other. It's very baring and eye-opening. But now I know going forward that I can do more provocative shows."
The Bostic brothers proved especially supportive, not only in helping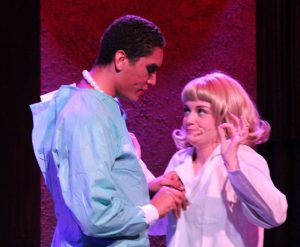 Landsen embrace greater physicality and physical contact between and among her character and those played by her cast mates, but in learning how to flesh out her character's backstory and motivations.
"Joey helped me a lot. He'd ask me questions like 'How would Janet feel about this and how would she react to that? What are Janet's life goals? What's she want to study when she leaves high school? Does she really love Brad?'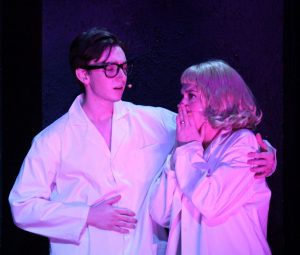 Questions I never thought to ask myself."
In the course of this probing character deconstruction and analysis, Gabrielle came to view Janet not as the slut she's called by the audience at every mention of her name, but as a strong and empowered woman who embarks, albeit unexpectedly, on a journey of sexual self-discovery.
"In the end,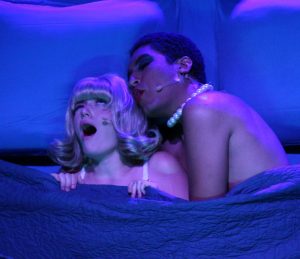 she realizes that she has the power to decide what she wants to do – whether that's to stay with Brad for the time being or move on" – instead of conforming to what her parents, peers or society might expect. In Gabrielle's mind, Janet might very well become an astrophysicist or astronaut rather than a homemaker.
"The ending is intentionally ambiguous, giving the audience plenty to talk about" in the days and weeks following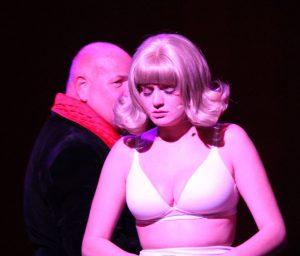 the end of the show.
Her cast mates helped immensely with feedback in other areas as well. For example, when the troupe first started rehearsals, everyone kept telling her that she looked more angry than scared in those initial scenes where they enter Frank N Furter's creepy mansion.
"So I started watching old B horror and science fiction movies on DVD. I'd watch a different film every other night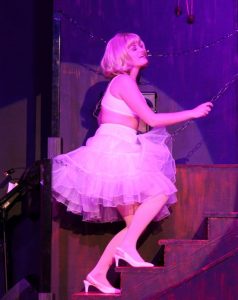 and on the weekends with my dad. I'd study the female characters and note how they reacted, which was very, very exaggerated."
So that's what she emulated, and her facial expressions of shock and horror not only add to the overall quality of her performance, but augment her character's charm and savoir faire in much the same way that Norma Jean Mortesen's little girl vulnerability contributed to her alter ego's sexual allure and mystique.
And at one point in the show, Gabrielle actually strikes a Seven Year Itch subway grate pose.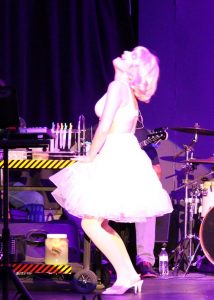 For as much as she's grown as both a person and actor in the role of Janet Weiss, Rocky Horror has enable Lansden to accelerate her learning curve most in the area of her vocal skills and confidence.
"I've taken vocal lessons forever and still do to this day, but I was still unsure of myself coming into this show."
Which is surprising when you hear her sing. Her voice is clear, resonate and strong. But she did traverse an evolutionary trajectory during rehearsals to get there.
"Brenda [Kensler] and [Musical Directors Lee Blackston and Andrea Rocella] encouraged me to play around with the vocals and gave me the freedom to make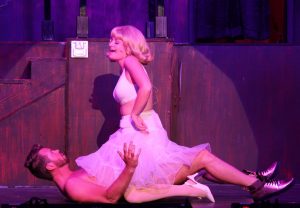 the vocals more of my own – like adding a little more jazz to "Super Heroes."
One big adjustment that Landsen had to make for Rocky Horror was learning to sing with accompaniment coming from a live band instead of a sound track. With the band situated right on stage and behind the actors, there's the ever-present danger of being drowned out by the instruments, but in numbers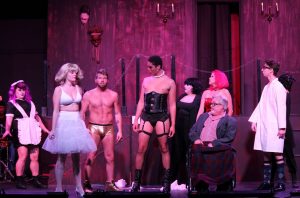 like "Touch-A Touch-A Touch Me" and "Super Heroes," Gabrielle takes full possession of the song and command of the stage.
"Joey helped me with that too," Gabrielle's quick to add. "'Make it your own. Don't care what the audience is going to think. Have fun with it.' I did and it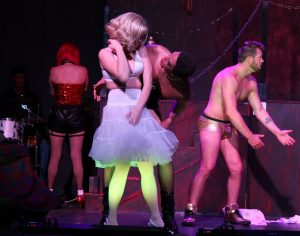 helped a lot."
Her own toughest critic, she nonetheless feels that there's still work to do in order to reach her full potential. For example, she still needs to develop greater tonality and a more of that take-no-prisoners attitude that Bostic displays.
For Lansden, life after Rocky Horror will hopefully include appearances at FGCU TheatreLab in two upcoming shows,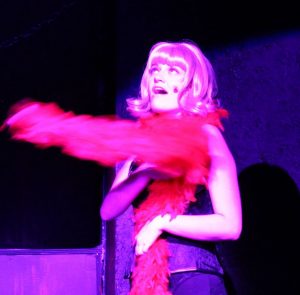 Charlotte's Web and The Importance of Being Earnest, for which she'll audition. And after graduation, she'd love to remain in Florida, if not Southwest Florida.
"My dream would be to work in a theater doing properties by day and performing at night and on weekends," she supplies wistfully. In the former respect, she's serving as Prop Mistress for three shows this semester alone, and will be joining Joey Bostic as his Prop Mistress in Inspecting Carol at New Phoenix later this season.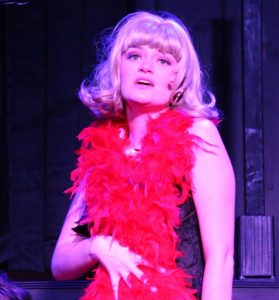 Her preparation for a life in theater extends well beyond her degree work and past stage credits. For example, she's interned at Florida Rep, volunteered at The Naples Players and mentored for more than three years with voice actor Kim Crow (whose voice was digitized for use in fighter cockpits and her voice soon became known, loved, and hated as "Bitching Betty").
"I would love to be a part of the growth that is taking place in the theater community right now in Southwest Florida," she effuses, sincerity dripping from every pore.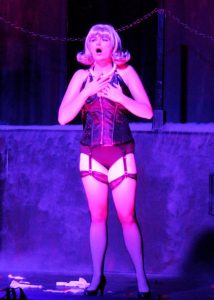 But for now, she's thoroughly enjoying her Rocky Horror tenure, which includes the unique experience of contending nightly with eager and at-times frenzied audience participation that challenges Gabrielle and her cast mates not to break theater's sacrosanct fourth wall.
"I just put myself in the SNL mindset," she remarks matter-of-factly. "Their number one rule is don't break. And after hearing the same words every night, you get used to it. It becomes routine. It's just like pausing for laughter."
Gabrielle Lansden is Janet Weiss in New Phoenix Theatre's production of Richard O'Brien's Rocky Horror Show.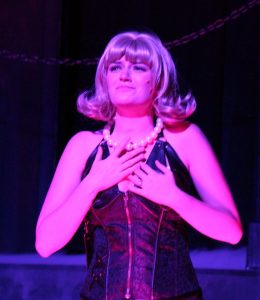 October 15, 2019.
RELATED POSTS.