Music Walk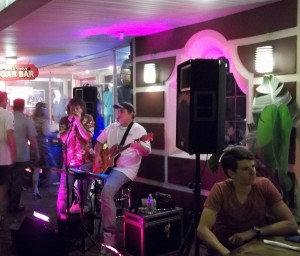 On the third Friday of each month, more than two dozen art galleries, boutiques, restaurants and bars welcome Southwest Florida residents and visitors to the downtown Fort Myers River District for a night celebrating good food, spirits and live music in genres ranging from folk, blues guitar, piano and saxophone to heavy metal, electro-rock, reggae and steel drums. It's called Music Walk, and it is not only the largest indoor/outdoor music festival in southwest Florida, it's a social event where friends gather, people meet, and most people bump into someone they haven't seen in some time.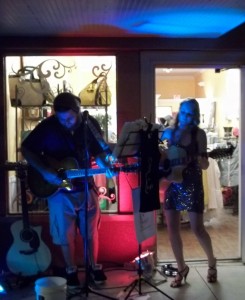 Music Walk is an all-ages, rain or shine event that brings local, regional and national talent to over a dozen venues. There is also a liberal sprinkling of volunteer street performers who serenade the crowds between venues and help create a musical atmosphere that pervades the entire downtown. There is something for every type of music lover, whether young or old, or a fan of country, jazz, indie, rock or techno.
Some of the more popular Music Walk gathering spots include:
*  the First Street courtyard behind HOWL Gallery/Tattoo, Starbucks, Hotel Indigo and the federal courthouse;
*  Patio de Leon, where the Saturday Night Live free concert is seamlessly integrated into the Music Walk festivities outside Morgan House Restaurant and Space 39; and
*  the Sidney & Berne Davis Art Center where Music Walkers can expect anything from a jazz ensemble to a modern production of Shakespeare.
Music Walk works synergistically with its first-Friday sister, Art Walk, to help revitalize the downtown and awaken in both residents and tourists a new passion for the visual and performing arts. Many Music Walkers not only frequent the River District's fine art galleries, they also take time to visit the city's River District public art installations which include: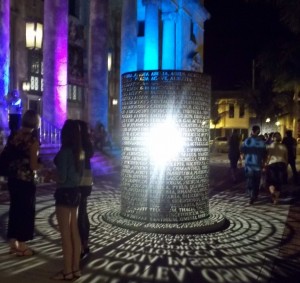 Caloosahatchee Manuscripts, the light sculpture that bathes the Sidney & Berne Davis Art Center in an alphabet soup of lighted letters. Most people just revel in the shimmering iridescence, but the text incised into the bronze drums actually have meaning. The eastern drum contains an excerpt from a tale told to James Ogelthorpe by Maskoki Indian leader Tchikilli about how Native Americans migrated from the north through Georgia and into this region. The western drum contains the Latin names of plants Thomas Edison tested in an effort to find a local source of rubber for friends and fellow inventors Harvey Firestone and Henry Ford. [More]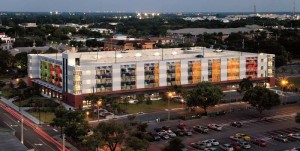 Parallel Park, the 30,000 square-foot modern art installation that has converted the 5-story Lee County Justice Center Parking Garage into a work of fine art . . . . [more]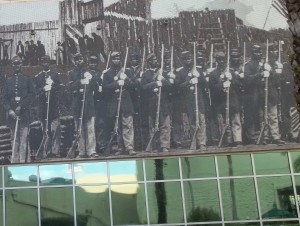 Fort Myers: An Alternative History, the majestic Barbara Jo Revelle ceramic tile mural that towers over the plaza shared by HOWL Gallery/Tattoo, Hotel Indigo, Starbucks and the new federal courthouse. Made from a series of photographs that date between 1850 and 1865, the mural chronicles the early history of Fort Myers, when it was home to Seminole Indians, a thriving cattle town, and the site of the southernmost battle of the Civil War . . . . [more]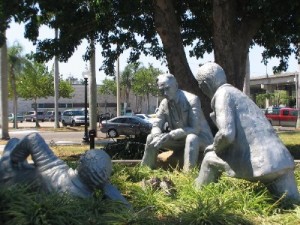 Uncommon Friends, which is widely regarded as the sculptural symbol of the City of Fort Myers [more] and Clayton, a memorial to the 2nd Regiment of the United States Colored Troops and all African-Americans who fought in the Civil War  more]. Both are located across from the Harborside Event Center in Centennial Park, just a block or two from Twisted Vine Bistro and Hideaway Sports Bar, two popular Music Walk destinations.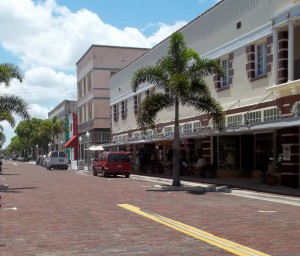 Of course, the backdrop for Music Walk is the historic downtown River District which was recently refurbished and beautified by Streetscape, a project that narrowed streets, lowered curbs, widened sidewalks and made them ADA-accessible and repaved both streets and sidewalks with more than 500,000 reclaimed bricks that had been buried under layers of asphalt for several decades. Add quaint light poles, specially-designed traffic lights, park benches and inconspicuous trash receptacles, and the result is a venue perfect for enjoying music, art and good company in a social setting that grows in size and enjoyment with each passing month.
Music Walk starts at 7 p.m. and ends at 11, although many of the restaurants, bars and night spots stay open well past midnight.
Music Walk art venues include Arts for ACT Gallery, Coloring the World Gallery, daas Gallery, Enjewel, HOWL Gallery/Tattoo, In One Instant Gallery of Photography, Savvy on First, Sidney & Berne Davis Art Center and Space 39. Inside, Music Walkers will find exhibitions featuring traditional to avant-garde work by emerging to mid-career artists in every imaginable medium, including oils, acrylic, watercolors, mixed media, collage, sculpture, art jewelry and fine crafts.
Other Music Walk venues and partners are Red Rock Saloon, Spirits of Bacchus, French Connection Café, Hotel Indigo, Twisted Vine Bistro (formerly H2 Downtown Bistro), City Tavern, World Famous Cigar Bar, Hideaway Sports Bar, Morgan House, Veranda, the Indigo Room, Downtown House of Pizza and United Café, Bar and Bistro (formerly Café Matisse).
Music Walk is organized by Andy Howl of HOWL Gallery/Tattoo with help from Dee Hohimer, Suzy Lewis of Spirits of Bacchus and Jamie Kuser of Happenings Art Magazine. It exists under the umbrella of the River District Alliance, a non-profit organization that manages downtown events and brings together business owners in the River District.
The River District is well-equipped to accommodate the more than 2,500 people drawn to the downtown by Music Walk. Free parking is available at the Harborside Convention Center, the Monroe Street Parking Garage and the Lee County Justice Center Parking Garage on Martin Luther King, Jr. Boulevard which, incidentally, is the site of Parallel Park, a 30,000 square foot outdoor experiential art installation comprised of 23 open-weave Kevlar and fiberglass fabric panels measuring 33 feet tall by 22 feet wide that are imprinted with the riotously-colored abstracts of internationally-renowned New York artist Marylyn Dintenfass.
Related Articles and Links