Linda Benson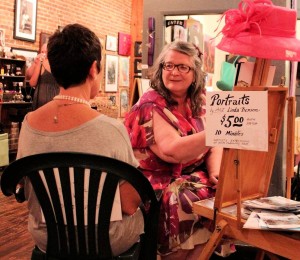 Artist:    Linda Benson
Genre:    Impressionist
Motif:     Portraiture, Maritime
Galleries:  Arts for ACT Gallery
Her Art
Linda Benson spends her days creating art aboard a 46-foot 1969 Chris Craft vintage Aquahome that she's dubbed Artist Xpress. Taking a page out of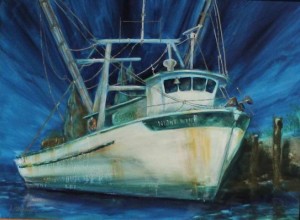 Claude Monet's playbook, she has outfitted the vessel as an art studio and floating gallery, which she uses to paint ghost shrimp boats, "Jaws-Sea-Art," plein air paintings and other nautically-influenced motifs. Linda also includes musicians during Music Walk, Crazy Catz and portraits on location in her diverse artistic repertoire.
Her style reflects both her training at the Art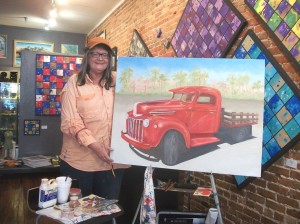 Institute of Chicago and the American Academy of Art, as well as a 40 year career as a commercial artist. For 19 of those years, she was a creative artist for the
Chicago Tribune
. During the last ten years of her career, she served as a graphic designer and manager of various Florida newspapers and won numerous graphic design awards from the Florida Press Service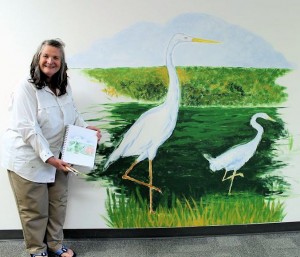 and FNAME. At the
News-Press
, she was awarded artist of the year in 2004. In 2010, she appeared on FOX TV's
Morning Blend
to paint [then] co-hosts Carly Wegner and Wild Bill Wood.
"I'm always trying new and fun ways of expressing my art," she says, including monochromatic washes like the one she employed in her rendering of Veronica Shoemaker.
Through her art, Benson supports numerous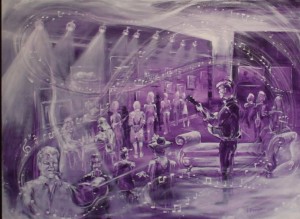 charitable causes, including Child Care of SW Florida, Abuse Council Treatment Inc. and Helping Paws, and last year she painted a Lee Memorial Hospital Seahorse dream statue.
Southwest Floridians are very familiar with her unique impressionist style and color palette. Her recent art exhibition and activities calendar include a group show at Chico's headquarters,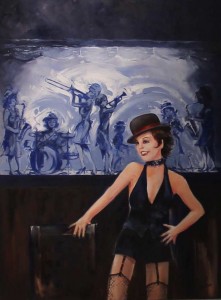 the River District's Stroll the Arcade, the
Downtown Fort Myers
Saturday
Art Fair
,
Art Walk
,
Music Walk
, Fort Myers individual Artist Grant Recipients exhibition, judging at the Cape Coral Art League and teaching oil painting at
Arts for ACT Gallery
and The Sanctuary on Sanibel Island. 
You can also view her oils, acrylics and watercolors aboard the
Artist Xpress,
where her gallery sports an authentic shrimper's net that showcases her seascapes. Visits are by appointment only, so please call ahead.
Linda's rendering of Veronica Shoemaker is on display at The Edison & Ford Winter Estates through March, 2015, which is National Women's History Month. For more information about the exhibit, please email tom@artswfl.com or telephone 239-691-2292. For more information on Linda or to commission work by the artist, please email ArtistXpress@ymail.com or telephone 239-645-0787.
Portrait of Veronica Shoemaker for Fort Myers Founding Females Portrait Exhibition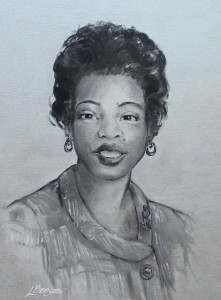 Linda has captured Veronica Shoemaker on canvas for the Fort Myers Founding Female portrait exhibition. "I enjoyed capturing her in oils using my new monochromatic technique of silver and black," Benson reports. The finished work depicts a younger Shoemaker. "I found some great references, including a college-produced video. I studied many versions of her and this is what materialized."
Veronica Shoemaker was born in 1928 in the Dunbar community, which was known at the time as Safety Hill. The second oldest of 11 children, she attended Dunbar High School during the day and organized Parent Teacher Association meetings in Dunbar's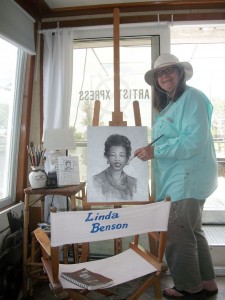 schools at night. She wanted African American parents to have a voice in their children's education, and so when the Supreme Court ruled in favor of school desegregation in 1954, she fought vigorously to desegregate Lee County Schools. She also battled for fare wages, voter rights, and equal education for all.
In 1966, Shoemaker ran for Fort Myers City Council and lost. But she did not give up, finally winning the seat in 1982, thereby becoming the first African American to serve on the City Council. "After 16 years, winning the election was a huge milestone for me and for many others," said Shoemaker in a 2007 interview for Florida Weekly.  She would hold that seat for the next 26 years.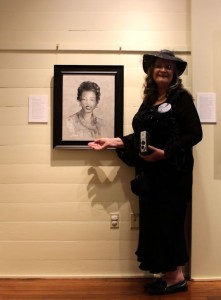 Shoemaker has always brought a sense of passion and determination to all of her endeavors. Over the years she has been an active member of the Dunbar Improvement Association, the Lee County NAACP, the Lee County Food Bank, the Lee County AIDS Task Force, the National Federation of Florists Society, Women in Municipal Government, and the Lee County Leadership Council.
"It was always important to me to fulfill my vision and be involved," Shoemaker told Florida Weekly in July, 2007. "I prepared myself by reading a lot, studying the laws, and saying yes when I was asked to serve on committees."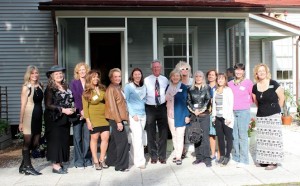 "One of the life lessons that I learned (from Shoemaker) is to never give up," says 14-year old Canterbury School student John Gamba, who was inspired by Shoemaker to produce a video about her that reflects in-depth research, interviews with those who know and have worked with Shoemaker, and conversations with Shoemaker herself.