Naples National Art Festival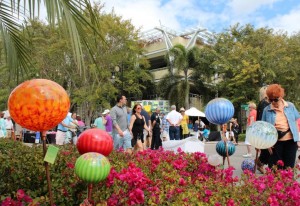 Name: 43rd Annual Naples National Art Festival
Date: February 19-20, 2022 (Saturday & Sunday)
Time: 10:00 a.m. to 5:00 p.m.
Place: Cambier Park and along 8th Avenue in Naples, just steps away from Naples' historic Fifth Avenue South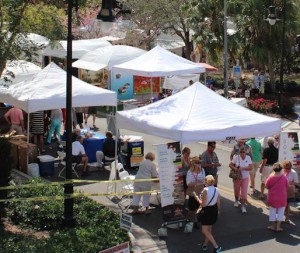 National Ranking: Sunshine Artist Magazine ranked this as the #24 art festival in the United States in 2018, and ArtFairSourceBook.com named Naples National as a "Blue Chip 100" Fine Art Event.
Description: Because of its national ranking and the beautiful weather in southwest Florida during this time of year, Naples National draws some of the finest artists in the country. Together, they provide a diverse array of artworks that include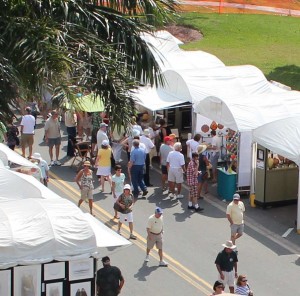 original oil and acrylic paintings on canvas, panel and galvanized aluminum, watercolors on paper, 2D and 3D mixed media, limited edition prints, photography, digital art, metal sculpture, wood carvings, ceramics, art jewelry, leather works and more. There's lots of art for every taste and pocketbook, so bring your credit card or checkbook.
The local community counts Naples National among its premiere, must–see events thanks to the high quality of art, the engaging personalities of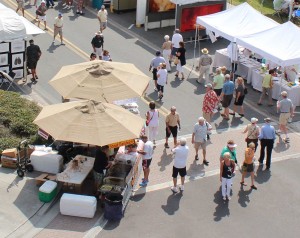 the artists and the festive atmosphere. As a result, tens of thousands of Naples residents and visitors flock to this outdoor weekend art festival to enjoy the art, live performances and festival food while basking in bountiful sunshine and Naples' temperate winter clime.
Festival goers take full advantage of the opportunity to meet the artists who created the amazing works on display and learn about their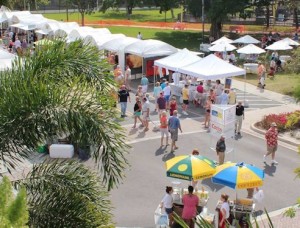 inspiration, techniques and lives on the art festival circuit. The artists in turn enjoy interacting with the crowd of art lovers and potential collectors. Many have built ongoing relationships over their years of participation with repeat clients and collectors.
Entertainment is as much a part of Naples National as is the art.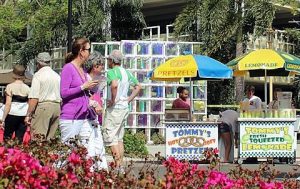 Extend your Saturday art viewing and shopping by joining NAA for the Naples National Evening Concert in the Cambier Park Band Shell from 5:00 to 7:00 p.m. with Blu-Tones. Savor small bites and select from a variety of drinks offered from Artichoke & Company while listening to Blu-Tones rock out some of the greatest hits of the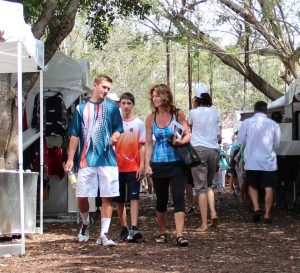 50's, 60's and 70's.
Awards are presented to the festival's top artists by on-site independent judges on the basis of artistic merit, design, vision, creativity, craftsmanship, technical competence, degree of difficulty, mastery of materials and marketability. The announcement of winners, including Best of Show, is made at the Band Shell at 5:00 p.m. on Saturday afternoon.
Cost: A suggested donation of $5 is requested at the gate.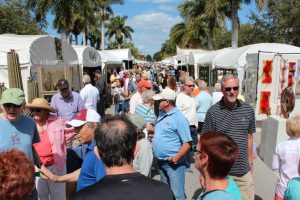 Parking: Parking is free and within easy walking distance.
Organizer: Naples Art Association
Event Director: Maureen Roberts serves as Outdoor Shows Manager at the Naples Art Association. As such, Don is responsible for organizing, managing, advertising, and conducting NAA's three large annual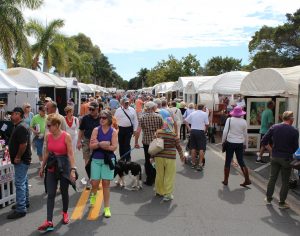 outdoor art festivals.
His duties include working with the city officials, police and fire departments, county officials, and the business district in setting up the shows, which average 260 fine art exhibitors, which involves shutting down Fifth Avenue South, road closures and using partner relationships to successfully execute the show.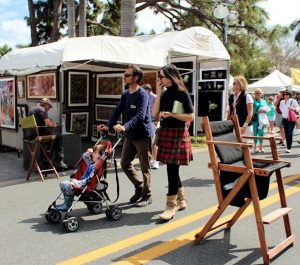 Related Art Fairs and Festivals. Besides the Naples National Art Festival, the Naples Art Association organizes the following art fairs and festivals
Fast Facts:
Over 1,000 artists from around the country compete for 190 coveted spots at this prestigious art festival. Artists are selected by independent jurors to ensure the best quality artworks for festival guests to enjoy and purchase.
Naples National serves as NAA's largest fundraiser. It helps fund art scholarships for youth and art programming for our community at large to enjoy. What many people don't realize is that we are a 501(c)(3) non-profit organization, and the revenue we generate from our five major art festivals allows us to continue our mission.
The art scholarships are for the non-profit's summer education program for children and teens called ARTScool.
Judges for the 32nd Annual Naples National Art Festival included Barbara Anderson Hill and Denise Gerson who both have more than 30 years of professional experience in the art world. Hill has served as a museum curator, art instructor, and show juror. She has judged more than 30 state and national art competitions and public art commissions. Hill served as The von Liebig's founding executive director from 1998 to 2004.
Cambier Park is located in the heart of Olde Naples just off the prestigious Fifth Avenue South. It is home to several state of the art facilities including The Arthur L. Allen Tennis Center, The Band Shell and the Norris Community Center. There is a unique community built playground, covered pavilion, lots of open green space and ample parking. The park is home to the Greater Naples Girls Little League National Champions and the Naples Art Association's home, the von Liebig Art Center.
The Band Shell was refurbished in 2001 to include increased stage area, restrooms, rehearsal area and a state of the art sound system (2006). Free concerts are scheduled throughout the year and include the Naples Daily News Jazz Band, Naples Concert Band, Gulf Coast Big Band and numerous other performing groups.
In 1980, the NAA organized and held its first annual Spring Art Show in Cambier Park. This is the show that evolved into Naples National.
Website: http://www.naplesart.org/content/naples-national-art-festival-2
Revised September 8, 2021.