Naples Fall Fine Art and Craft Festival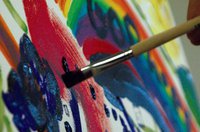 AFTER  MUCH  DISCUSSION  AND  CAREFUL  CONSIDERATION,  THE  NAPLES  ART  ASSOCIATION  HAS  DECIDED  NOT  TO  HOST  THE  NAPLES  FALL  FINE  ART  &  CRAFT  FESTIVAL  IN  2013.  NO  DECISION  HAS  BEEN  MADE,  HOWEVER,  WHETHER  TO  DROP  THIS  FESTIVAL  PERMANENTLY  FROM  THEIR  ANNUAL  FESTIVAL  SEASON.
For 2013-2014, the Naples Art Association will organize and produce the following art fairs and festivals
___________________________________________________________________________________________________
HISTORICAL NOTES:
Name: 9th Annual Naples Fall Fine Art & Craft Festival
Date: Saturday, November 24 & Sunday, November 25, 2012
Time: 10 a.m. to 5 p.m.
Place: 10th Street South, near the Naples Depot (see below)
Description: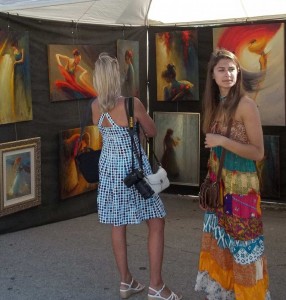 The first of five major shows hosted by the Naples Art Association, this Thanksgiving weekend festival along 10th Street South in Naples features approximately 120 artists and is timed to kick off the holiday shopping season. Now in its 8th year, this show has earned a reputation for quality artwork which artists can market directly to holiday shoppers. Enjoy carolers, refreshments and other holiday-themed activities while discovering beautiful and unusual gifts.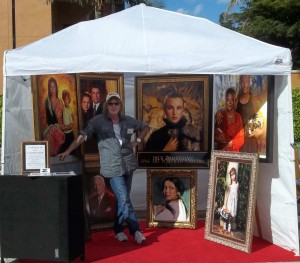 For example, one of the artists who participated in the 2011 show was renowned portrait artist, Dick Zimmerman. The Today Show's Matt Lauder called Zimmerman "the most accomplished portrait artist of the 20th century." Known as "The Image Maker," Zimmerman's client list reads like a Hollywood Who's Who List. It includes John Travolta and Kelly Preston, Robert Wagner, Tom Cruise, Barbara Walter, Mel Brooks, Jane Fonda, Kirsty Alley, Pamela Anderson, Christina Applegate, Morgan Fairchild, Heather Locklear and Burt Bacharach. Zimmerman had the distinction of shooting the cover for Michael Jackson's Thriller album, a portrait of Salvador and Gala Dali for their 50th wedding anniversary, and the wedding portrait for Tom Cruise and Nicole Kidman on Christmas Day in 1990.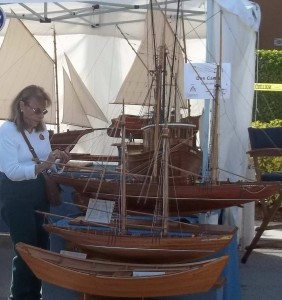 Another artist who made quite an impression at the 2011 Naples Fall Fine Art & Craft Festival was Don Carter, who makes unique, historically-accurate large-scale replicas of traditional 19th century Down East work and sail boats that range in size from 46" to 70" in length. Board by board, each boat is hand crafted from the keel up using researched historical photos, measured drawings and the traditional materials and methods of 19th century boat builders.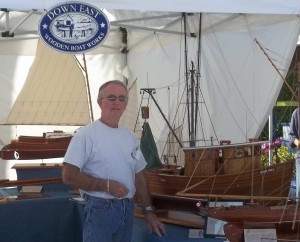 "An important consideration for me is the selection of the same wood that was indigenous to the region at the time and originally milled for each boat," notes Don, who fastidiously eschews using paint on his replicas. "Ultimately, the beauty of the wood selected enhances the quality and is essential to the integrity of the finished boats." Architecturally true, aesthetically sound and historically relevant, Carter's Down East boat replicas are a testament in form and function to their now vanishing predecessors that served mankind and dominated the sea for over 150 years.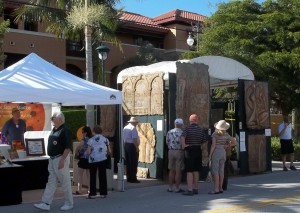 Mauro Pozzobonelli's booth at Naples Fall featured bas reliefs sculpted in clay and then cast in high-quality, high-strength cement that contains fiber, pigments, sand, pebbles and stains for color and texture. By design, the reliefs look ancient and fragile, due in large measure to their irregular edges and designed cracks. But the durable pieces allow collectors to bring a touch of ancient Egypt, Rome and early Venice into their homes for lifelong enjoyment.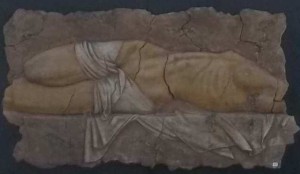 Like Dick Zimmerman (above), Mauro Pozzobonelli boasts a number of celebrity clients, including Frank Sinatra, Sammy Davis, Jr., Anthony Quinn and Julio Iglesias among his clients. Le Salon has also recognized Pozzobonelli's genius in 2011, awarding him their Bronze Medal. Le Salon originated in 1667 when Louis XIV sponsored an exhibit of the works of the members of the Royal Academy of Painting and Sculpture. The Salon derives its name from the exhibition's location in the Salon d'Apollon of the Louvre Palace.
Cost: $4 suggested donation
Organizer: Naples Art Association, which is located in The von Liebig Art Center in Naples.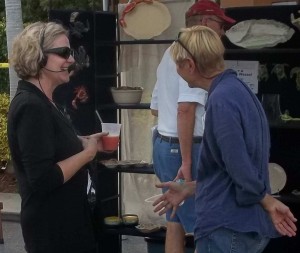 Event Director: Marianne Megela (in black) serves as Festival Director for the Naples Art Association. She joined NAA after serving as vice president and Show Chair for the Naples Artcrafters, where for six years she was responsible for organizing the art and craft shows they hold each fall/winter season in Cambier Park. Previous to that, Megela gained experience in what it takes to orchestrate a successful art show event while participating in hundreds of art shows through her photography marketing business, Artzefolks. Marianne holds a degree in commercial art from the University of Akron.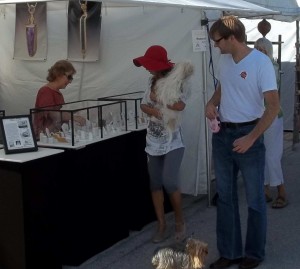 Website: http://www.naplesart.org/content/naples-fall-fine-art-craft-festival-2
Facebook: http://www.facebook.com/event.php?eid=162715523755998
Fast Facts:
This festival was formerly called the Naples Renaissance Fall Art Festival.
Artists from all over the United States apply for participation in this festival.
This is a juried show, meaning that artists submit samples of their work and a resume and are selected by an outside panel of jurors on the basis of merit. This process assures high quality work from the selected artists.
The $5 suggested donation benefits youth art education and related programs at The von Liebig Art Association, which is a 501(c)(3) organization that relies totally on donations and funds raised through art festivals, exhibition and other events to support its operations.
Historical Note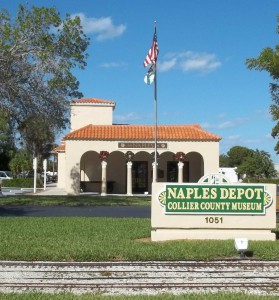 The festival takes place near the recently restored (January 2011) Naples Depot, the newest of Collier County's historical museums. Located at the corner of Fifth Avenue South and 10th Street South, the depot was originally built in 1927 by the Seaboard Air Line as a passenger station serving travelers arriving and embarking on the Orange Blossom Special. The depot played an important role in the development of the Naples area until it's closing in 1971.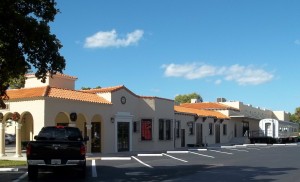 Listed on the National Register of Historic Places, the former passenger station takes visitors back in time to the Roaring Twenties and the boom days of Florida's railway system. Fascinating exhibits and artifacts tell how trade and travel transformed Naples from a napping village of 300 residents to today's glittering Gulf Coast resort. In addition to the station, the museum maintains a 1947 club car, 1920s baggage car and an early 1900s caboose.
Related Articles and Links.