'Me Too Nice' satirizes rules of workplace in post #MeToo world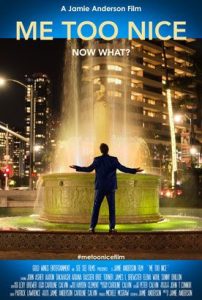 The Fort Myers Film Festival screens Jamie Anderson's Me Too Nice at 1:30 on Thursday, May 13. Ask Anderson to describe her filmography, and she'll unabashedly tell you that she makes "cinematic comedies that range from crass to satirical to romantic, but always with heart."
Me Too Nice is a case in point.
The film follows Grant (John Asher), an excessively nice Human Resources rep who is struggling to be his true self in the maelstrom of the #MeToo movement. "With all these new rules," he exclaims, exasperated, "I'm going to need a muzzle and a straightjacket or I'm screwed."
Then one night, he and
his bestie, Lars (Aaron Takahashi) stop to relieve themselves in front of a fountain after having an adult beverage or two more than they should. Frustrated, Grant wishes that for just one day he could say what he really wants. At that instant, lightening streaks across the sky and thunder cracks overhead. It's not quite as dramatic a scene as the one on the balcony in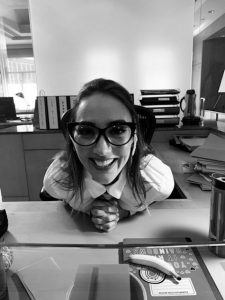 What Women Really Want. And the result is the inverse of what happened to Mel Gibson in the 2000 comedy. Think in Jim Carrey in Liar Liar (1997).
Wish granted, Grant now finds himself speaking more honestly than anyone is prepared to handle.
The premise is timely. Not to mention hilarious.
After all, what are the new rules of the workplace in a post #MeToo world? Well, there's nothing like an old school middle age white guy to illustrate what is and isn't acceptable.
For example, Grant is crushing on his much younger receptionist,  Jenny (played by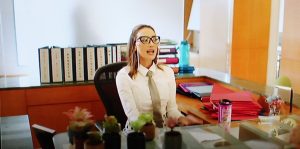 Bree Turner). He wants to compliment her on her sense of style. Sound of screeching brakes! Ask a Boomer, and that's completely appropriate. Ask a 20-something woman and the answer you'll get is that comments on appearance are out of bounds in the workplace.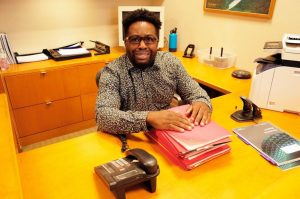 There are better ways to relate or create rapport than hair, attire and looks. Rather than serving as a compliment, comments that focus on superficial physical traits are viewed as shallow at best and demeaning at worst. As a general proposition, if you wouldn't remark about a male colleague's hair or attire, you shouldn't comment about a female colleague's either. In other words, treat male and female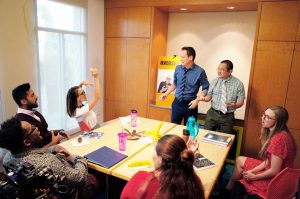 co-workers equally.
Mansplaining, interrupting, taking credit for a woman's ideas, subjecting your co-workers to your peculiar sense of sexual humor and uninvited touching also top the list of post #MeToo workplace faux pas.
But for many, change is difficult if not anathema.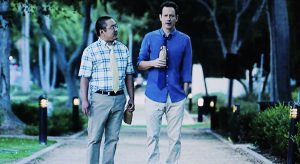 "Remember the days when life was less complicated?" Grant wails. "Well times have definitely changed."
But Anderson knows something else. It's much easier to change if you can laugh at yourself … or least at someone else's expense. The premise is simple, but brilliant.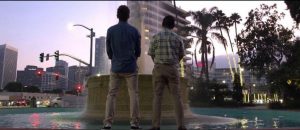 No wonder that Viva Glam Magazine recognized Anderson as "The New Female Director to Watch Out For in 2020" or that The International Screenwriters Association named her to its "Top 25 Writers to Watch" list in 2018.
Joining John Asher,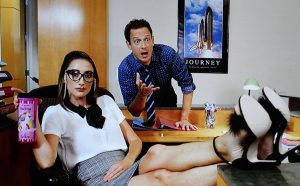 Aaron Takahashi and Bree Turner in the cast are playwright and director Jamie Anderson as the 11:11 woman (she loves Alfred Hitchcock cameos), Meghan Deanna Smith as Sarah, Andrea Ridgeway as the buxom blond in the elevator and Ariana Basseri as Grant's scary girlfriend.
Me Too Nice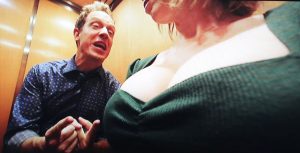 was released in the U.K. just before the pandemic came to light at Monkey Bread Tree Film Awards. Since then, it has screened at 18 film festivals, including Los Angeles CineFest, Golden State Film Festival, Rock the Shorts Film Festival, Los Angeles International Short Film Festival, Garden State Film Festival,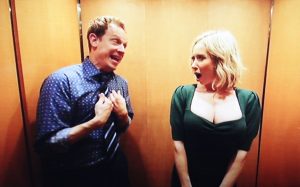 LA Comedy Festival, Austin Comedy Short Film Festival, Burbank International Film Festival, Marina Del Rey Film Festival, Portland Comedy Film Festival, Central Florida Cinefest and Hollywood Comedy Shorts.
You too can enjoy some sensitivity training by taking in the film at the Fort Myers Film Festival.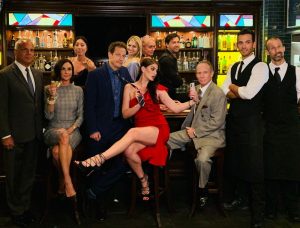 It's part of the Awesome Shorts 1 block that screens beginning at 1:30 p.m. on Thursday, May 13.
April 10, 2021.