The Film – Tales of Sunshine: Florida Ecostories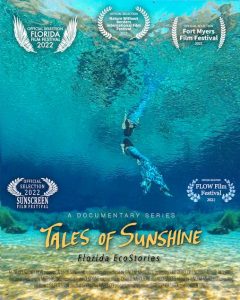 Award-winning director Vincent Marcucci will premiere the highly-anticipated environmental documentary series Tales of Sunshine: Florida Ecostories at the Fort Myers Film Festival. The four-part documentary series navigates the serene forests and waters of Florida to uncover four powerful environmental stories that took place during the height of COVID-19.
The meditative docuseries weaves together captivating histories of curiosity, resilience, and environmental justice through the personable stories of four naturalists from different regions of Florida. Along the way, viewers will discover the interconnected web of environmental justice through the eyes
of a conservation biologist, an ex-convict fisherman, a farm worker coalition leader and a mermaid. Produced by Marcucci in collaboration with students and alumni from the University of Central Florida, the docuseries was shot in Marion, Alachua, Gilchrist, Osceola, Polk, Palm Beach and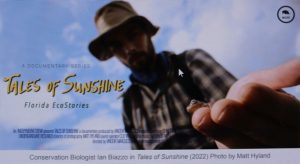 Collier counties.
Episode I of the docuseries was screened earlier this year at the Florida Film Festival. The full four-part documentary will be shown this summer by the Orlando International Film Festival, FLOW Film Festival in Miami and the Florida Film Festival's "Visions" program.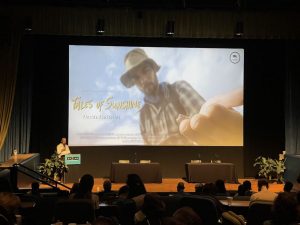 A screening, hosted by Florida Conservation Voters, is being planned in Tallahassee as well.
The screening here represents the film's South Florida premiere.
"Being a part of FMff means coming home," says Marcucci. "I was born in Cape Coral and I witnessed my first-ever film festival here in Fort Myers at age 14.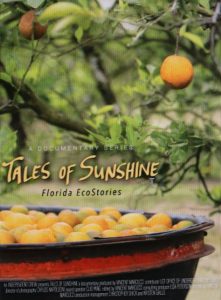 Throughout high school, I worked for the LeeSchools TV and assisted with the Lee County Film Festival while I made my own short films with friends. After developing my voice and motivation while studying at the University of Central Florida, I feel deeply honored to display my art in my home of Southwest Florida."
The full four-part 80-minute documentary series screens in the Sidney & Berne Davis Arts Center in downtown Fort Myers at 4:30 p.m. on Friday, May 20 following Global Environmental Block 2.
May 5, 2022.