Spotlight on 2022 Biennial Grant Recipient Show artist Leila Mesdaghi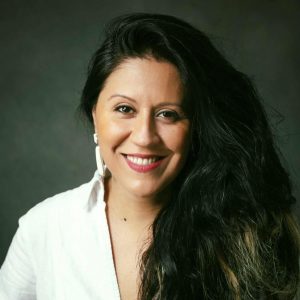 Leila Mesdaghi seeks to connect with viewers in a visceral, evocative, emotional manner. To her, art is a combination of emotional experience and social responsibility.  Through her performance pieces and now film, she comments on social and political issues like war in the Middle East, the negative reflections of Social Media in society, the housing crisis in the U.S, or the price and promise of progress.
Mesdaghi used the grant she received from the City of Fort Myers to help fund her latest project, Green Wedding, a series of six portraits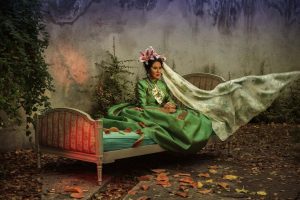 (Emotionscapes) with limited editions, which she staged and shot in the yard, in the pool, and inside the house in which she grew up in Iran.
"Being at the house I grew-up in during my last visit to Iran and conscious about my thoughts, feelings, and memories, I embarked on a new project and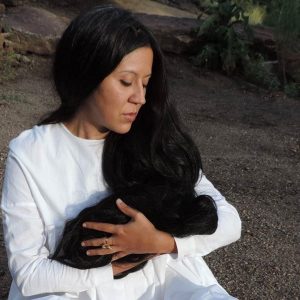 began talking to a psychologist to help with my process and understanding," Leila relates. "As a child I had dreams about getting married and having a wedding in our house. An Iranian wedding is a heavily glamorized and festive event where the bride is treated like a princess and guests come celebrate and admire her with gold and jewelry."
Leila decided to have a wedding for herself.
"I made my dress at a high-end fashion boutique, bought a beautiful gold ring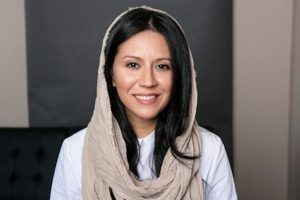 with my dad's money, hired Maryam Saeedpoor (a well-known photographer,) a hair stylist, played Persian wedding music, and had few friends plus my aunt and uncle as my guests. Everyone was calling me the bride and this make believe set up really made me feel beautiful (in an unfamiliar and strange way) with my fake eyelashes and heavy makeup … kept questioning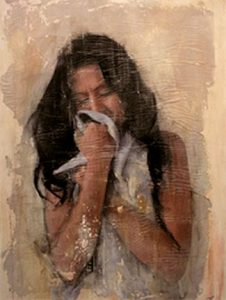 if that was me or not?"
The following day, Mesdaghi shot a video called A Poem.
"I made a mirror neckless in the shape of a flower from a Persian rug which was also from a region my family comes from, Kashan," Leila explains. "I wore the mirror on my chest and walked around, showing the reflection of house and also the reflection of my heart. I collaborated with a director and vocalist for this piece."
The director was Khashayar Khalilkhani; the vocalist Mahboubeh Golzari. The poem she recited was by Iranian poet Houshang Ebtehaj about love and longing.
May 4, 2022.