'On the Way to Lovetown' has far more than mere cachet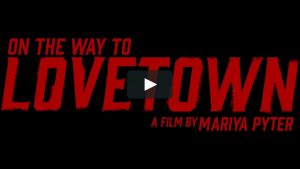 Something funny happened toward the end of filming On the Way to Lovetown. Director and co-writer Mariya Pyter and her cast ran smack dab into a scene reminiscent to Deep Purple's iconic 70s-era song "Smoke on the Water."
The song recounts a dilemma the band faced while recording their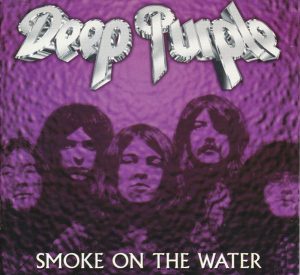 most famous album, Machine Head, in December of 1971. They had booked an old hotel in the Montreux Casino complex in Switzerland. Before they could finish, the complex burned down when a fan shot off a flare gun during a Frank Zappa and Mothers of Invention concert in another part of the casino. As a result of the damages, the band had to relocate, first to another theater and then to the old grand hotel lobby due to complaints from the locals about all the noise. For awhile, it didn't look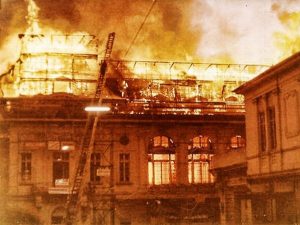 like Deep Purple would finish Machine Head on time. But not only did they make their deadline, "Smoke on the Water" became their most famous song – and one of the 500 best rock-and-roll numbers of all time.
The parallels between On the Way to Lovetown and "Smoke on the Water"/Machine Head are remarkable.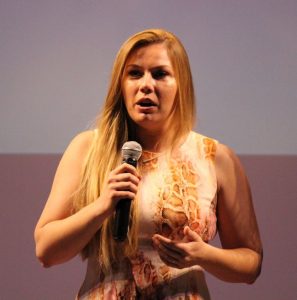 "We were filming in the Santa Clarita Valley outside of Los Angeles," notes director and co-writer Mariya Pyter. It was summer and the conditions were brutal, with temperatures inching over the 100 degree mark.
"I didn't plan on torturing the cast like that, but I was on a tight deadline because I had to complete the film because it was also my U.C.L.A. thesis film," Mariya continues. "And we were running a little behind schedule …."
Then fire struck.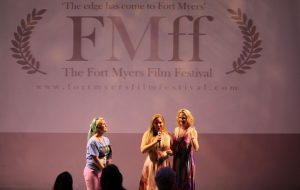 It wasn't "some stupid with a flare gun," but a motorist who lost control of his car, which burst into flames when the vehicle struck a tree. The fire quickly ignited nearby chaparral in the Angeles National Forest east of the Santa Clarita Valley. Fueled by a lethal combination of high heat and Santa Ana winds, the Sand Fire (named for the area's Sand Canyon)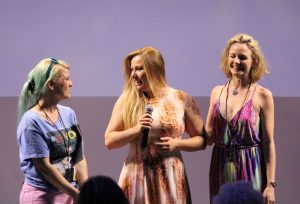 raged for more than six weeks before the 3,379 firefighters assigned to battle the brushfire were finally able to contain the blaze. When it was finally extinguished, the Sand Fire had charred more than 41,000 acres, forced the evacuation of some 10,000 homes, and compelled Mariya Pyter to move her cast and crew to another venue for the last two days of filming.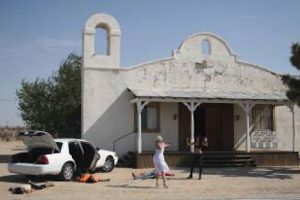 Budget was a huge concern. "Southern California can be quite expensive when it comes to film locations," Mariya notes. But cost aside, only one place really fit the script – the Sanctuary Adventist Church in Lancaster, otherwise known as the Kill Bill Church that was featured in the Quentin Tarantino movies Kill Bill: Volume 1 and Kill Bill: Volume 2. [It has also been used in Crossroads starring Britney Spears,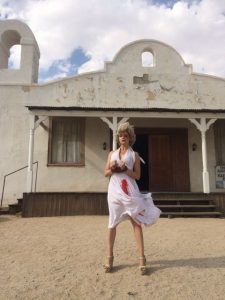 True Confessions starring Robert DeNiro and Inferno starring Jean-Claude Van Damme.]
"We managed to negotiate with the owner of the church," Mariya relates. "His name is Oscar. He's an amazing guy. He was very kind to us and allowed us to shoot there. It was so amazing because I'm a huge fan of Tarantino's movies because of his genre. I love many genres, but his is very unique."
"It definitely had a unique energy," adds Theresa Ireland, who plays the role of a Marilyn Monroe-esque character in the film. "We were all feeding off of it and incorporating it into what we were doing."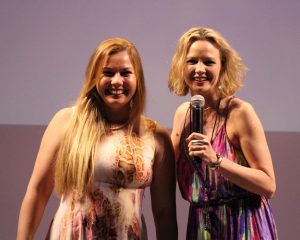 The Spanish-style church, a replica of real missions in Southern California, sits on a stretch of road surrounded by small farms, ranches, and homes. A lonely Joshua Tree stands out front greeting passers-by as well as church parishioners and sightseers. It is easy to understand why the church was chosen for the Kill Bill Wedding Chapel scene where the Deadly Viper Assassination Team attempts to kill "the Bride."
The venue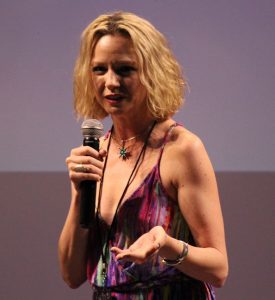 definitely adds to the film's unmistakable cachet.
"I met Quentin Tarantino once and I'm sure I'll meet him again," effuses Ireland. "Now I'll have two great stories to share with him when I do."
But On the Way to Lovetown is about more than just cachet. It's about blending and bending traditional genres in surprising and unexpected ways.
Pyter characterizes Lovetown as an action romance. But it can just as easily be seen as an absurdist adventure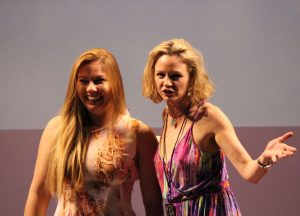 or a modern-day western – or at least a parody of the modern-day western, complete with cowboys, gunslingers, bounty hunters and a tin-star sheriff all depicted as semi-nomadic wanderers who use revolvers and knives as everyday tools of survival. True, there aren't any trusty steeds of yesteryear, but there is a red convertible (wait for it) Mustang in which the heroine rides into the sunset.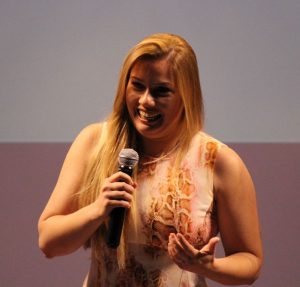 On the Way to Lovetown can also be seen as a revenge film in the tradition of Kill Bill: Volume 1, Kill Bill: Volume 2, Memento or, to be more genre-appropriate, Clint Eastwood's Unforgiven.
"I was experimenting with different genres," Mariya amplifies. "It's definitely a departure from [the] psychological thriller [genre in which I usually work]."
But regardless of genre assignment, the short's unrelenting theme or message is that even in the most bizarre and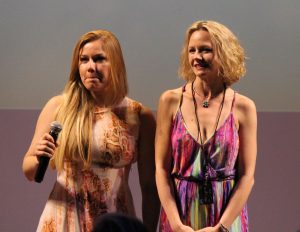 desperate of circumstances, one can find love.
"After all, we're all on the way to Lovetown," Mariya comments. "We're all looking for our one true love."
One constant in Pyter's filmography is her use of strong female leads. For On the Way to Lovetown, Pyter and co-writer Brandon Stacy built the plotline around an unflinching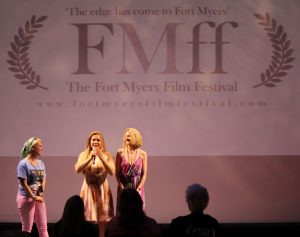 female protagonist with a narrowly-defined agenda – find and exact vengeance on the criminal who killed her parents.
"She gets into a lot of trouble along the way, including a road battle with some bad guys," Pyter laughs good-naturedly. "As often happens in life, the road between points A and B is not a straight line. She has to zig-zag quite a bit to find and the bad guy."
But by dint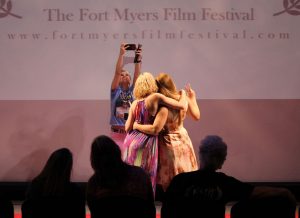 of her laser focus on this overarching objective, she meets each new life-threatening obstacle with ice water coursing through her veins. She's a different kind of female heroine – a cold, calculating antihero cut from same cloth as Frank Castle in The Punisher, unforgiving, remorseless and ruthless executioner of bad actors, yet open to the possibilities when it comes to love and romance.
Lovetown has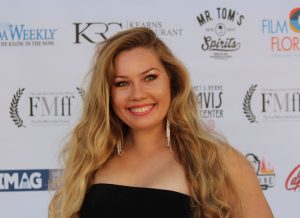 enjoyed a great deal of early success. Besides the Fort Myers Film Festival, the film is an official selection of Action on Film MegaFest15th Annual Film Festival and Writers' Celebration 2019 and Artemis Women in Action Film Festival.
But the film has also been tinged by tragedy. "The actor who played [the bad guy] Monroe passed since we did the film. [Mark Ofuji] was an amazing comedian,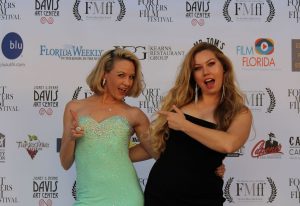 an amazing friend and an amazing personality," says Mariya, her accented voice tinged with sadness.
Ofuji was also an impressionist, actor and bodybuilder. He appeared in numerous movies, most notably Letters From Iwo Jima, as well as several television shows. He did a "First Impression" segment and was a part of the podcast since the very first episode.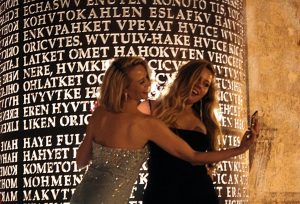 Mark was also infamously on America's Got Talent.
He died in a motorcycle accident in June of 2017 and is greatly missed.
"Sometimes life is unpredictable, so let's enjoy this moment; let's enjoy our life," Mariya philosophizes.
Besides Ofuji and Ireland,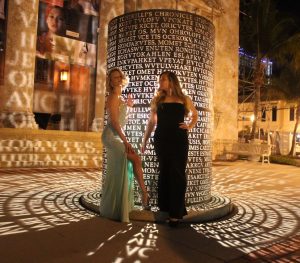 the film also features JoAnna Luna as the antiheroine Sunny, Brandon Stacy as Jack, Brian Gross as Nick and Jared Degado as Crank.
April 22, 2019.
RELATED POSTS.