First 'Buck's Backyard' mural panel will be on display during Fort Myers Art Walk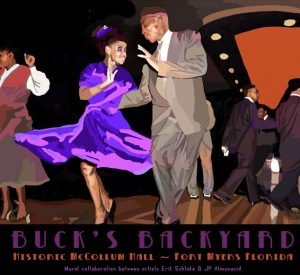 The Fort Myers Mural Society will unveil a digital study of the first panel of the Buck's Backyard mural that will be installed this winter on the boundary wall bordering historic McCollum Hall located at 2701 Martin Luther King, Jr. Boulevard during Art Walk this Friday, November 6. The unveiling will take place between 6:00 and 9:30 p.m. at the east end of First Street between Lee Street and Royal Palm Avenue, across from the Fort Myers Regional Library.
McCollum Hall's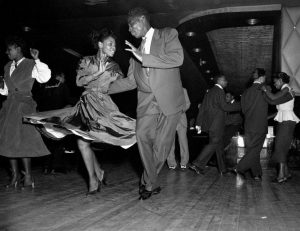 renovation is a City project that includes the restoration of the building and the creation of a new "art hub" for events and social gatherings. Artists Erik Schlake and J.P. Almonicid are collaborating on the first of 17 panels to be included in the mural, which will celebrate the rich history of the McCollum Hall and the Dunbar neighborhood.  Despite their different styles and approaches, the artists are demonstrating a strong sense of camaraderie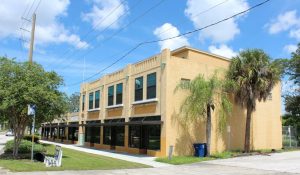 and inclusivity on the project. Both artists will be painting live and will be available to answer questions during the event, and reproductions of the seminal McCollum Hall Bucks Backyard mural panel will be available for purchase.
"The Bucks Backyard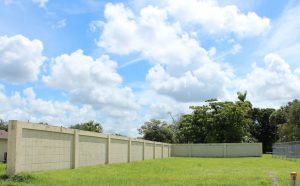 project has been an arduous journey and we are proud of  the hard work of our board members, artists and city officials," says Fort Myers Mural Society Director Shari Shifrin.  "We are happy to showcase our efforts during Art Walk and give the community an opportunity to see what is yet to come."
Several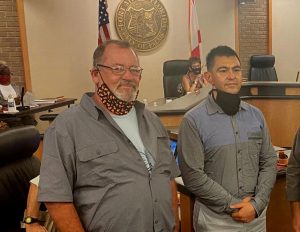 other Fort Myers Mural Society members will be painting live and offering original artwork for purchase. In addition, Florida South Western (FSW) will exhibit their "Inside Out Project," a global art installation transforming messages of personal identity into works of art, and sculptor David Meo's Honey Bee sculpture will also be on display next to the most recently completed Fort Myers Mural Society's mural, Water, Source of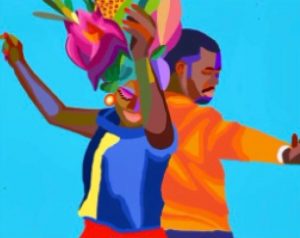 Life.
Craft beer by local breweries will be available for purchase and East End shops including Joe's Record Exchange, Grand Illusion, Rossy Fashions, Sol of Life Tea Parlor, Articulture and the Kava Bar, will all be open to celebrate and support Art Walk.
"Come explore the expansion of Art Walk to the East End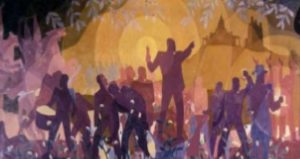 and see the newest Fort Myers Mural Society Project," Shifrin encourages.
For more information, please visit www.fortmyersmuralsociety.com and www.explorefortmyers.com or follow the Fort Myers Mural Society, Fort Myers River District and Fort Myers Art Walk.