'Drowsy Chaperone' play dates, time and ticket info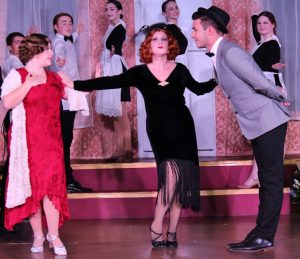 Play:  The Drowsy Chaperone
Book: Bob Martin and Don McKellar (both were Tony winners in 2006).
Score: Lisa Lambert and Greg Morrison
Synopsis:  Janet Van De Graaf is marrying Robert Martin, and the glittering starlet of Feldzieg's Follies is leaving the stage for love! When wealthy widow Mrs. Tottenham decides to host the wedding of the year at her palatial estate, she gets more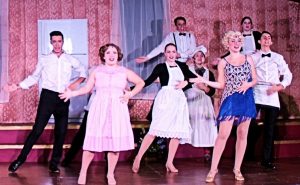 than just a nice write-up in the society pages. Horrified at the prospect of losing his star, Feldzieg, has hired a more-vain-than-verile Latin lover by the name of Aldolpho to seduce the bride and, not willing to leave Feldzieg to his own devices, his angry and anxious principal investor has sent two gangsters disguised as pastry chefs to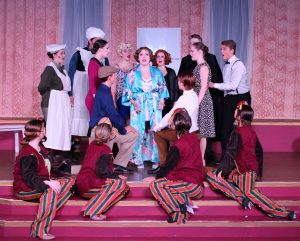 make sure that wedding doesn't take place. Can the Drowsy Chaperone foil Aldolpho's plans? Will the best man, George, make sure that Robert makes it to the wedding on time or will he inadvertently torpedo the very nuptials he's trying to promote?
Director:  Kimberly Suskind
Choreography:  Robin Dawn Ryan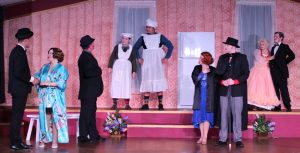 Cast:
Man in the Chair:  Samuel Pucin
The Drowsy Chaperone:  Tricia Hennessy
Janet Van de Graaf:  Jesse Massari
Robert Martin:  AJ Ford
Mrs. Tottendale:  Kristen Wilson
Underling:  Paul Todd, Jr.
Feldzieg:  Christ Wilson
Kitty:  Kristen Noble
Gangster 1:  Noah Lynch
Gangster 2:  Emma Stevenson
Best Man, George:  Theo Rosso
Aldolpho:  Spencer Barney
Trix the Aviatrix:  Cantrella Canady
Superintendent:  Jeremy Kuntze
Ensemble:  Nadia Brown, Liam Hutt, Michelle Kuntze, Marissa Spurr, Cooper Stone, Chance Straley, Kayci Suskind, Brooke Walsh
Play Dates & Times:  Four performances remain:
Thursday, October 29, 7:00 p.m.
Friday, October 30, 7:00 p.m.
Saturday (Halloween), October 31: 2:00 p.m. matinee
Sunday, November 1: closing 2:00 p.m. matinee
Ticket info.:  For tickets, please telephone 239-738-3525 or visit https//:www.ticketor.com/ctw.
Location: 5916 Winkler Ave, Fort Myers, FL
Producer:  Creative Theater Workshop, Inc. is a community based non-profit organization that encourages and promotes an interest in the theatrical arts by providing workshops and producing full-length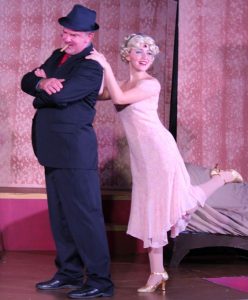 musical productions in order to educate, entertain, and enrich the community. For more information, please visit https://www.ctwtheater.com/.
October 27, 2020.
RELATED MATTERS.