'A Piece of My Heart' opens on Veteran's Day at Cultural Park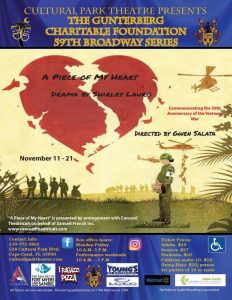 Cultural Park Theater is bringing Shirley Lauro's A Piece of My Heart to the stage in November. This striking drama is a salute to the men and women who served our country during a tumultuous, deeply divisive period in American history.
The play tells the powerful true-life story of six women who went to Vietnam – five medical nurses plus a country-western singer booked by an unscrupulous agent to entertain the troops for the USO. Each of these exceptional women is revealed before, during, and after her stressful experiences in the ravaged, war-torn nation.  The post-service epilogue is particularly unsettling because of the way they are treated both by their colleagues in the medical community and the public at large. The play ends poignantly, with each woman leaving a personal token of their time in Southeast Asia at the Memorial Wall in Washington, D.C.
Named by the Vietnam Veterans Association of America as "the most enduring play in the nation on Vietnam," A Piece of My Heart premiered at Manhattan Theatre Club in New York City in 1991 and has enjoyed more than 2000 productions worldwide since that time. Inspired by Keith Walk's oral compilation of 26 women's memoirs about serving in Vietnam, the play received the Barbara Deming Prize for Women Playwrights and The Kittredge Foundation Award. It was also a Susan Blackburn Prize finalist as "Best English Language Play by a Woman.
Directed by Gwen Salata, the cast features Chantelle Bloise Elmahmoudi as Martha, Jocelyn Button as USO singer Mary Jo, Margaret Bowman as Sissy, Kieran Strosser as Whitney, Cassie Sampson as Leann and Stephanie Sabelhaus as Steele. Donald McKiernan and Owen Atkins play all the American men.
The play appropriately opens on Veteran's Day, November 11, and runs through Sunday, November 20. Go here for play dates, times and ticket information.
October 29, 2021