Applaud extra hard, extra loud and extra long for Bee's kick line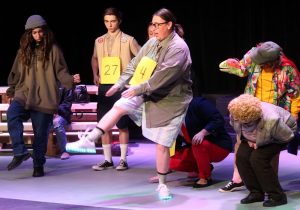 On stage today for a 3p matinee and next weekend for four more shows are the Putnam County spellers, Olive Ostrovsky (Dana Alvarez), Marcy Park (Samantha Pudlin), Chip Tolentino (Elijah Grant), William Barfee (Margaret Bowman), Logainne Schwartzandgrubenierre (Aimee Naughton) and Leaf Coneybear (Cassie Sampson). In one scene, they are joined in a kick line by the Bee's moderators, Rona Lisa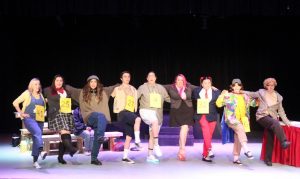 Perretti (Cassy Terwilliger), Douglas Panch (Stephanie Sabelhaus) and Mitch Mahoney (Tatiana Rodriguez). Look, they're no Rockettes, but they do achieve a modicum of the Rockettes' trademark Tiller Girl robotic precision.
The Rockettes enduring popularity was a byproduct of the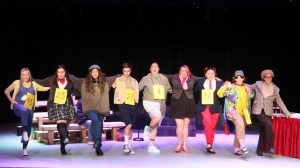 lightheartedness they provided people during America's darkest hours, like the Depression, in Berlin during World War II, and during the war in Vietnam. Clearly, the Putnam County Spellers kick line is sorely needed right now!
The incorporation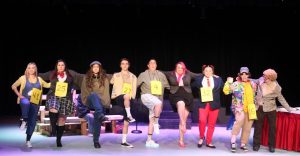 of a kick line into a show like The 25th Annual Putnam County Spelling Bee is par for the course. Lots of shows have done the same. Of course, A Chorus Line is probably the most famous. But there's also Springtime for Hitler and Something Rotten.
And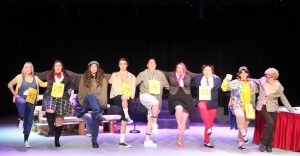 not only have the Dallas Cowboy cheerleaders appropriated a kick line into their routine, but some NFL players have formed endzone kick lines to celebrate touchdowns.
But perhaps the most infamous kick line occurred during the Stonewall Riots. In the middle of the stone throwing and arrests,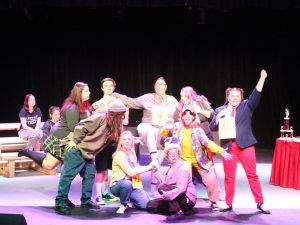 a group of drag queens formed a line and raised their four inch heels in a kick line a la Rockettes. The cops simply didn't know how to react.
So when you go to the show and the spellers kick up their heels, be sure to applaud extra hard, extra loud and extra long. You'll feel all the better for it.
February 27, 2022.