Ghostbird to produce Beckett's 'Catastrope' as guerilla theater piece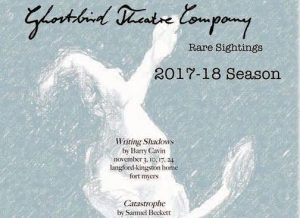 Ghostbird Theatre Company will end its sixth season by producing Samuel Beckett's Catastrophe as a free piece of guerilla theater on May 4. The exact location and time, however, will not be disclosed until the last minute. So be alert lest you miss this extraordinary theatrical event.
The play involves a limited cast consisting of an actor (the protagonist), who stands motionless on a plinth,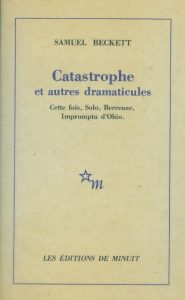 and a director, his female assistant and a lighting tech, who mold the abject thespian's stance, posture and costume to fit their own personal vision and predilections. Ghostbird describes Catastrophe as a comedy "about directing, or more accurately, a play about directorial hell."
One of Samuel Beckett's more overtly political works, the play can also be viewed as an allegory on the power of totalitarianism and the struggle to oppose it – with the protagonist metaphorically representing oppressed people worldwide who are ruled by dictators and autocrats and used as mere pawns in the advancement of their personal, socio-economic and political agendas. In fact, Beckett dedicated the Catastrophe to a Czech playwright by the name of Vaclev Havel, who was imprisoned several times for his dissident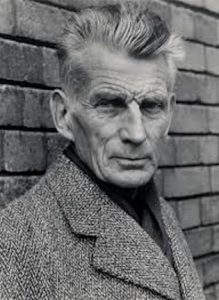 political views (with the longest occurring from May of 1979 to February of 1983).
Another popular interpretation postulates a simile between theater and divine creation, with Catastrope functioning as a satire of the Creator/Artist/Director's right, power and prerogative to control the work thus have created.
Beckett's version of the play contemplates the actor as an elderly man, but a number of theater companies have raised variations on these themes by recasting the protagonist as a beautiful young woman [think, #metoo or #timesup] or a black actor, who the director and his assistant attempt to make as white as possible.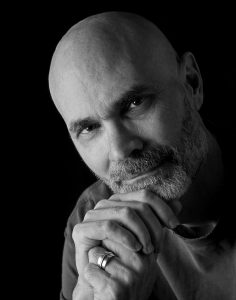 Samuel Beckett (1906-1989) is widely recognized as one of the greatest dramatists of the twentieth century. He was awarded the Nobel Prize for Literature in 1969. He is most renowned for his play Waiting for Godot which launched his career in theatre. He then went on to write numerous successful full-length plays, including Endgame in 1957, Krapp's Last Tape in 1958, and Happy Days in 1960.
Beckett received his first commission for radio from the BBC in 1956 for All That Fall. This was followed by a further five plays for radio including Embers, Words and Music, and Cascando. Like no other dramatist before him, Beckett's works capture the pathos and ironies of modern life yet still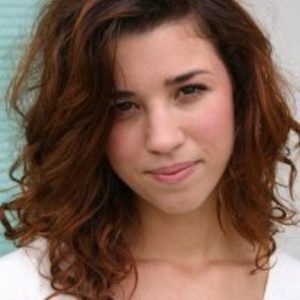 maintain his faith in man's capacity for compassion and survival no matter how absurd his environment may have become.
Ghostbird has not given any intimation of what, if any, interpretations, modifications or surprises it may have in store relative to their "guerilla theater" performance of the four-page, one-act play. However, it is likely that the site it chooses for Catastrophe will bear on the interpretation Ghostbird brings to bear.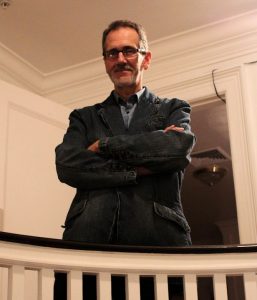 Ghostbird is the only theater company in the American South devoted to site-specific work. And it's precisely because Ghostbird works hard to partner with just the right venue for each of its productions that it has been recognized as one of the ten best companies in Florida for live theater.
With shows such as ORBS! and The Perfect Island of Dr Teed (held at Koreshan State Historic Site in Estero), Writing Shadows (staged at the historic Langford-Kingston Home in the downtown Fort Myers River District) Antigonick (staged at artist Marcus Jansen's warehouse-based art studio in Fort Myers), No. 27 (performed at Bonita Springs'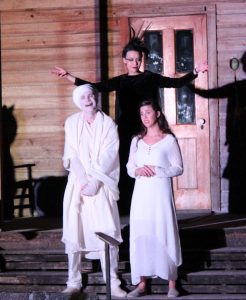 historic Shangri-La Springs) and The Chicken Play (performed outdoors under the super moon and inside the screened pavilion at the Happehatchee Center in Estero), Ghostbird has taken tremendous strides in just the past two seasons in developing performances in which the play and setting converse with one another.
The experimental theatre company takes its name from a swamp-dwelling ivory-billed woodpecker once thought to be extinct, but which has been spotted sporadically over the past two decades. Drawing upon the elusiveness, mystery and magic of its namesake, Ghostbird Theatre seeks to draw its audiences into those deep spiritual woods where they can discover loss, beauty, communion, reconciliation and hope.
More information is available at: http://www.GhostbirdTheatreCompany.org.