Group 4 – 'Boxed In,' roommates who share more than just a space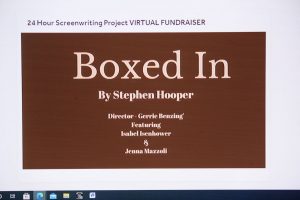 Stephen Hooper was one of four writers who participated in Lab Theater's 24-Hour Screenwriting Challenge.
You mean playwriting, right?
No, for safety reasons, the 24-Hour Playwriting Project was modified this year to the 24-Hour Screenwriting Project. It has also been converted into a virtual fundraiser for the theater,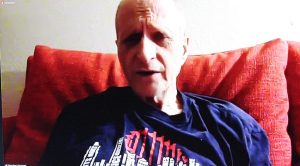 inviting patrons to "vote" for their favorite short film, cast or writer via the ticketing portal with a donation of any amount.
Hooper is an actor, director and playwright whose career in theater spans more than three decades. He can currently be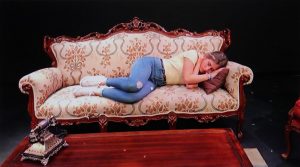 seen in the role of Dr. Ted in Lab Theater's filmed theatrical production of The Realish Housewives of Fort Myers, and before that he'd last appeared as Judge Gaffney in the Alliance's production of the timeless Mary Chase classic, Harvey. His favorite directing credits include Three Days of Rain,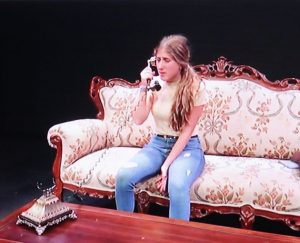 A Tuna Christmas, Becky's New Car, Kayak, The Book of Liz and, most recently, Repossessed. Stephen is also a member of Theatre Conspiracy's Playwrights.
Stephen titled his screenplay Boxed In. It's centers around two college roommates who seemingly share more than just a space. Jenna Mazzoli and Isabel Isenhower play the girls, and the significance of the title becomes apparent at the denouement of Hooper's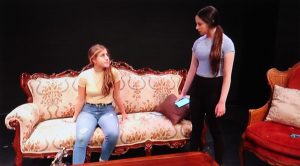 5-minute film which features duplicity, mendacity and an ample amount of stage combat, which Director/Cinematographer Gerrie Benzing elected to portray in slapstick rather than graphic fashion, necessitated, no doubt, by the short amount of rehearsal time allotted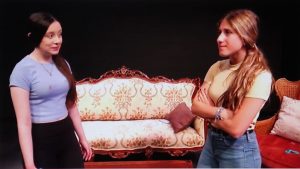 to each team of actors. (As a general proposition, one second of good, safe stage violence requires an hour of rehearsal. Benzing, Mazzoli and Isenhower only had an hour, total, to rehearse before Gerrie shot the film.)
Benzing also made another directorial decision that enhances the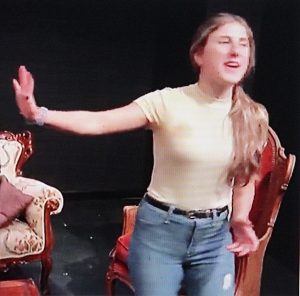 entertainment value of Boxed In. Following a tradition popularized by legendary director Alfred Hitchcock and carried on by the likes of Steven Soderbergh (Ocean's Eleven), Oliver Stone (Platoon), Rob Reiner (Misery), Robert Redford (A River Runs Through It) and Ron Howard (A Beautiful Mind), Gerrie makes an hilarious cameo appearance in the film that serves to interrupt and simultaneously heighten the tension that builds to the film's enigmatic unexpected ending.
More cannot be said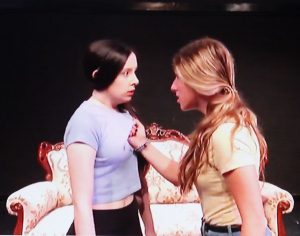 of the film or Hooper's writing, Benzing's direction or Mazzoli & Isenhower's performances without giving away the plot – except to say that if you enjoyed the way that Kinley Gomez's character, Abigail, slapped around Isenhower's character, Betty Parris, in The Crucible, you're going to love, love, love Boxed In.
Boxed In was made possible in part by the sponsorship of The McGregor Clinic, a nonprofit healthcare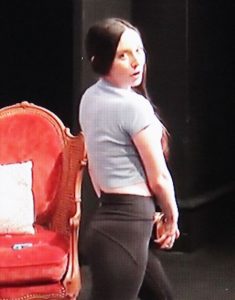 program which provides an integrated approach to patient care emphasizing services for clients living with HIV.
Kudos also go out to 24-Hour Screenwriting Coordinator Char Loomis, Jonathan Johnson for lighting and sound and to Paula Sisk for video and IT support.
And the way you vote for the film, Mr. Hooper and the Benzing-Mazzoli-Isenhower group is with your donation. The highest grossing film wins, with the announcement being made via Facebook Live at 8:00 p.m. on Saturday night.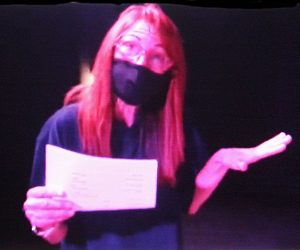 November 22, 2020.