'And the Winner Is' much more than just a pleasant way to spend an evening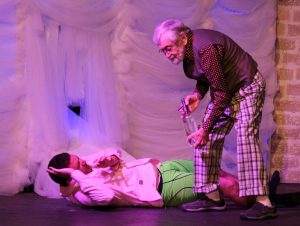 On stage now through March 16 at Lab Theater is Mitch Albom's timely comedy, And the Winner Is. Some reviewers have dismissed the play as a "lightweight comedy … but pleasant way to spend an evening." While the latter is true (the Lab production is a hoot and a howl), And the Winner Is provides a fascinating contrast of the way in which the fabric of society has changed in the seven decades that have elapsed since the end of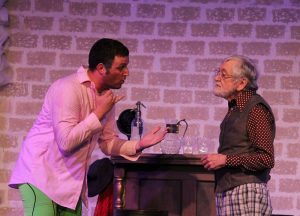 World War II.
While opinions vary, any conversation about all-time great Christmas movies has to include Frank Capra's It's a Wonderful Life starring Jimmy Stewart and Donna Reed. It's a story about a good and decent guy facing financial ruin, disgrace and incarceration through no fault of his own. In his despair, he concludes that the world would be better off if
he'd never been born. It falls upon Clarence, his guardian angel, to not only prevent George Bailey from committing suicide, but show him just how good he'd done over the course of his truly wonderful life.
The theme and central character in Winner are the inverse of It's a Wonderful Life. Tyler Johnes is a self-centered, egomaniacal actor concerned, for the moment, with only two things: winning the Oscar for Best Supporting Actor and nailing his beautiful, well-endowed gal pal, Serenity, who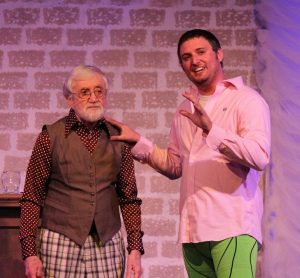 Tyler appreciates solely because "she has a great ass." But unlike George Bailey, Tyler Johnes doesn't wish to be dead. He is dead. Dead as a door nail. He dropped dead in bed the night before the Academy Awards and now he's pleading with his heavenly gatekeeper to return to earth so that he can find out if he won.
After all, it's all about Tyler Johnes.
In Winner, Clarence takes the form of a bartender in a seedy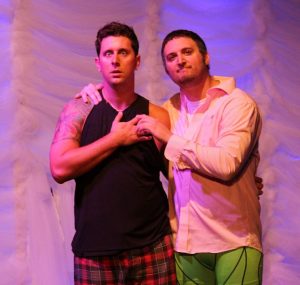 Irish pub that has no music, no alcohol, not even a damn telephone. Seamus is tasked with the unenviable job of getting Tyler to see that he a Class A schmuck. He was so consumed with his own wants and needs that he misjudged just about everyone he ever dealt with, especially his wife and long-time CHIPNCOPS co-star Kyle "Sexy" McCormick.
Seamus seems inclined to grant Tyler's wish to return to Earth for the Academy Awards, but first he insists that the dearly departed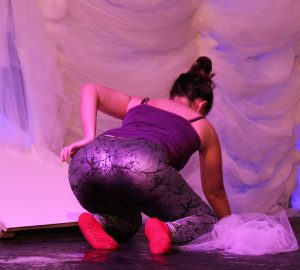 dick answer two simple questions. Who have you helped during your lifetime? (Read, describe all the good deeds you've done while you were alive.) Who have your hurt while you were living? (Read, describe the harm you've done during your time on Earth.)
In this scene, Tyler is accompanied by his sleazy agent, Teddy La Petite. Together, they cannot come up with a single example of anyone Tyler's helped (although he did write a big check to a charity one time for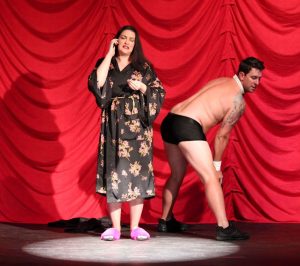 the favorable publicity). And as for the latter inquiry, Teddy asks Seamus, "How much time do you have?"
At its roots, Winner operates from the premise that the good-and-decent paradigm metaphorically represented by George Bailey has been replaced in the 21st century by a different kind of person. We've come up with numerous shorthand terms and adjectives to describe the all-too-numerous modern-day men and women. Self-absorbed. Self-concerned. Egotistical.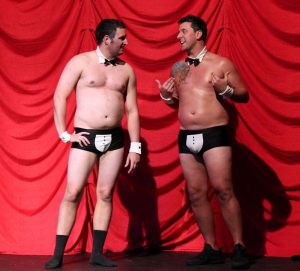 Narcissistic. Actors, athletes, politicians, even the guy next door (if not the guy in the mirror). Basically, folks who look at other people in transactional terms, assigning them value if and only to the extent of what they have or can do for them.
The question is not whether we're self-involved, but rather the degree to which we're self-centered.
Carl Rogers must be spinning in his grave!
You won't learn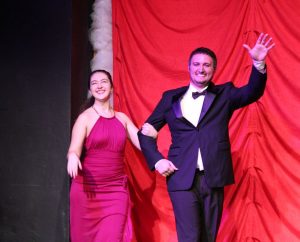 here how Mitch Albom resolves Tyler Johnes' dilemma, whether he ultimately redeems himself and earns a second change at life (or the afterlife), or even if he or his co-star wins the little gold statuette. But if you're a fan of It's a Wonderful Life, you'll love all of the parallels and comparisons that Albom incorporates into the structure and dialogue of this modern-day awards season allegory. Some are obvious; others more abstruse.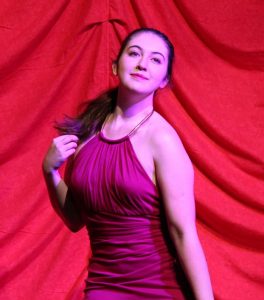 But one you just have to give props to is Seamus' use of a seltzer bottle to bring people to their senses.
The acting in Winner is spritely and spirited. (Sorry, an actor gets his wings every time someone employs a pun.) TJ Albertson picks up right where he left off as oversexed bad boy Timmy in Hand to God. Albertson is just as randy in Winner – even though he's more sassy than sexy – but the ladies will nonetheless love his Chippendale routine with Michael Andrew at the start of Act Two. But what makes this a step forward in Albertson's acting career is the ease with which he traverses the character arc he's been given by Albom.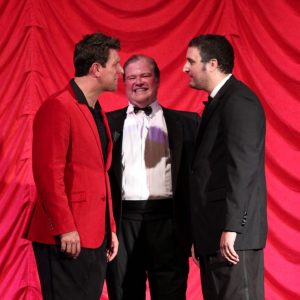 His scenes with both Dave Yudowitz (Seamus) and Danielle Channell (Tyler's wife, Sheri) are tender, touching and marvelously understated. Good things lie ahead for Albertson and Southwest Florida theater audiences if he continues to progress at this pace.
Dave Yudowitz is developing a niche reputation playing heavenly host. (He was the archangel Michael in An Act of God.) But he excels in Winner as the wry, long-suffering Seamus, possessed as he is, with the perspicuity of a Leprechaun. Yudowitz has a wee bit of larceny in his own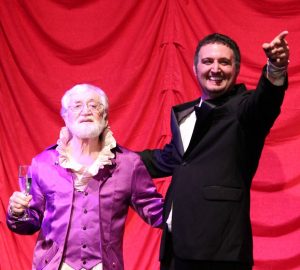 heart. He doesn't portray Seamus as affable or daffy. Rather, he wrings from the part every ounce of trixter, betraying neither a wink nor a nod.
Michael Andrew plays Tyler Johnes' reviled CHIPNCOPS/Chippendale partner and co-Best Supporting Actor nominee. He the counterpoint to Albertson/Johnes pointed disdain. He's up to the challenge of playing his character in a way that permits the audience to believe that he could be either guilty of cuckolding his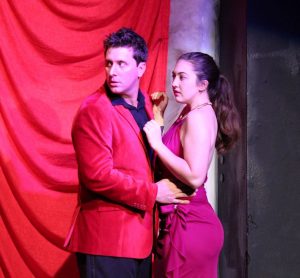 buddy or wrongly accused of seducing the winsome Sheri. In either case, he sets the stage on fire in the opening scene of Act Two, as he struts his stuff as a gun-toting Chippendale gyrating around an oblivious Sheri as she tries to talk on the phone.
Toddy Lyman has some of the funniest lines in the show as the boys' Hollywood agent. Once again, he looks debonair in a tux. But even better. In Winner, he's an agent rather than a lowly theater critic and, hence, no one beats him up.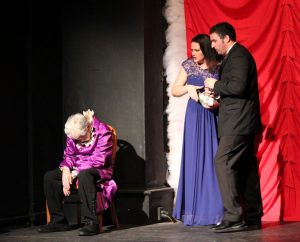 Danielle Channell is soft and vulnerable in the role of Tyler Johnes wife. She conveys the hard-to-replicate qualities of grace, dignity and forlornness in both demeanor and diction. It's a warm and gentle dimension that previous roles (like Meg McGrath in Crimes of the Heart, Elsa Von Grossenkneuten in The Musical Comedy Murders of the 1940s and Julia Budder in It's Only a Play) didn't require. She does so well with the part that you'll want to give her a great big hug after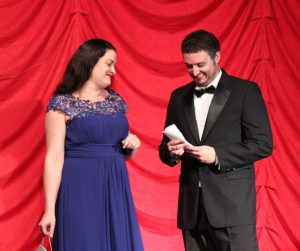 the show.
Maddy Hayes is a pure delight in the role of Tyler Johnes ditzy squeeze, Serenity. At times, she's reminiscent of a young Goldie Hawn or April Michelle Bowlby's Kandi in Two and a Half Men. But there's a wily aspect to her portrayal of Serenity, which is saying a lot for a character whose opening scene involves thrusting her buttocks at the audience in a slo-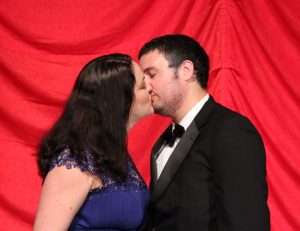 mo twerk that even Miley Cyrus would applaud. Like Hawn and Bowlby (who studied marine biology in college), Hayes is smart as whip in real life. So it's a testament to her acting acumen that she's so convincing as a shallow social climber of the Hollywood ilk.
Carmen Crussard does another fine job in directing the production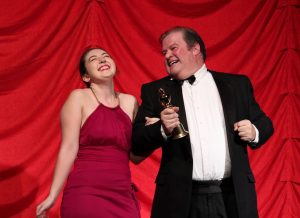 and a young and maturing cast. And hats off, as well, to Kayleigh O'Connell for stage management and Jonathan Johnson for lighting and sound design.
In the end, Winner is indeed a pleasant way to spend an evening. The acting is crisp and there are laughs and guffaws from start to finish. But sometimes, the best laughs are those that we direct at ourselves.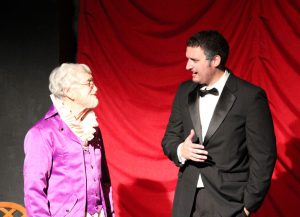 With that in mind, what about you? Who have you helped over the course of your life? What good have done for your family, your friends, your community, your fellow man? And if your answer to these questions is less than satisfying, do you have what it takes to take stock of your life? If so, this is unquestionably a show you should see.
February 25, 2019.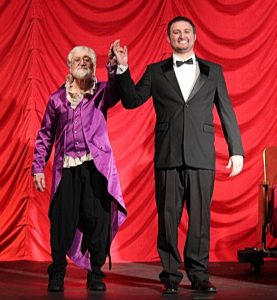 RELATED POSTS.