A tale of two sirens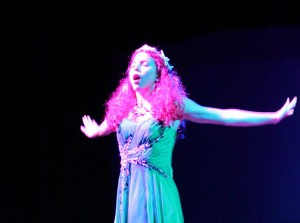 On stage now at Lab Theater in the River District is a charming play called Sirens that features an ensemble cast consisting of Patrick Day, Brenda Kensler, Holly Hagan and Juan Alejandro. It is appropriate that Lab Theater and director Anne Dodd would bring this play to Fort Myers. After all, the River District has long been home to another famous siren. Her name is Lorelei and she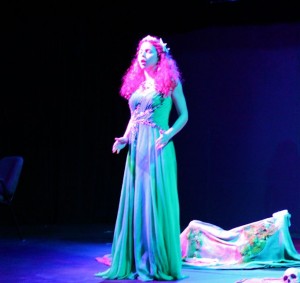 now resides in the Hibiscus Garden at the Fort Myers Lee County Garden Council on Virginia Street in downtown Fort Myers.
Lab Theater's siren is played by the uber-talented Holly Hagan, who turns in a magical performance in Deborah Zoe Laufer's modern-day comedy. Laufer doesn't really give us much background about her siren. All we really know about her is that the gods have given her a present recently – a smartphone containing an app for Solitaire, which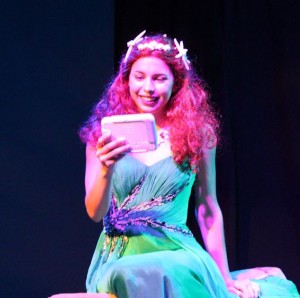 she finds totally addictive. In fact, it's "so diverting" that she finds it something of an imposition to have to sing her alluring song when ships venture too close. But her lack of backstory and relative anonymity is actually consistent with the mythology of such creatures. In the Odyssey, for example, Homer says nothing of his sirens' origins or names, although he does tell us that there are but two of them in the entire world.
We actually know a good deal more about Fort Myers' famous siren. The 1880 Italian marble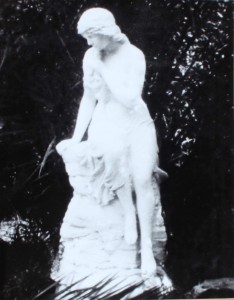 sculpture is based upon a nymph who to this day inhabits a picturesque section of the Rhine River valley in central Germany across from Rheinfels Fortress in St. Goar, not far from Schoenberg Castle (also known as Castle Cat) in Sankt Goarshausen. According to the legend, Lorelei was a distraught young maiden who threw herself into the river in despair over a feckless lover. She was transformed in death into a siren or mermaid whose hypnotic music ever after lured sailors and fishermen to their death. Since the Middle Ages, this part of the river has been regarded by mariners and fishermen as the most treacherous stretch of the Rhine. Passage is narrow, the current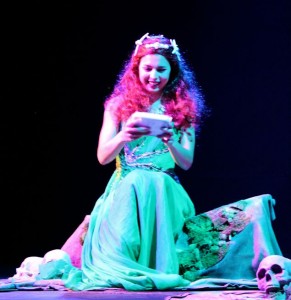 swift and deep, and many a boat has smashed into the jagged shoreline located in that part of the river, foundering on the rocks at the foot of the 435 foot cliff from which the Siren takes her name.
Standing on the deck of the cruise ship in the Lab Theater play, Sam Abrams hears in the siren's song strains of the tune that made him famous more than 35 years ago. For Sam, it's the call of inspiration and the hope of resurrecting his long-dead music career that causes him to jump overboard even as his wife is telling him that their marriage is over. Sam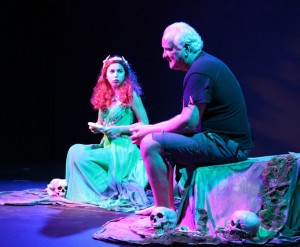 doesn't hear her. Her words are drowned out by the distant music. For him, the siren's song represents rebirth, rejuvenation and the resurgence of creativity. Death isn't in the waters lapping at the shores of the siren's island. It's staying on the deck of the cruise ship, mired in a life and marriage that's grown stagnant, joyless, no longer worth living.
For the mariners who hear Lorelei's song, just the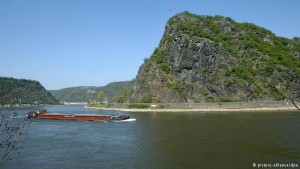 opposite is true. For centuries, Lorelei's song has lured boaters toward seven jagged boulders lurking just beneath the surface of the water at the base of the cliff from the siren takes her name. Called the seven virgins, the rocks pose a threat to boats that travel the river even today. In 2011, for example, a tanker carrying 2,400 tons of sulfuric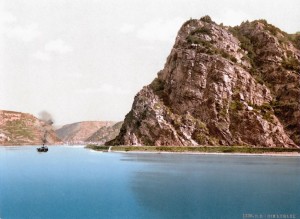 acid capsized after it struck Loralei, killing two crew members and blocking ship traffic on the Rhine from Mainz to Koblenz for more than a week. A pontoon and four cranes were required to raise the tanker from the river's rocky bottom. The cause of the accident remains unclear to this day.
While those who've heard the music imbue it with human attributes, in reality, the sound originates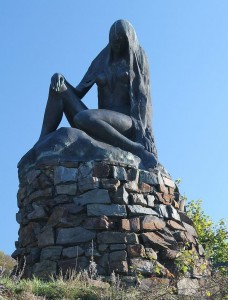 from the water lapping against the rocks at the base of a cliff, which then echoes throughout the surrounding hillside vineyards. On a clear night, after the daily drone of whining engines and rubber on asphalt has subsided for the day, you can still hear Lorelei's melodic tune. Many liken the sound to a young woman plaintively singing. Others characterize the echoes as sinister, wrath-filled laughter. As with Sam Abrams, it all depends on your perspective and what you bring to the experience.
But there is one area in which Lab Theater's siren and Lorelei are similar. Both sirens are long-haired, strapless, bare-footed beauties who are dressed in flowing shifts that flatter their svelt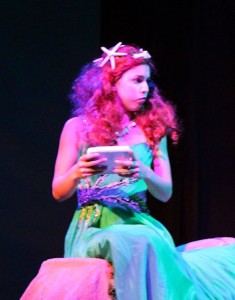 forms and soft curves. Lab Theater director Anne Dodd envisioned her siren with flowing red tresses adorned with starfish and shells. Sculptor Emma Elisabeth Phinney imagined Lorelei with a long blond mane twisted into a golden braid cascading down her shapely back. While admirers today cannot enjoy Lorelei's flawless complexion, Grecian nose and honeyed lips (vandals decapitated the poor lass in 1997 and her head was never found), but if you want to glean and idea of what she may have looked like if she were to suddenly come to life, buy yourself a ticket and drive on down to Lab Theater before the play completes its run next month.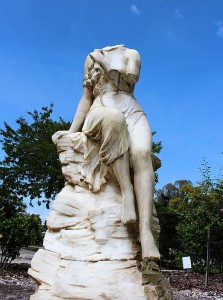 If they have not already, perhaps Anne Dodd and Holly Hagan will make a trip one day soon to visit Lorelei in her digs at the Garden Council. And as Hagan has plans to travel Europe as soon as the show ends in August, she might even visit Rome and the Academy of Fine Arts where Emma Elisabeth Phinney carved the statue or Rheinfels Fortress where Lorelei comes from. No matter. Fort Myers has two sirens now. Lorelei in the garden and Hagan at Lab Theater.
For more on Lorelei, read here.
And for more on Sirens: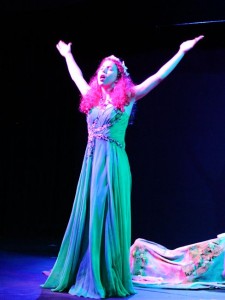 Posted July 16, 2016.
Related Posts: