Melody Lane Theatre bringing 'Matilda JR' to Cultural Park stage on May 1 & 2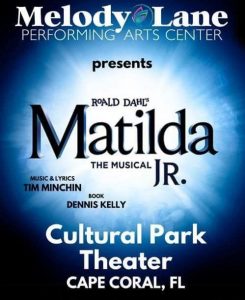 Melody Lane Performing Arts Center is bringing Matilda JR to the Cultural Park Theater stage for four performances – at 2:00 and 6:00 p.m. on Saturday and Sunday, May 1 and 2.
Matilda JR is the story of an extraordinary little girl with extraordinary powers. The daughter of abusive parents, Matilda finds refuge in library books, which she reads quickly, and in the stories she creates. Things are no better at school, where Matilda also must face a tyrannical and cruel headmistress, Miss Trunchbull, who believes in Crunchem Hall's motto: "Bambinatum est Magitum" or "Children are Maggots." Matilda finds companionship in her teacher, Miss Honey,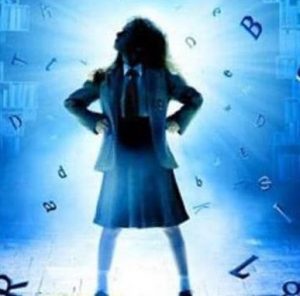 who, though well-intentioned, is shy and fragile. Brave little Matilda knows she has to stand up against the adults in her world, and in doing so, discovers her own remarkable powers. Matilda's bravery teaches Miss Honey and her classmates an important lesson — that even though life can be hard, "nobody but me is gonna change my story" so "sometimes you have to be a little bit naughty."
The lead will be played by Cadence Bambrey-Zedd (Hanging Millstone (2019), Seers of Light in Shadows (2017), School Bus Diaries (2016)) and Emily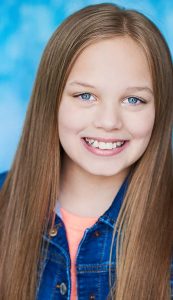 Feichthaler (Matilda in Matilda JR. for Creative Theater Workshop, ensemble in Into the Woods JR. for Florida Repertory Theatre, Steward/Happy Dwarf in Into the Woods JR. for Melody Lane Performing Arts, Foxy the Lost Boy in Peter Pan JR. for Melody Lane Performing Arts). Addison Smith and Georgia Rainero play Miss Honey. Yovanna Ignjatic and Nicholas Salerno alternate as Agatha Trunchbull, with Landon O'Brien playing the part of Mr. Wormwood.
Rounding out the cast are:
Michael Wormwood: Honour Holton
Lavender: Ashlynn Richardson
Bruce: River Reed
Nigel: Logan King
Amanda: Sarah Salerno
Alice: Olivia Shaw
Tommy: Ethan Mohring
Hortensia: Maycee Meeks
Phelps: Paige Burch
Acrobat: Luciana Mendez
Escapologist: Nicholas Salerno & Yovanna Ignjatic
Mechanic: Redding Rodecap
Rudolpho: John Grace
Sergei: Michael Sabino
And the ensemble f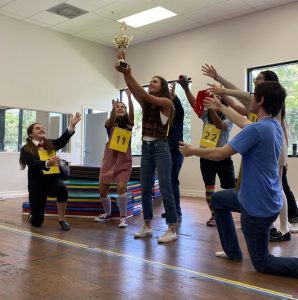 eatures Cassie Grossarth, Avalyn Calandra, Brielle Kahlstorff, Constantine Belis, Serenity Bailey, Camryn Valenti, Jaylee Blaisdell, Kennedy Fields, Reese Rainero, Gianna Rainero, Amelia White, Olivia Crayton and Zoe Belis.
Since 2017, the Melody Lane Theatre Department has produced over a dozen youth musicals, including three pilot productions for Disney. Through audition, education, and performance opportunities, students gain acting, singing, dancing,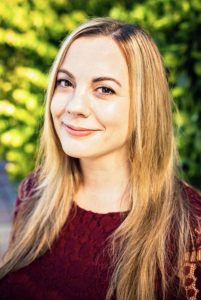 and ensemble skills as well as create art. In addition to putting on major musical productions like Disney's Lion King JR, Finding Nemo JR, Frozen JR, and James and the Giant Peach JR, as well as Teen Productions that include Into the Woods JR and The 25th Annual Putnam County Spelling Bee, Melody Lane Theatre Dept. earned the highest honor of "Outstanding Performance" at the January 2019 Junior Theater Festival Awards in Atlanta, GA, winning overall in the age category of 8th and below. In 2020, its JTF Team earned the award of "Excellence in Ensemble Work" for their set of Mary Poppins, and Theatre Director Dana Alvarez won the Freddie G Teacher Fellowship Award.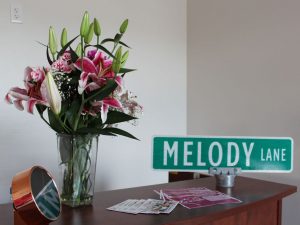 Go here to order tickets: http://melodylanepac.com/theater-dept/.
And go here for more on Theatre Director Dana Alvarez.
April 11, 2021.