Using Go-Gos songbook, 'Head over Heels' musical preaches unconditional love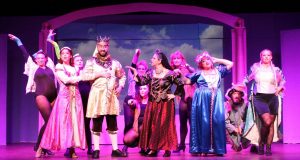 The jukebox musical Head over Heels opens at New Phoenix Theatre on April 7th. Featuring the songs of The Go-Go's and a storyline adapted from Philip Sidney's 16th century romance The Countess of Pembroke's Arcadia, Head Over Heels preaches unconditional love and acceptance of yourself and everyone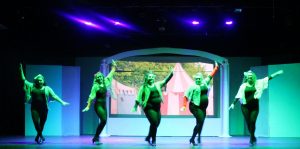 you know, no matter their gender or sexual identity.
The setting is the royal court of Arcadia, a peaceful and prosperous land whose people's lives are governed by a divine power known as the "Beat" ("We Got the Beat").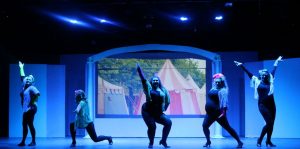 But suddenly, the mystical Oracle of Delphi issues four prophecies. If they are fulfilled, the Beat will be lost and the kingdom will fall into a state of permanent distemperature. In an effort to thwart the prophecies and avert the Oracles's dire prediction, King Basilius embarks upon a journey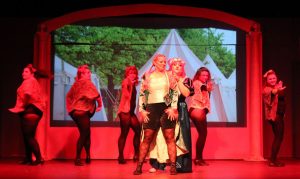 into the woods for purposes of finding and killing the man who has been prophesized to succeed him as king, and through artifice and deception, he drags along the members of is family and the royal court. Hilarity ensues.
With a plot promising a usurped kingship, unlikely lovers, and gender-fluid disguises, Head Over Heels uses some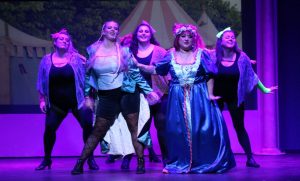 of the greatest pop rock hits of the late 20th century to create a hilarious, exuberant celebration of love.
Scott Carpenter directs, with musical direction and choreography provided by Julie Bearden Carver and Robin Dawn. Ryan Craig and Cassie Sampson star as King Basilius and Queen Gynecia, with Nikki Hagel and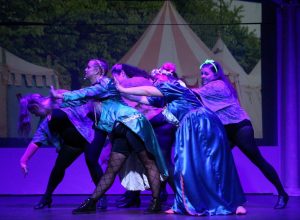 Isabella Marshall playing their daughters, the princesses Pamela and Philoclea.
Go here for play dates, times and ticket information.
March 27, 2022.