'Inspecting Carol' play dates, times and ticket information
Playwright: Daniel Sullivan
Synopsis: Inspecting Carol is a behind-the-scenes farce about a financially-strapped third-rate theater company struggling to put on its annual production of Charles Dickens' A Christmas Carol. The costumes reek and don't fit. And the self-absorbed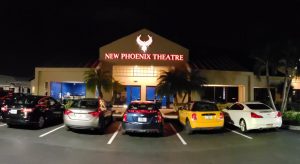 actor playing Scrooge is trying to rewrite the play. (The audacity!) But worst of all, the company is on the verge of collapse. The company only managed to secure half their expected subscribers and is dangerously close to losing its NEA funding.
And as the show opens, Murphy's Law rears its ugly head. (That is, anything that can go wrong will go wrong at the worst possible time.) An out-of-town actor by the name of Wayne Wellacre shows up to audition. Mistaking Wellacre for an NEA auditor in disguise, the company's Artistic Director, Zorah Bloch, not only allows him to join the cast, but lets him start making ridiculous changes to Dickens' script. Eventually the real NEA evaluator appears to watch the disaster unfold. Hilarity ensues.
Tag: Perfect anytime, this delight is particularly appropriate at Christmas.
Director: Joey Bostic
Assistant Director: Yvonne Shadrach
Cast:
Bill Allenfort as Sidney Carlton
Sam Bostic as Walter E. Parsons
Blake Dunkle as Larry Vauxhall
Carolyn England as Dorothy Tree Hapgood
Lexi Falance as Lexi Beatty
Cindi Heimberg as Zorah Bloch
Gary Hirmer as Kevin Emery
Krystal Kurlowich as Bart Frances
Denise McKiernan as Betty Andrews
Don McKiernan as Phil Hewlitt
Robin Murray as M.J. (Mary Jane) McMann
John Strealy as Wayne Wellacre
Play Dates and Times: December 5, 6, 7, 12, 13, 14, 19, 20 & 21 at 8:00 p.m. with 3:00 p.m. matinees on December 8, 15 and 22.
Tickets: Tickets cost $25 and may be purchased by visiting https://www.newphoenixtheatrefortmyers.org/ or telephoning 239-284-5214.
Location: 13211 McGregor Boulevard, Fort Myers, FL 33919.
November 22, 2019.
RELATED POSTS
Spotlight on 'Inspecting Carol' actor Carolyn England
Spotlight on 'Inspecting Carol' actor Cindi Heimberg