'Beer for Breakfast' play dates, times and ticket info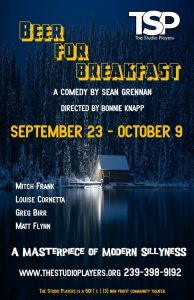 Play:  Beer for Breakfast
Playwright: Sean Grennan
Genre:  Comedy
Synopsis:  Four middle-aged buddies reunite for a "guys' weekend" — complete with old music, cheap beer and enough cholesterol to stop Superman's heart.  These guys are out to prove they've still got it, so they are going to party like it's 1979!  It's all going well until one of them doesn't show up…but his wife does.  Snowed in overnight, an epic struggle ensues: will man be judged the superior sex or will woman prevail?  Will love truimph or will the old grudges win?  And finally, perhaps most importantly, if Doritos are made of corn, why can't they be considered a serving of vegetables?
What the Critics Say:
"A masterpiece of modern silliness. Grennan's play deserves to become a staple of the genre." Greg Boyle, Metro Kansas City Entertainment Editor, KC Active Magazine
"Beer for Breakfast is a hilarious play. It bounces between laughter and tugging at your heartstrings with such ease. Our audiences have LOVED it!" Paul Hough, Artistic Director American Heartland Theatre, Kansas City, MO
"Playwright Sean Grennan writes clever dialogue, and his play delivers some serious laughs." Robert Trussell, Kansas City Star
"Beer For Breakfast, a world premier play by Sean Grennan is a charming comedy… Grennan's script is funny and it moves along at a peppy pace." Peter Bakely, Kansas City Examiner
Director:  Bonnie Knapp
Cast: Mitch Frank, Louise Cornetta, Gregg Birr and Matt Flynn
Play Dates and Times:
7:30 p.m. on September 23, 24, 29  & 30 and October 1, 7 & 8
3:00 p.m. on September 25 and October 2 & 9
Tickets:  Go here for tickets: https://the-studio-players.ticketleap.com/beer-for-breakfast-by-sean-grennan/
Location:  Joan Jenks Auditorium at Golden Gate Community Center, 4701 Golden Gate Parkway, Naples, FL 34116.
August 22, 2022.