'On Golden Pond' play dates, times and ticket info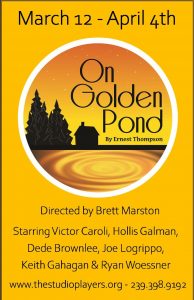 Play:  On Golden Pond
Playwright: Ernest Thompson
Synopsis:  The loons are back again on Golden Pond and so are retired professor Norman Thayer and his wife, Ethel, who have had a summer cottage there since early in their marriage. They haven't seen their daughter, Chelsea, for a number of years, but this summer she feels the drop in for Norman's birthday. You see, she and her fiancé, Billy Ray, are on their way to Europe and they Norman and Ethel to watch his son, Billy Ray Jr., for a couple of weeks. When she returns, Chelsea is married and her stepson has the relationship with her father that she always wanted.
Will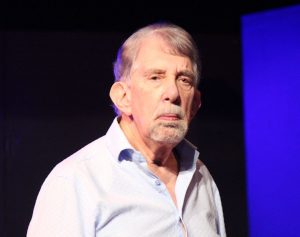 father and daughter be able to communicate at last? The play explores the often turbulent relationship the young woman shared with her father growing up, and the difficulties faced by a couple in the twilight years of a long marriage.
Director:  Brett Marston
Cast:
Norman Thayer:  Victor Caroli
Ethel Thayer:  Hollis Galman
Chelsea:  Dede Brownlee
Billy Ray:  Joe Logrippo
Charlie Martin:  Keith Gahagan
Billy Ray Jr.:  TBA
What the Critics Said:
"Presented to great critical and popular acclaim first off then on Broadway, this touching, funny and warmly perceptive study of a spirited and lovable elderly couple facing their twilight years introduced a significant playwright to our theatre. On Golden Pond is a work of rare simplicity and beauty, and in Thompson, theatre has found a fresh new voice." —NY Daily News.
"…a rare and memorable theatrical experience…" —Variety.
"What courage it must have taken for Mr. Thompson in the 1970s to write a play with so much affection in it!" —The New Yorker.
Play Dates: March 12-April 14
Tickets:  Please telephone 239-398-9192
Location:  The Joan Jenks Auditorium in the Golden Gate Community Center
February 1, 2021.