'Duck Variations' more than opportunity for fun, socially-distanced night out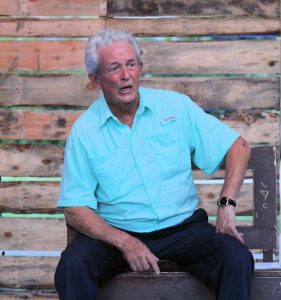 Opening tonight outdoors on the Alliance for the Arts campus is David Mamet's Duck Variations. The production marks the start of the Alliance's 2020-2021 theater season and the first of a series of smaller, outdoor shows that uniquely enable patrons to enjoy live theater while social distancing and avoiding the risk posed by airborne pathogens circulating through air-conditioning ductwork.
The play is set on a small stage crafted from wooden pallets that's nestled beneath a trio of towering trees draped in Spanish moss and illuminated by blue ground-well searchlights.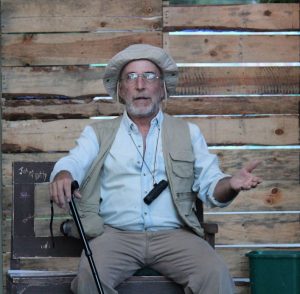 The stage faces west, oriented toward the Alliance's new 25-foot-tall Caloosahatchee Water Wall, which rises majestically from the far bank of the ArtsPark pond which, coincidentally, is home to an array of ducks. So it's easy to imagine Jim Yarnes and Scott Thomson straining to see the ducks they discuss at great length in the fourteen interconnected vignettes that comprise Mamet's 1972 two-actor play that showcases his legendary knack for rapid-fire repartee.
Yarnes and Thomson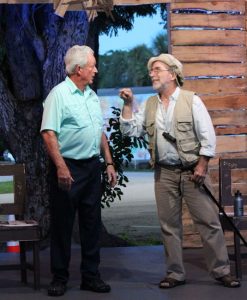 portray two octogenarian characters by the names of Emil Varee and George S. Aronovitz respectively, who sit on benches in a park pontificating on ducks, natural selection and conservation along with life, the aging process and the subject of friendship. Although Mamet is somewhat tight-lipped about the length and depth of their association, it's clear that these two are friends. But they're the kind who frustrate, confound and needle each other as they circle one another in a closely-choreographed tango designed to keep things inane and superficial.
The codgers seem to talk about whatever randomly pops into their crinkling craniums,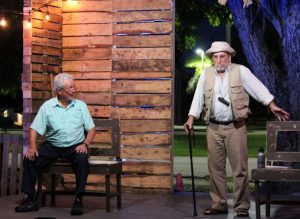 but there's actually a central theme that Mamet develops through this play.
There's one topic that's completely off limits, at least as far as Emil is concerned. That's the subject of death.
"You upset me … with your talk of nature and the duck and death," Emil says mid-way through the play. That's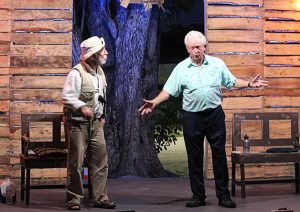 because both men are painfully aware that they're inching toward their inevitable date with destiny. And consciously or not, they are striving to ascribe some purpose to their remaining days even as they while away the hours with pithy observations and pointless chatter.
"There's nothing you could possibly name that doesn't have a purpose," Emil insists. "Don't bother to even try … The fact that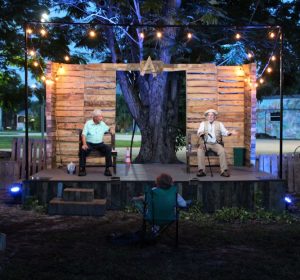 you are sitting here on this bench has got a purpose."
But rather than give his friend the reassurance he desperately seeks, George counters with an analogy from antiquity, smacking his friend in the mouth by drawing a parallel to the plight of old men in ancient Greece. "Incapable of working. Of no use to their society. Just used to watch the birds all day. First Light to Last Light. First Light: Go watch birds. Last Light: Stop watching birds."
But even though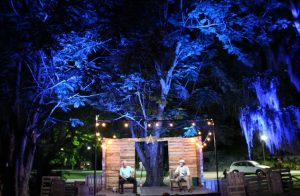 they deny each other the solace of insincere agreement, it's better than being alone in the "joyless, cold concrete" of their apartment or home. "Nothing that lives can live alone." And so they're content to keep other company in the park as they watch, feed and opine endlessly about the titular ducks.
Mamet's dialogue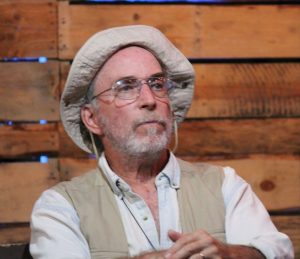 and play structure is tough stuff, but Jim Yarnes and Scott Thomson make it flow. More, they make themselves into crazily cuddly curmudgeons that appeal to youngsters and oldsters alike.
Duck Variations is not just an opportunity for a fun, socially distanced night out, but good old-fashioned thought-provoking theater. On top of that, you have the chance to sit in the dark under the stars while noshing
on some snacks that you can purchase compliments of Broadway Palm. If subsequent productions come up to the benchmark this one sets, Bill Taylor and the Alliance for the Arts may never go back inside.
October 8, 2020
RELATED POSTS.