'Colored Museum' being staged as traveling exhibition through Alliance gallery and campus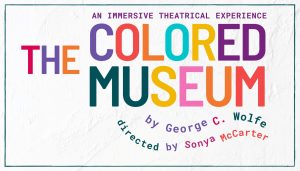 Sonya McCarter and the Alliance for the Arts produced Emmy-winning George C. Wolfe's The Colored Museum at the end of their inaugural 9-week CHANGE (Communities Harnessing the Arts to Nurture and Grow Equity) course that challenged eleven adults from minority communities to explore the fundamentals of acting, character development and scene work. Now, the Alliance brings back the vignette-based play that has electrified, discomforted and delighted audiences of all colors since 1986, undermining black stereotypes, old and new, and redefining our ideas of what it means to be black in contemporary America.
Sonya McCarter once again directs.
McCarter has long admired the Emmy-winning playwright not just for his uncanny ability to eviscerate the stereotypes we all embrace, both intentionally and unwittingly, but for his gift for "intentional phraseology." By stripping off facades, artifice and emotional armor of the characters he contrives, Wolfe shines a cold, unapologetic light on the essence of the black experience in this country.
New York Times reviewer Frank Rich put a fine point on Wolff's incisive play some 35 years ago. "How do American black men and women at once honor and escape the legacy of suffering that is the baggage of their past?" he wondered aloud.
It was that very query that compelled Wolfe to courageously excoriate the assumptions underlying no less than Lorraine Hansberry's iconic play A Raisin in the Sun. In a sketch titled "The Last Mama-on-the-Couch Play," Wolfe ridicules the characters of Mama and her son, Walter Lee, mocks the dialogue that passes between them, and excoriates the expectations that white audiences have of mainstream black performers and the playwrights who infuse them with animus – making good on his promise to deliver "a searing domestic drama that tears at the very fabric of racist America" by revealing the cultural blind spots of blacks and whites alike.
From an intellectual standpoint, The Colored Museum is the perfect exclamation point for a journey that Bill Taylor and Theatre Conspiracy began five seasons ago with Ma Rainey's Black Bottom, and which continued in successive seasons with Seven Guitars, Joe Turner's Come and Gone and King Hedley II, all part of August Wilson Century Cycle.
Now McCarter returns to direct and all-star cast that includes Cantrella Canady as La La Lamazing Grace, Tijuanna Clemons in various roles, Derek Lively as Miss Roj and Ruthgena Faraco as Topsy – fresh from her triumphant portrayal of Celie in The Color Purple for the Laboratory Theater of Florida.
When McCarter last produced and directed The Colored Museum, attendance was restricted to her students' family and friends. This time around the play is open to the entire community, but McCarter makes use of the play's eleven individual playettes to construct a highly-personal interactive experience with audiences traveling through the Alliance gallery and campus to visit each "exhibit" in The Colored Museum. Ironically, the Foulds Theatre will be the only space not used for the production.
Go here for play dates, times and ticket information.
December 1, 2021; revised January 5, 2022.