Meet 'The Cave' actor Marie Baptiste, who plays runaway slave Cassie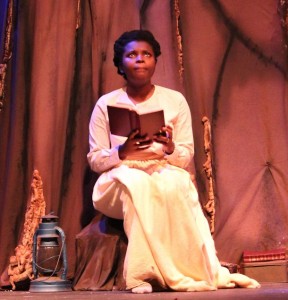 Theatre Conspiracy's production of The Cave opened on March 24 in the Foulds Theatre at the Alliance for the Arts. It stars Florida SouthWestern State College sophomore Marie Baptiste as Cassie, The Bible's Jordan Wilson as a wounded Confederate soldier by the name of Brandon and Michael J. Pineda as a Union deserter named Timothy.
Not only is The Cave Marie Baptiste's Theatre Conspiracy debut, it is her first lead. For a veteran actor, the role of Cassie would be formidable. But even though Baptiste has only been acting for a little more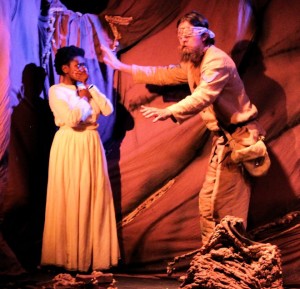 than one year, she acquits herself well – especially during the play's opening scene, in which she's on stage alone, giving a rolling soliloquy on the indignity of life as a slave, her hope for a life as a free woman among the gentry of Boston, and her fear of being caught and returned to the plantation from which she escaped. She is at her absolute best as she relives in her mind's eye the day the plantation's owner, Massa Charles, rapes her in the pantry as his wife reclined upstairs with one of her "sick headaches."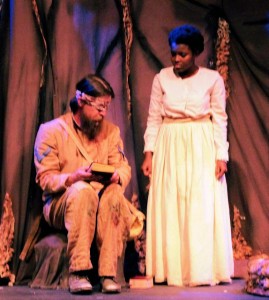 But like the other two characters in this thematically rich play, Cassie is not a one-dimensional caricature of a frightened but hopeful runaway slave. When a blind Confederate soldier stumbles into the cave in which Cassie is hiding out, she shows him affection. But not because of his injuries per se. Brandon hears her practicing the refined diction of the white upper class and mistakes her for a lady of culture and means. At first, she indulges his mistaken belief out of fear of what he might do if he discovers she is an escaped slave. But she yearns to be treated with respect and affection so much that when the Union deserter enters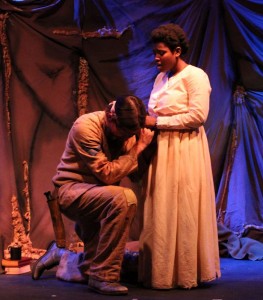 the cave thereby obviating the necessity for her subterfuge, she persists in the lie and even makes the Yankee a c0-conspirator in the fraud.
Baptiste embraces her character's inner conflicts and motivations. More, she does a marvelous job of conveying to the audience the chasm between the world to which she aspires and the reality in which she exists. Nowhere is this more in evidence than the scene in which the Union deserter fondles her. She goes numb just as she did on the day that Massa Charles raped her in the pantry back at the plantation. Lincoln may have emancipated the slaves, but attitudes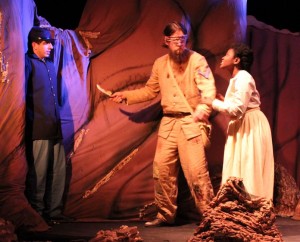 toward black women are not much different in northern cities like Boston than they are in the slave plantations of the Carolinas.
Marie Baptiste is a sophomore at Florida SouthWestern State College, and based on her performance in The Cave, Southwest Florida audiences are likely to see much more of her in years to come.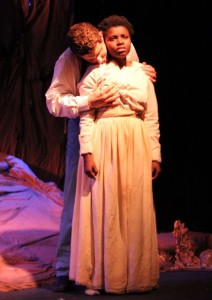 March 25, 2017.
RELATED POSTS.