Art Walk October 4, 2013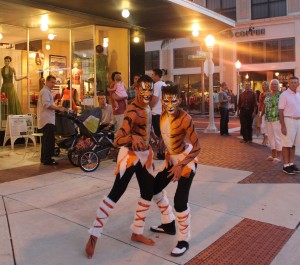 Fort Myers Art Walk celebrates its 5-year anniversary on Friday, October 4. In addition to new exhibits in each of the River District's art galleries, the night's festivities will include live art, a community paint, face painting, street performers, a stilt walker, raffles and more. The festivities take place from 6-10 p.m., and with exciting venues like the Art League of Fort Myers on Monroe, Articulture Gallery & Tattoo Studio, Arts for ACT Gallery & Boutique, Enjewel, Ocasiocasa Studio Gallery, Reverie & Rock Art Gallery, the Sidney & Berne Davis Art Center and UNIT A Contemporary Art Space on Evans Avenue, there's much to sample and savor.
Here's a summary of everything there is to see and do in the River District on October 4: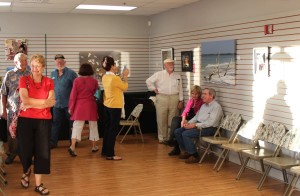 1. The Art League of Fort Myers features "Harvest of the Arts" in October. This show features two-dimensional artworks created by members of the Art Council of Southwest Florida in oils, acrylics, watercolors, pastels, collage, original prints (including etching, lithographs and wood block,), photography and fiber art. This is judged show, with cash awards for first, second and third place as well as three merit awards and three honorable mention ribbons. Art Walkers also get to choose their Peoples Choice.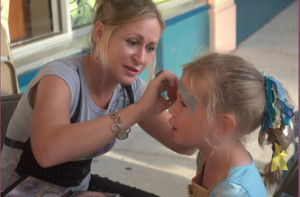 To help celebrate Art Walk's fifth anniversary, Tara Phillips will doing face painting outside the Art League from 6 – 8 p.m. Tara does face painting on both children and adults, and will be doing HENNA, glitter and temporary tattoos, face painting, hair braiding and feather extensions for Art Walk.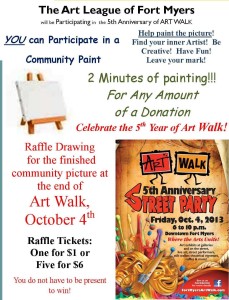 But the fun doesn't end there! The Art League is also hosting a community paint, where anyone can take a 2-minute turn at the easel in exchange for a donation in any amount. The finished artwork will then be raffled at Art Walk's end, with raffle tickets costing only $1 each, or six for $5. And since there's a lot going on during the Art Walk block party, there's no need to be present when the raffle's conducted in order to win. The Art League will contact the winner, who will have a memento they'll never forget.
So be sure to include the Art League among your walking tour art stops.  The Art League is located at 1451 Monroe Street, on the ground floor of the City of Palms Parking Garage. For more information, please visit www.artleagueoffortmyers.org or telephone 239-275-3970.
2. Articulture Gallery & Tattoo Studio is holding a group exhibit. Articulture's tattoo artists have had work featured in numerous online magazines. They specialize in original art, cover ups, and all around quality tattoo work.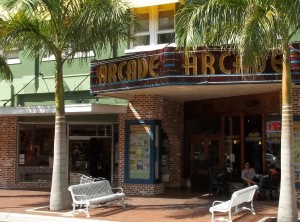 3. Join Arts for ACT Gallery, located at 2265 First Street in downtown Fort Myers, from 6 to 10 pm for the opening reception of  The Protest Proposal exhibition by David Acevedo in the main gallery and Xavier Brignoni and Art of the DisAbled in the office gallery and back exhibition respectively.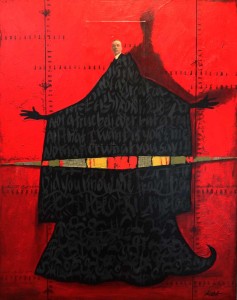 The Protest Proposal explores a very different side of popular artist David Acevedo, who is known throughout Southwest Florida for vibrant, aggressively textured paintings with impetuous whimsy. By contrast, this new series of collages and mixed media pieces is filled with darker, more suggestive motifs and deeper message and meaning. "Color is still a big part of my work. I am simply exchanging the tones because the style of these new paintings demands it," David explains. "I am opening up a bit more in regards to my personal beliefs, disbeliefs, points of view and social opinion."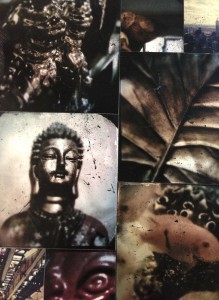 Also on view at Arts for ACT is new work by fine art photographer and mixed media artist Xavier Brignoni. These days, Xavier's art is equally informed by his love of vintage looks and styles in fashion and architecture. And like Picasso, Dali, Max Ernst, Georges Braque, Fernand Leger, Man Ray, Josep Hoffmann, Hector Guimard, Auguste Rodin and Alexander Calder, Brignoni is also fascinated by the opportunities that jewelry design affords for artistic self-expression. After two weeks in Ireland, Brignoni is ready and eager to help the River District celebrate Art Walk's fifth anniversary.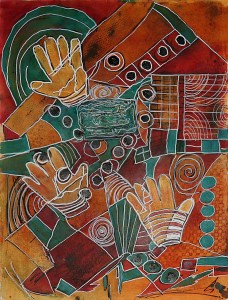 Arts for ACT is also hosting the works of local disABLEd artists which comes compliments of the Arts in Healthcare program at Lee Memorial Health System. The artwork consists of more than two dozen paintings, drawings and photographs created by artists within our Lee County disABLEd community, including those from The Lighthouse Center in North Fort Myers and the Special Population Program within the Cape Coral Parks and Recreation Department.  Artists with many different physical and emotional challenges all share their artistic abilities with the general public. Contact the ACT Gallery for more information at (239) 337-5050 or Doug MacGregor, Arts in Healthcare Coordinator for LMHS at 343-2633.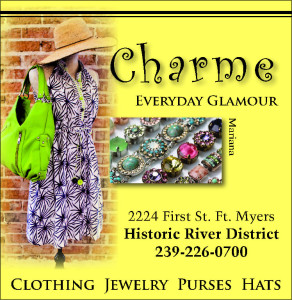 4. Charme carries women's clothing and accessories, including purses, jewelry, hats and shoes. It also stocks the very funny "Laugh with Leslie" cards along with "Dolly Mama." During this Friday's Art Walk, artist Sarah Kiser will provide a free demonstration outside the boutique. For the last decade, Kiser has studied art and taught herself to paint by copying famous portraits. In the process, she's evolved into her own brand with a fan base to match. Several galleries represent her jewelry, paintings and "Eco-Fish," including Island Visions in Matlacha and Arts for ACT Gallery on First Street.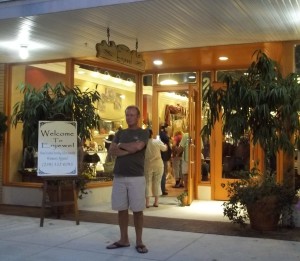 5. Enjewel is the hip First Street boutique that caters to confident and fashion-forward women. Operating under the banner that "with the right accessories [a woman] can do anything," Enjewel offers vintage purses, handmade Mother of Pearl and natural horn bags, faux fur scarves with pockets, and chic dresses galore. "We love supporting local designers with our made in the USA collections," Lynne Routhier posts on Facebook. "These apparel pieces will provide your wardrobe with classic colors and fun prints and you'll be sure to turn a few heads."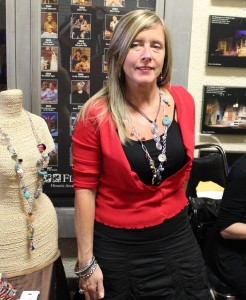 Enjewel also has a long history of sourcing and providing sensibly-priced art jewelry to its patrons, so it's only natural that Lynne Routhier is creating new designs herself. "I actually started making jewelry nearly a decade ago when I visited my brother in New Hampshire," Lynne explains. "He was making some jewelry at the time and let me join in. But I've been so busy with the store that I didn't really pursue it in earnest until a few months ago." Her pieces reflect the chic, trendy casual and business wear for which Enjewel is known. They are full of colorful, highly textural stones and baubles that glint and sparkle in the Florida sun … or the low lights of your favorite restaurant or lounge. While Routhier may not be in their class – yet – she aspires to follow in some pretty big footsteps. Picasso, Dali, Max Ernst, Georges Braque, Fernand Leger, Man Ray, Josep Hoffmann, Hector Guimard, Auguste Rodin and Alexander Calder all sought artistic expression in the genre of fine art jewelry.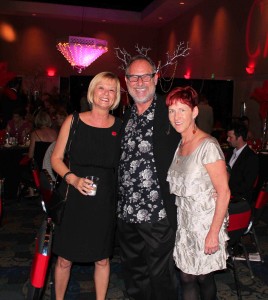 6. The Franklin Shops on First are home to permanent exhibits by the Fort Myers based sculptor Steven Swenor – a/k/a The Dragonfly Guy – and local painters George Settos, Lourdes Mora-Shay, Lilia Lopez, and Joe Rossi. Art dealer and entrepreneur Terry Tincher has also established his Art & Odditorium gallery at the shops, specializing in antiques and artistic works for collectors who are attracted to the unique and unusual. Terry Tincher presents his distinctive personal collection, which includes artworks by Andy Warhol and Robert Rauschenberg.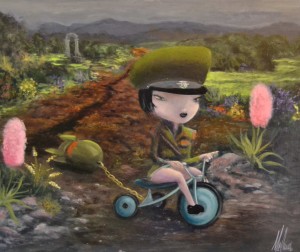 For the 5-year anniversary celebration, Fort Myers-based painter Jerry McGreens will stage a live art performance at the shops and visitors will be able to take an original work of art home when the shops raffle off sculptures and paintings of five well-known local artists. Known for his fantastic and funny paintings, McGreens, who calls himself an illustpaintor, re-purposer and conservationist, offers a truly unique and imaginative look at a world where spook and humor meet.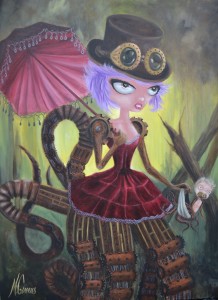 McGreens will join his artistic forces with the virtual fantasies of Game Nation. This video game company will organize an adventurous interactive party in the River District during the first days of November. "At The Franklin Shops, Game Nation allows a sneak preview into their video game wonderland. Art Walkers are invited to participate in the creative process and to play along," say Shops owner Rene Miville.
Sculptors Steven Swenor (a/k/a The Dragonfly-Guy) and James "Spiderman" Sauter and painters George Settos, Julien Miville and Jerry McGreens have donated original artworks for a raffle at the shops. Each well-known artist has a long affiliation with  The Franklin Shops, and "the idea is to give art lovers the opportunity to take a piece of art home from the anniversary event," says Miville.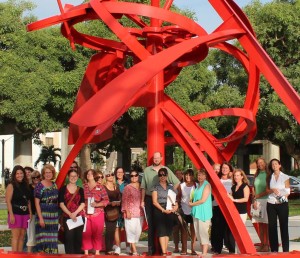 7. The Franklin Shops on First is also home to True Tours, which offers a highly informative historical walking tours, spooky haunted history tour, architectural and public art walking tours. So if you've ever wondered about the history of the old buildings downtown or the public artworks that dot the River District, then stop into the Franklin Shops during Art Walk and book your tour with Gina Taylor. (For more information, you can reach Gina by phone at 239-945-0405 or at www.TrueTours.net.)
The Franklin Shops are located at the corner of Broadway and First in the downtown Fort Myers River District.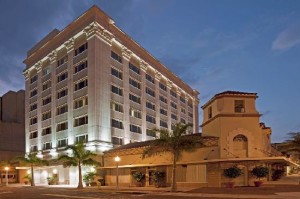 8. Part of the InterContinental Hotel Group, Hotel Indigo is known for plush guest rooms and swank public spaces that are transformed seasonally through changing signage, aromas, music and artwork. With Vino de Notte, a newly-renovated lobby lounge and its Phi in the Sky rooftop lounge, Hotel Indigo always figures prominently in the Art Walk scene.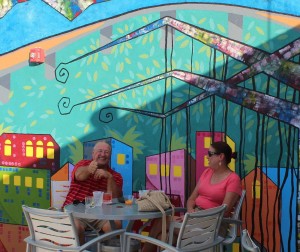 Phi in the Sky is home to David Acevedo's mural, The Heart of the City's Sky. Owners Tim and Catherine O'Brien commissioned the work in August, 2011 following a month-long competition, Acevedo won because of his superb attention to detail, space, color and deep concentration on Fort Myers' cultural society. Says the hotel's social media director, Kayla Dacosta, "David is not only a sensational artist, but his spirit runs deep and his work is an obvious statement of all things beautiful and exceptional in the world. He grasps color and moves paint in such a way that viewers feel awakened by his work. Hotel Indigo is very pleased and grateful to have David lending inspiration to the Phi in the Sky!"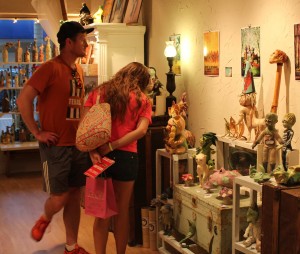 9. Ocasiocasa Studio Gallery presents new artwork by owners Jeff and Dale Ocasio. In the House of Ocasio, sculpture is molded, modelled, crafted and formed through the successive application of layers of masking tape over old vinyl dolls and other found objects that are recycled, upcycled, modified, customized and re-purposed into other-worldly creatures that spring from the fertile imaginations of Jeff and Dale Ocasio. Jeff experiments on these "found canvases," using masking tape to give life to his one-of-a-kind designs. When he's done, Dale takes over, adding water-based professional glue, acrylic paint and varnish. She also photographs each piece at varying stages throughout the creative process and collages the digital images into illustrations that hang on Ocasiocasa's cream-colored plaster walls.
10. The Open Door Shoppes on Hendry is also participating in the 5-year anniversary celebration.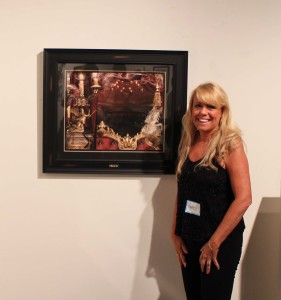 11. Reverie & Rock Art Gallery features the digital surrealism of Kathy Kuser and the rock and country concert photography of Jamie Kuser. "With my art, I want to bring a fresh and contemporary twist to a long established medium – surrealism," says Kathy Kuser. "I find that through tragedy comes hurt and healing. At 50, I am at a point of re-evaluating life's direction and I find myself invigorated by my new form of artistic expression. Using my skills as a graphic designer, I create 2D/3D digital surrealism. Through a mystical and fantasy driven vision, a story emerges from my canvas. I use stark details with transitional blending; thus my art takes flight."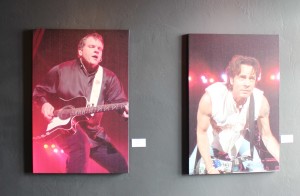 The new downtown Fort Myers art space also showcases the concert photography of Jamie Kuser. For more than 15 years, Jamie has been photographing national recording artists while they perform on stage. From AC/DC to ZZ Top, and from Alan Jackson to Sugarland, Jamie has photographed more than 150 national artists live in concert. His photos have appeared on national tour T-shirts, VH1's Behind the Music, the Associated Press Photo Archives, published in daily newspapers and, of course, in Southwest Florida's own Happenings Magazine.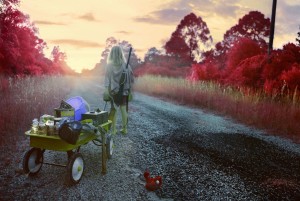 12. The Blood-Dimmed Tide opens on October 4 at the Sidney & Berne Davis Art Center. A solo exhibition of new photographic works by Florida artist Tony Myles that incorporates complex photographic processes, The Blood Dimmed Tide explores universal themes of dissolute order, loss, and societal decay.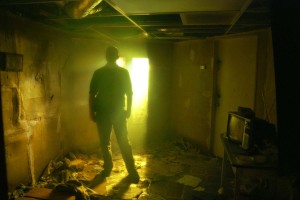 As a professional cinematographer with more than seventeen years experience, Mr. Myles is known primarily for his moving images. But his interest in film is nonetheless informed by his fascination for still photography and a brief but informative career as a graphic novel publisher following high school graduation.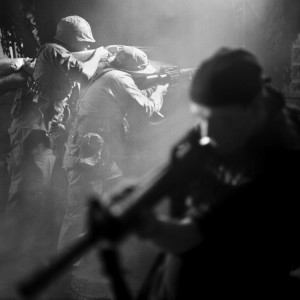 That's where he became intrigued with the dark world of underground narratives, in stark juxtaposition to the mainstream themes of superhero comic books popular at the time. Myles streamlined the production process by combining photography with illustration in a narrative picture book format. This backstory is reflected by the photographs Tony has included in The Blood-Dimmed Tide, which are presented as episodes that function as narrative scenes from an interior film.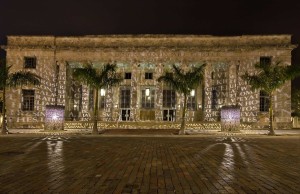 As The Blood-Dimmed Tide contains material not appropriate for children, parental guidance is suggested. The exhibition continues through October 24. The Sidney & Berne Davis Art Center is located at 2301 First Street, in the heart of the downtown Fort Myers River District. For more information, please telephone 239-333-1933 or visit www.sbdac.com.
More than 35 participants make Art Walk successful each month and they include the Art League of Fort Myers, Art of the Olympians, Arts for ACT Gallery and Boutique, Charme, Cigar Bar, The Deli, Downtown House of Pizza, Enjewel, First United Methodist Church, Florida Repertory Theatre, Ford's Garage, Fort Myers Community Redevelopment Agency, French Connection, Franklin Shops, Gulf Coast Times, Happenings Magazine, Hotel Indigo, Legacy Harbour Hotel & Suites, Linen Cottage, Lush Bakery, Market America Realty & Investments, The Nest Home & Garden, Ocasiocasa Gallery Studio, The Open Door Shoppes on Hendry, Palm Printing, River District Alliance, The Shoppes at Broadway, Sidney & Berne Davis Art Center, Spirits of Bacchus, Twisted Vine Bistro, UNIT A Contemporary Art Space, United Café Bar & Bistro, The Veranda Restaurant and the Young Artists Awards Program.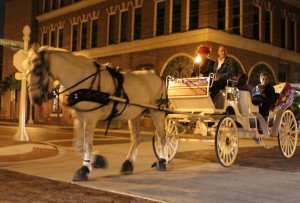 Held the first Friday of every month from 6 to 10 p.m., Art Walk features local and national artwork in the downtown art galleries and several art stops in the Fort Myers River District. While thousands will be making their way to the River District for this month's Art Walk and party opportunities, fret not. There's plenty of free parking within easy walking distance of the galleries, shops, restaurants and bars along First and adjoining streets. So call your friends and meet downtown in the city on the Caloosahatchee that's quickly gaining a worldwide reputation as the art center of southwest Florida.