Actors, artists, directors, filmmakers and events in the news March 8-14, 2022
Grouped under headings that include art openings, film, outdoor art fairs and festivals and theater are advances, announcements and articles about the actors, artists, filmmakers and events making news in Southwest Florida this week:
1      ACTORS (alphabetically)
Robert Barner appears in role of Gary Coleman in Lab's 'Avenue Q'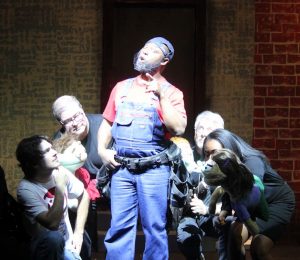 Robert Barner appears in the role of Gary Coleman in Avenue Q. Broke and the butt of everyone's jokes, Different Strokes Gary Coleman bemoans being a superintendent on Avenue Q, but Barner's is one of the performances you'll most remember when all is said and done. He last appeared as Adrian/Boatswain for Lab Theater in Shakespeare's magical play, The Tempest, after making his theatrical debut as Mister in the Southwest Florida premiere of Marsha Norman's The Color Purple.
____________________________________________
Gerrie Benzing plays Lee in 'Tale of the Allergist's Wife'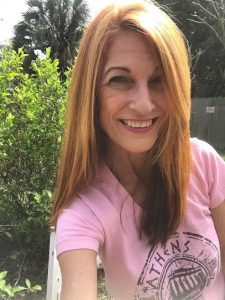 Gerrie Benzing is a local stage and film actor, director, musical theatre instructor and the owner and creative director of Monologues4kids.com. She has graced numerous stages throughout Southwest Florida. She will play the part of Lee for New Phoenix Theatre in Charles Busch's The Tale of the Allergist's Wife. She recently starred as Jinx in The Naples Players' production of The Savannah Sipping Society after making her TNP debut in 2021 in the role of Rule in Calendar Girls.
______________________________________
Amanda Collins is Bad Idea 1 in Lab's 'Avenue Q'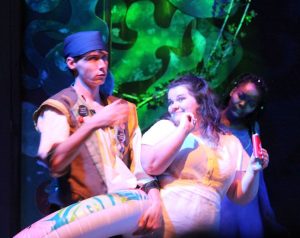 Amanda Collins is an aspiring young actor. She plays Bad Idea 1 for Lab Theater in Avenue Q. Her stage credits include Stephanie in The Tempest and Allie/Lizzie in Let Nothing You Dismay for Lab Theater as well as shows for Florida Repertory Theater, Lehigh Senior High and Fort Myers Theater. She is currently studying theater at Florida Gulf Coast University.
____________________________________________________________
Rosie DeLeon plays Corie Bratter for Studio Players in 'Barefoot in the Park'
Rosie DeLeon appears next as Corie Bratter for The Studio Players in Neil Simon's Barefoot in the Park. DeLeon has appeared often on the boards at various Lee County venues. Her credits include the role of P.B. for The Studio Players in One Slight Hitch, Lauren in Circle Mirror Transformation for The Studio Players, Officer Pudney in Neil Simon's Rumors for New Phoenix Theatre, Linda Johnson in Lab Theater's production of Deborah Lake Fortson's Body & Sold, Feste in Lab's production of Shakespeare's Twelfth Night and Elaine in Calendar Girls.
____________________________________________________________
Sydney DiBiase plays Sandy Dumbrowski in 'Grease' for Fort Myers Theatre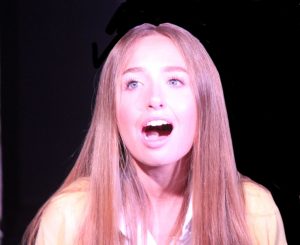 Sydney DiBiase is a senior at Canterbury. She has performed in numerous musicals since the age of 6. She currently stars in the role of Sandy Dumbrowski in Grease for Fort Myers Theatre. Previous roles include Sharpay in High School Musical for Florida Repertory Theatre and Reenie Flood in The Dark at the Top of the Stairs at Canterbury. Go here for the rest of Sydney's profile.
_______________________________________________________________________
Carolyn England plays foul-mouthed, anal-retentive Frieda in 'Tale of the Allergist's Wife'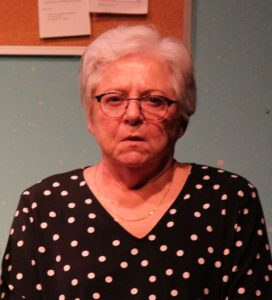 Carolyn England will appear in the role of foul-mouthed, anal-retentive Frieda in New Phoenix Theatre's production of Charles Busch's The Tale of the Allergist's Wife. Carolyn's previous stage credits include Dorothy Tree Hapgood in Daniel Sullivan's Inspecting Carol (also for New Phoenix Theatre), Rose in Engagement Rules and Lucy Stickler (the long-suffering wife of a septuagenarian with a roving eye) in Murderers (both for Theatre Conspiracy at the Alliance for the Arts) and Ivan Menchell's The Cemetery Club and Jack Neary's The Porch (both for Cultural Park Theater in Cape Coral).
________________________________________
Ruthgena Faraco plays Kate Monster in 'Avenue Q'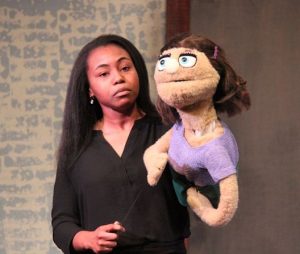 Ruthgena Faraco plays Kate Monster for Lab Theater in Avenue Q. She just portrayed Topsy Washington in The Colored Museum at the Alliance for the Arts and Celie in The Color Purple. Some of Ruthgena's other stage credits include Mary Warren in Lab Theater's production of Arthur Miller's The Crucible, and Molly Cunningham in Joe Turner's Come and Gone (for Theatre Conspiracy at the Alliance). Go here to see everything Ms. Faraco has done.
__________________________________________
Ken Johnson plays Rod for Lab Theater in 'Avenue Q'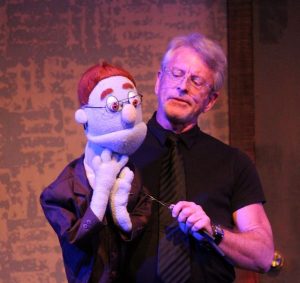 Ken Johnson plays Rod for Lab Theater in Avenue Q. His local acting credits include the happy hunchback Igor in Young Frankenstein for New Phoenix Theatre, Jerry Lukowski in The Full Monty for New Phoenix Theatre, editor Richard Ehrlich in Time Stands Still, Milford, Ivan and Oscar Saperstein in Topher Payne's Let Nothing You Dismay, a high-spirited Cagelle in La Cage aux Folles for New Phoenix Theatre, Pastor Greg in Hand to God, Earl "Brother Boy" Ingram in Sordid Lives for Lab Theater and Noli Timeri (Don't Be Afraid) for Theatre Conspiracy at the Alliance. For more, go here.
________________________________________
Steven Michael Kennedy is Princeton in 'Avenue Q'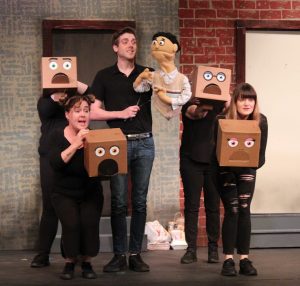 Steven Michael Kennedy is a Cape Coral actor whose acting credits include Leonardo da Vinci in Botticelli in the Fire, Grumpy Old Men for Broadway Palm Dinner Theatre, the role of Dan Anderson in the first U.S. licensed production of Sex Tips for Straight Women from a Gay Man and Elvis-impersonator-turned-drag-queen, Casey, in The Legend of Georgia McBride. He appears in the role of Princeton in Avenue Q for Lab Theater. Go here to view the rest of Kennedy's theatrical credits.
_______________________________________________
Gabrielle Lansden plays Lucy for Lab Theater in 'Avenue Q'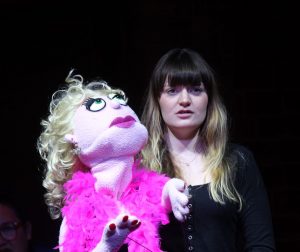 Gabrielle Lansden plays the part of Lucy in Avenue Q for Lab Theater. Her acting credits include Janet Weiss in New Phoenix Theatre's production of Richard O'Brien's Rocky Horror Show, Tina from Trilla in Ghostbird Theatre Company's production of Barry Cavin's Boxes Are for What We Keep, and three shows under Stuart Brown's direction at Florida SouthWestern State College, Paragon Springs, Sonnets for an Old Century and She Kills Monsters (in which she played Agnes Evans, the lead). Please go here for more on this rising star.
____________________________________
Anna Joy Lehman in 'Grease' dance ensemble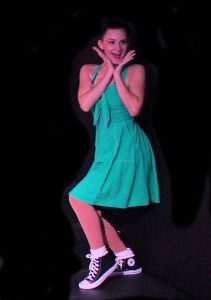 Anna Joy Lehman is in the Grease dance ensemble for Fort Myers Theatre. A graduate of the Institute for American Musical Theatre in New York City in 2020 (where she trained with Broadway professionals as a triple threat for the stage and screen), Anna has made quite the splash since arriving in Fort Myers, where her local theater credits already include the roles of Myrtle Wilson in The Great Gatsby, Shelbie in Steel Magnolias, Emily/Martha Cratchit/ensemble in A Christmas Carol, Greta Bell in Fame and Miep Gies in The Diary of Anne Frank for Fort Myers Theatre.
Go here for Anna's full profile.
______________________________________________________________
Paulette Oliva plays the part of Agnes in 'When We Were Young and Unafraid'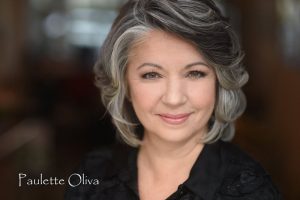 Paulette Oliva plays the part of Agnes for The Naples Players in Sarah Treem's When We Were Young and Unafraid. Oliva has performed Off-Broadway and at numerous regional theaters. Some of her favorite shows and roles include Gypsy/Mama Rose, Sister Act/Mother Superior, Master Class/Maria Callas, Carrie/Mother, The King and I/Anna, Sweeney Todd/Mrs. Lovett, and the East Coast regional premiere of Next to Normal/Diana. The rest of her bio is here.
____________________________________________________________
Bernardo Santana plays Paul in TNP's 'When We Were Young and Unafraid'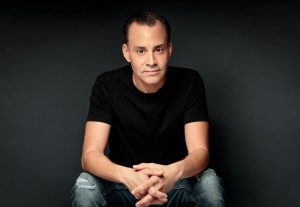 Bernardo Santana appears in the role of Paul in Sarah Treem's When We Were Young and Unafraid, which runs from March 30 through April 24 in the Tobye Studio. A Naples-based SAG-AFTRA actor, Bernardo's local stage credits include Bernard in Boeing Boeing, Principal Harry Clark in Footloose, Eddie Brock in Born Yesterday, Peter Shaw in Silent Sky, George Wilson in The Great Gatsby, Eddie Kurnitz in Lost in Yonkers, Don Harper in Rapture Blister Burn and Phil in Dead Account, all for The Naples Players. Go here to see the rest of his stage and film credits.
___________________________________________________
Colin Smith plays Danny Zuko in 'Grease' for Fort Myers Theatre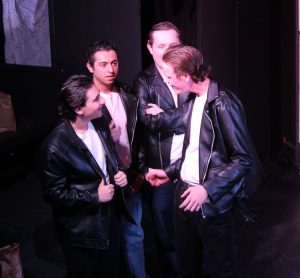 Colin Smith plays Danny Zuko in Grease for Fort Myers Theatre. A senior at Cypress Lake High School, Smith has previously appeared in Footloose (Fort Myers Theatre), Little Shop of Horrors (Cypress Lake), and as Aladdin in Aladdin Jr. (Fort Myers Theatre). His upcoming performances include playing Simba and Mufasa in The Lion King. Go here for more.
___________________________________________________
Stacy Stauffer plays Marjorie Taub in 'Tale of the Allergist's Wife'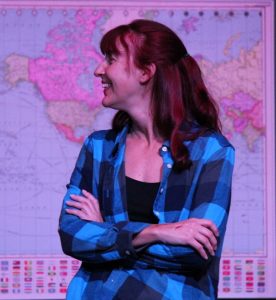 Stacy Stauffer is a talented character actor who lives and performs in Fort Myers. Stacy will next appear for New Phoenix Theater in the role of Marjorie Taub in Charles Busch's The Tale of the Allergist's Wife. Her credits include Hall in Men on Boats for the Alliance for the Arts, Sarah Goodwin in New Phoenix Theatre's production of Time Stands Still, Sheila in Joe Simonelli's The Ghost in the Meadow (Cultural Park Theatre) and various roles including the mayor in Lab Theater's world premiere production of Zalman Velvel's DMV. Go here for more on Stacy's theatrical accomplishments. 
____________________________________________
John Strealy plays Paul Bratter in 'Barefoot in the Park'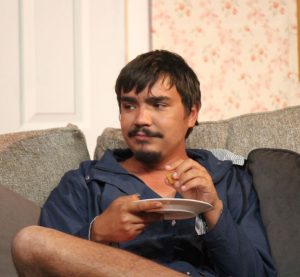 John Strealy will appear next in the role of Paul Bratter in Neil Simon's Barefoot in the Park. His other stage credits include the role of Ryan for The Studio Players in Lewis Black's One Slight Hitch, Wayne Wellcare in Inspecting Carol for New Phoenix Theatre, klepto-director Sir Frank Finger in It's Only a Play, Jason Shelburne in Body & Sold and Malvolio in Shakespeare's Twelfth Night for Lab Theater. Go here for more on John's theatrical credits.
_________________________________
Jay Terzis in cast of 'Barefoot in the Park'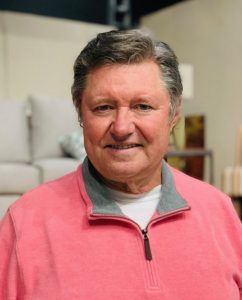 Jay Terzis appears next in The Studio Players' production of Neil Simon's Barefoot in the Park. Nominated by Broadway World as Southwest Florida Performer of the Decade, Jay has performed with The Naples Players, The Studio Players, The Marco Players the Island Theater Group and the CFABS Community Players. He has studied drama with Diane Davis in Naples. In New York City, he has studied drama at the Sedgwick Russell Studio and appeared in a number of Off Broadway readings. Go here to see his most recent stage credits.
_______________________________________________
2     ARTISTS
Marcus Jansen painting being auction live by Christie's on March 10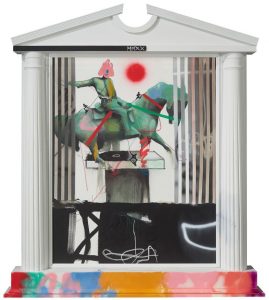 Marcus Jansen's studio has announced that Jansen's MMXX painting is scheduled to auction at Christie's on Thursday, March 10, 2022. It is part of Christie's live Post-War and Contemporary Art auction taking place at Rockefeller Center in New York.
Post-War to Present is estimated to be the highest live sale to take place in New York thus far in 2022. Post-War to Present features a fantastic group of post-war and contemporary artworks by 20th and 21st century masters. The sale includes lots from several important private collections being sold to benefit charitable initiatives.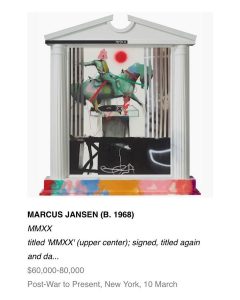 Property sold to benefit the Cleveland Clinic includes works by Shara Hughes, Takashi Murakami and El Anatsui, and Jansen's MMXX will be sold to benefit the Bronx Museum of the Arts, in the first of a series of partnerships on the occasion of its 50th Anniversary.
Like museums, auction houses like Christie's and Sotheby's have the ability to elevate art and increase its value by putting it into the spotlight, shaping not only the narrative of the work, but also the narrative of art history. So it is a very big deal for Jansen to have one of his works included in this live auction event.
MMXX is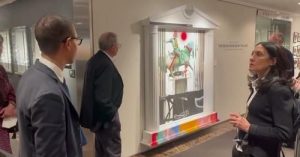 an 83 x 73 x 9 ¼ inch oil, enamel, oil stick and spray paint on canvas in artist's wood frame. It is included in Lot #144. You can view a pre-sale preview on YouTube here.
_________________________________________________________________
For Elise Gold Sewall, 'Transparency and Reflection' is all about color and shadow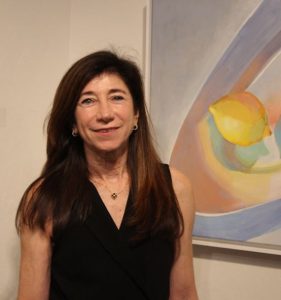 Bookended by flowers from Berlin and New Jersey, Elise Gold Sewall enjoyed the opening of her first solo show at the Alliance for the Arts on March 4. Transparency and Reflection consists of a collection of still life oils-on-linen so colorful and luminous that it instantaneously brightens your spirit and calms your frayed nerves.
Still Life painting marks a relatively new adventure for Sewall, who once travelled widely as a high-end jewelry designer. Where she once bounced between New York, Rome and Hong Kong creating pieces for the likes of Harry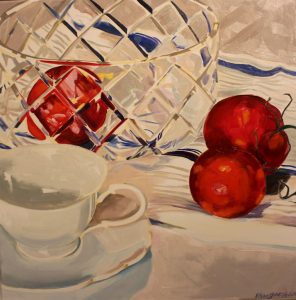 Winston and Zales, nowadays she's ensconced in scripted scenes featuring ordinary objects from her kitchen, dining room and the Alliance GreenMarket, like cake plates, turquoise bowls, flowers and a wide assortment of fresh fruit ranging from cherries (black and red) to lemons and mouth-watering orange slices. In fact, her treatment of color and texture is so adroit that you'd swear you can smell the fragrance of citrus the moment you enter the cozy confines of the Foulds Theatre gallery.
The rest of this post is here.
_____________________________
3    ART SHOWS AND EXHIBITIONS
All Florida Exhibition engages viewers in dialogue about world in which we live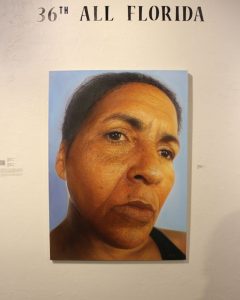 The Alliance for the Arts' annual All Florida juried exhibition is one of Southwest Florida's most anticipated art shows of the year. This year's iteration contains 62 pieces in a variety of mediums representing some of Florida's finest contemporary artists.
Admission into the show is far from automatic. This year, the Alliance received 600 submissions. The show's juror, Dr. K.C. Williams, winnowed that field to the five dozen works of art that are currently on display in the Alliance's main gallery.
_______________________________________________
A look at All Florida Exhibition Best in Show 'Into the Maze'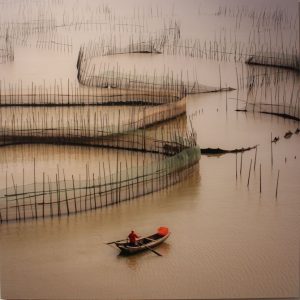 Of the 62 pieces selected from the 600 submissions received by the Alliance for the Arts' for the 36th Annual All Florida Juried Exhibition, German/American fine art photographer Hilda Champion's image Into the Maze was chosen as Best in Show. The juror, Dr. K.C. Williams, selected this piece because of its composition. "The gorgeous composition and the use of color photography with a stark field of water," was instrumental in Dr. Williams' estimation. The full review is here.
_______________________________________________________
'Art Walks the Runway' returns to River District for 10th annual show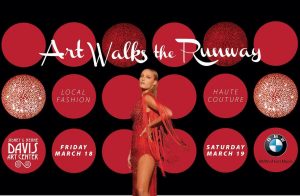 Art Walks the Runway is a star-studded two-day fashion show that is hosted in one of Southwest Florida's most picturesque and historic landmarks, the Sidney & Berne Davis Art Center in the Fort Myers River District. Produced by Melissa DeHaven, this must-see event features the hottest local boutiques and one-of-a-kind Couture fashion.
As she explains,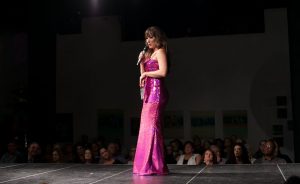 DeHaven got her inspiration for Art Walks the Runway from Punta Gorda-based Couture designer Helen Gerro.
Go here for the rest of this advance.
And go here to listen to this story on WGCU's Spotlight on the Arts.
____________________________________________
'Obsessive Ruminations' proves that thoughts are things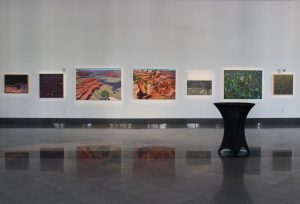 Obsessive Ruminations is on view in the grand atrium of the Sidney & Berne Davis Art Center now through March 25.
The exhibition ties together the works of Alvaro Labanino and Miguel Saludes. The artists were brought together by bonds of friendship and comradery that date back to their adolescence, when they first met. 

Their link is bolstered by a common passion for the medium of painting which they both practice, as well as an appreciation for its rich history. But perhaps their mutual understanding of how daily 

introspection ultimately affects and defines their life and work is what unites them most.
____________________________________________________
DAAS' March show simultaneously features two guest exhibitions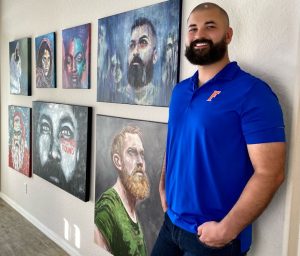 In the month of March, DAAS CO-OP Art Gallery & Gifts is showcasing two guest exhibitions simultaneously. The first is the art of visually-impaired artist Arnold Plasencia, who brings awareness through his art to Stargardts, the rare degenerative condition with which he struggles. The second is a group show of work in a variety of mediums produced by members of the Lee Art Education Association (LAEA) is composed of art teachers from private and public institutions in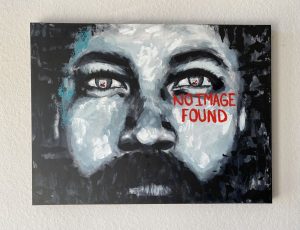 Lee County.
The dual opening reception is scheduled for 6:00-10:00 p.m. on Friday, March 4, 2022 in conjunction with Fort Myers Art Walk.
Arnold Plasencia's condition began in childhood, but it went misdiagnosed for several years.
"The [Stargardts] disease is a form of macular degeneration which causes cells in the macula to die off causing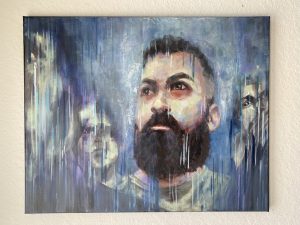 loss of central vision and in some cases, like in mine, color blindness," Plasencia explains. "Due to the lack of good medical insurance, I was never properly diagnosed until three years ago, at the age of 35. By that point, my vision loss acuity was 20/500 and I had lost full central vision and most color."
Plasencia was declared permanently disabled. He struggled with the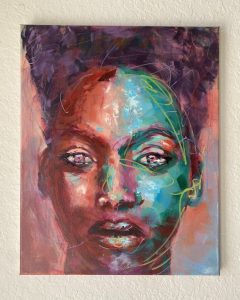 diagnosis. But with the help and support of loved ones, Plasencia started using art as a way to cope with his depressive state of mind. The first piece painted after his diagnosis was a portrait of his recently passed grandmother.
"A dear friend told me to not focus on what I could no longer do, but rather focus on what I could still do, and to simply change the way I did things. Those words resonated with me."
For this exhibition, Plasencia is focused on his life while living with Stargardts disease. His intention is to portray an artistic view of how he sees the world. He hopes to inspire everyone with this collection, especially those with any form of disability.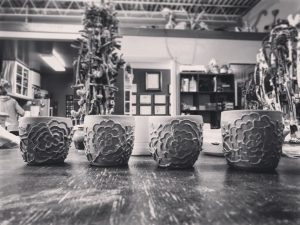 "I want [people] to realize that our disabilities are not death sentences. The human body is amazing and the way it adapts is nothing less than incredible. We can do amazing things despite our disabilities."
LAEA celebrated its 30th anniversary in 2021. Its talented member artists and educators are excited to share some of their personal and professional artworks with the community.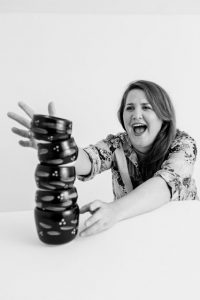 A wide variety of mediums and subject matters will be represented in this show, but the common theme will be the love and passion of educating and inspiring our local youth to take pride in the arts.
Two of the members participating in the show are art educators Scott Guelcher and Angel Elza. Guelcher has been teacher for 15 years and spent his last 12 years as the 2D art teacher and Art Department Head at Island Coast High School. Elza has also been teaching elementary art at River Hall Elementary in Alva since 2019 and is very passionate about spreading her love of art to her over one thousand students there. Since moving to Southwest Florida in 2014, her artwork has been on display in several shows at Howl Gallery and the Sidney & Berne Davis Art Center.
The exhibition will be on display through March 27.
DAAS CO-OP Art Gallery & Gifts is located at 1815 Fowler Street, in the Butterfly Estates complex in Fort Myers, FL.
____________________________________
4    THEATER
'Escape to Margaritaville' plays on Broadway Palm main stage through April 2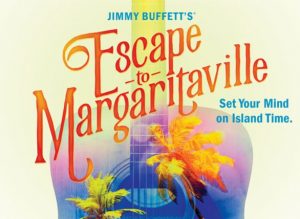 Jimmy Buffet's Escape to Margaritaville opens on the Broadway Palm main stage on February 18.
Here's the storyline: Rachel takes best friend Tammy on a bachelorette getaway to Marley's less than stellar Margaritaville resort, their arrival unexpectedly upending the world of bar headliner Tully and best friend Brick who are used to wining and dining the revolving door of single women arriving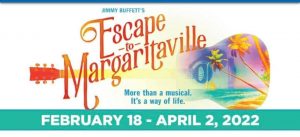 on the island each week. It's a classic case of boy meets girl, girl is unimpressed, and boy does everything he can to win her over, while their two best friends fall for each other. And it's all told through the music of Jimmy Buffett including Cheeseburger in Paradise, Fins, Volcano, Margaritaville and more.
Escape to Margaritaville plays through April 2. More than a musical, it's a way of life.
________________________________________
Cult classic 'Grease' on stage at Fort Myers Theatre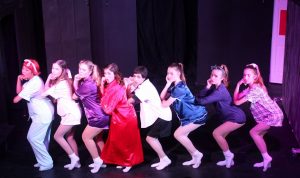 It's 1959, and Rydell High School's senior class is in rare form. The too-cool-for-school "Burger Palace Boys" are stealing hub-caps and acting tough. Their gum-snapping, chain-smoking "Pink Ladies" are looking hot in bobby sox and pedal pushers. Join Danny Zuko, Sandy Dumbrowski, Kenickie and Rizzo, Frenchie and the rest of their California classmates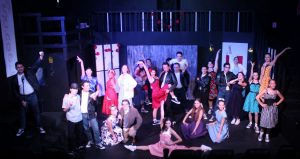 as Fort Myers Theatre performs Grease this weekend and next.
The rest of this advance is here.
And go here for play dates, times and other information.
__________________________________________________________
Laugh-out-loud musical 'Avenue Q' makes SWFL premiere at Lab Theater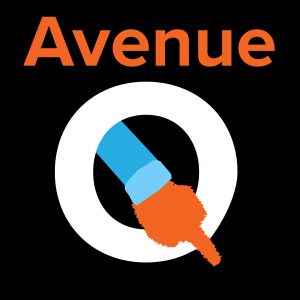 The Southwest Florida premiere of Avenue Q by Jeff Whitty, Robert Lopez, and Jeff Marx opens at The Laboratory Theater of Florida on February 25. Winner of the 2004 "Triple Crown" of Tonys for Best Book, Best Score, and Best Musical and featuring puppets and human actors, this is a laugh-out-loud musical that tells the story of recent college graduate Princeton as he struggles to find his purpose. Though inspired by Sesame Street, these are R-Rated puppets with warnings for adult language and situations. The rest of this advance can be found here.
________________
'Avenue Q' on WGCU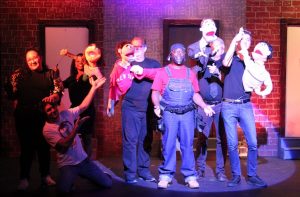 More than 20 million people quit their jobs in the last half of 2021 leading to chronic supply chain problems and long wait times at local eateries. Whether you call it The Great Resignation or The Big Quit, it has economists and sociologists scratching their heads to understand why. But there's a fun-loving group of puppets and their human counterparts on Avenue Q at Lab Theater that just may have an explanation for your COVID blues.
Here's the link
.
_____________________________________________________
'Tale of Allergist's Wife' a sassy, sophisticated metropolitan comedy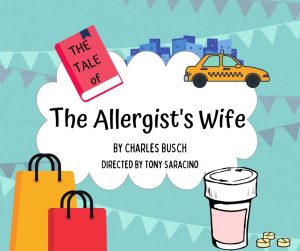 Up next at New Phoenix Theatre is The Tale of the Allergist's Wife, which had a 777-performance run on Broadway following its opening on November 2, 2000. Since then, the show has played around the country and now it plays locally, opening at New Phoenix Theatre on March 10 for twelve performances.
The rest of this advance is here.
Go here for play dates, times and ticket information.
_________________________________________
Mary Poppins takes flight at TNP in March – for real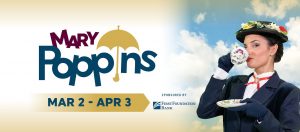 The Naples Players is performing Mary Poppins March 2 through April 3. In this production, everyone's favorite nanny really does fly!
To accomplish the feat safely, TNP is working closely with ZFX, a complete provider for all flying effects. But flying two volunteer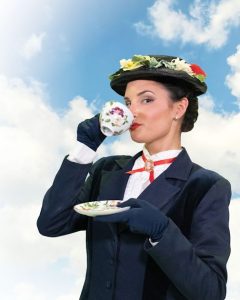 actors 20 feet in the air is certainly a tall order, and there will be two to three trained staff manning the flight process to ensure that the actors are safe.
Still, TNP's Director of Production, Trevor Long, says the responsibility is mentally taxing.  "You're constantly thinking, 'I know I checked it but …. I better do it again,' and you're more aware of everything than with a normal backstage responsibility. [Technical Director] Chase [Lilienthal] will be intimately involved with the installation and rehearsals."
The balance of this advance is here.
____________________________________________________
Sarah Treem's 'Young and Unafraid' examines life before Roe v. Wade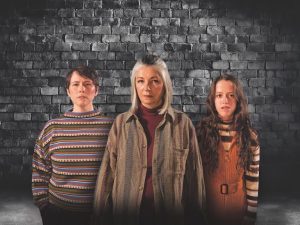 When We Were Young and Unafraid is in the Tobye Studio Theater from March 30 through April 24.
Sponsored by Terry Libby and Larry Siegel, the story, set in the 1970s, examines the harsh realities of life before Roe v. Wade, before the Violence Against Women Act, and before women had places to turn in times of distress. Smart and exciting, it will leave you on the edge of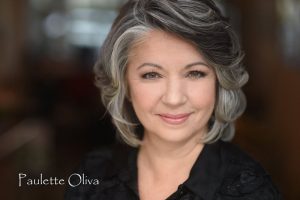 your seat with a renewed appreciation of a woman's rights.
Sarah Treem (writer of the edge-of-your-seat Netflix series House of Cards) created this powerful play about an unassuming, cozy bed and breakfast that moonlights as a battered women's shelter.
The rest of this advance is here.
Go here for play dates, times and other info.
____________________________
5     FILMMAKERS & THEIR FILMS
Maddalena Kingsley and cru making Random Magic in Naples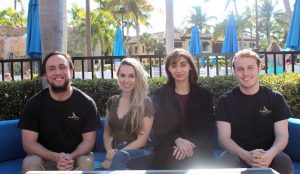 Do you believe in magic? Well, there's a tightknit group of smart young creatives in Naples, Florida that believes in Random Magic. That's the name of an independent film company that specializes in telling stories based on classic literature, fairy tales, legends and Greek mythology.
"[They're] the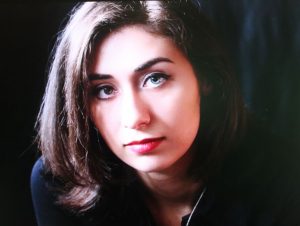 stories that have been retold over and over and over again," observes Arabella Bas, who serves as Random Magic's Head of Production Design and Costumes. ""We focus on that because … they resonate with people of all ages …. They're stories that people learn from and grow from no matter how old they are or what time period we're telling them in. You could tell them in the '50s, you could tell them in the '30s, you can tell them 200 years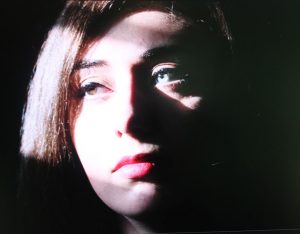 from now and I think people will like them the same. We make them with a modern bent, a modern spin and we focus on making them beautiful."
You will find the rest of this story here.