Brian Malloy's follow up to last year's award-winning image is a 'Knockout'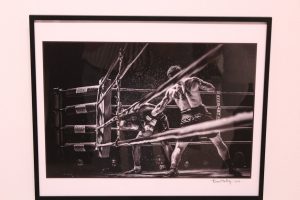 On view through August 3 at the Naples Art Association is Camera USA 2018. Last year, Massachusetts photographer Brian Malloy won the National Photography Award with his image Grand Central. Although he did not repeat as the National Photography Award winner (no one ever has), his 2016 16×20 inch gelatin silver print Knockout made it into this year's show. It is one of three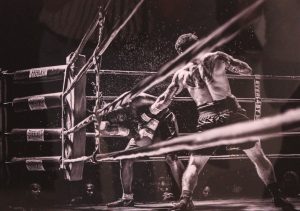 photographs that either features a boxer or ringside theme.
Knockout was captured at only Malloy's second time shooting a professional boxing event.
"I always loved Martin Scorsese's use of black and white in the movie Raging Bull and had always wanted to create an iconic boxing image," says Malloy in his Artist Statement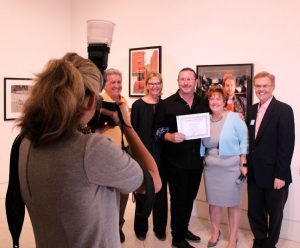 accompanying the photograph. "It was much harder than I thought to capture the decisive moment during a match and tripped the shutter many times to come up with this image."
The unique characteristic of Malloy's image is the spray of the boxers' sweat. "After that night, I had great respect for all the boxing photographers who shot three or four frames on a SpeedGraphic 4×5 press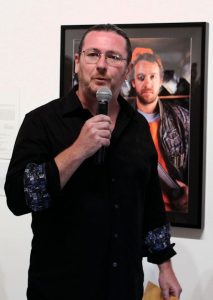 camera and made their deadline at the newpaper."
Where Malloy went to the boxing match hoping to capture an award-winning image, his National Photography Award photo was more a matter of happenstance. He was doing street photography in downtown Los Angeles early one morning when he spied a man sitting at a table as light poured in through a large open door to his right.
"As I composed the image using the reflection in a stainless steel table, the mysterious figure appeared at the exact moment that I tripped the shutter," Brian recounted during last year's awards ceremony. "The moment I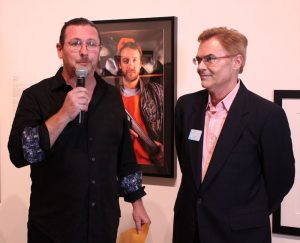 captured the image, I knew I had captured something special. A slice of life that for one split second had been frozen in time."
But still, he didn't have a clue how special his image was.
"When Jack [O'Brien] called me, I asked him if there was something wrong with the picture. 'Did it arrive damaged?'" To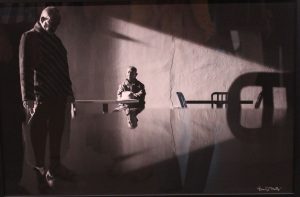 the contrary O'Brien replied. The image arrived just fine. "Then I asked him if he was calling to tell me that the jurors had declined to accept it into the show. He said no again. Then I asked him if I should be sitting down. He said, 'Maybe,' so I put him on speaker and sat down next to my wife. It's kind of surreal. As a photographer who shoots events and works with clients,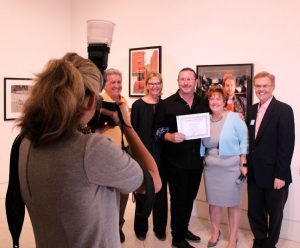 winning something like this was an absolute honor. I'm still pinching myself. I was waiting for Jack to call back and tell me [I was being Pranked]. But I have to say that after I got here today, walked through the show and saw all the images, I'm even more honored that I'm part of this show because of the incredible work that's represented."
June 24, 2018.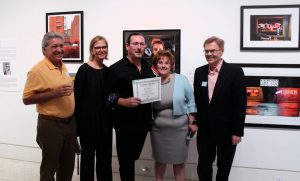 For more, follow these links: