Mila Bridger's 'Mermaid's Dream' is for red-and-white striped stockinged legs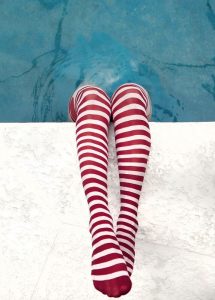 More than 20 Florida photographers had images juried into the Naples Art Association's Camera USA 2018 exhibition. Popular Marco Island photographer Mila Bridger is among that number.
Bridger's image depicts a pair of red-and-white striped stockinged legs protruding onto the white deck of a pool or waterside landing. The torso to which the shapely legs belong is submerged in bluish-gray water. Their owner is anonymous, her countenance not only hidden by the water, but residing just out of the upper perimeter of the camera's frame.
"It leaves a lot to the viewer's imagination," Mila concedes. "Everyone comes up with the own interpretation, their own story."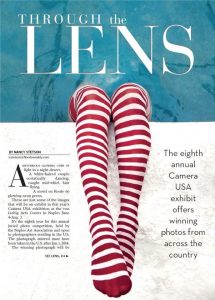 Indeed. In her article for Florida Weekly on Camera USA 2018, Nancy Stetson derived "an off-beat patriotic feel" from the piece's red, white and blue color scheme. ["Through the Lens," Florida Weekly, Arts & Entertainment, Week of May 30-June 5, 2018.]
Of course, clues can be gleaned from the photo's title, Mermaid's Dream.
"She's got legs; she wants legs," teases Mila, a wry Cheshire Cat smile enveloping her pretty face and deep-set eyes. Classic Bridger. There's nothing halfway about anything she does, including her joie de vivre.
She politely declines to identify her muse.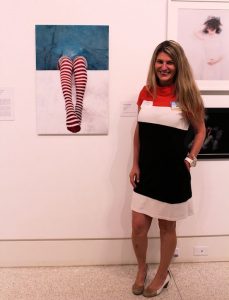 "It's meant to be anonymous," Mila demurs coyly. "There's blue chiffon fabric on top of the water to add blurriness so that you can't see who's there."
That's also classic Bridger.
As a visual artist, she employs photography to manufacture fantasy. Toward that end, she concocts compositions that combine of out-of-the-box constructions, cleverly-staged props and highly-saturated color. Her stylized storytelling evinces a high degree of kinetic energy, her trademark Expressionist flair, and typically (though not always) one or more members of her wide circle of adoring friends.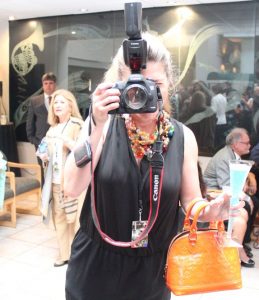 But knowing Bridger, there may be more to the shroud of secrecy than preserving the privacy of her muse for this picture. It wouldn't surprise anyone who knows Mila if she actually captured a real-life mermaid in her viewfinder. The red-and-white-striped stockinged legs in her photograph are certainly capable of enticing imaginative, amorous men into the sea … and their ultimate destruction. Okay, perhaps that's a bit melodramatic in this particular case.
Bridger sees the image as part of a triptych. "I've gotten green-and-white stockings and yellow-and-black too. I just have to do the shoots now."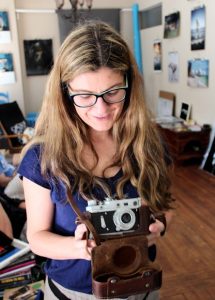 Perhaps the future additions will provide clues as to Mila's muse or muses. On the other hand, the colored stockings may be meant to simply convey that Bridger's muses are as lethal as the mean-girl Heathers from Westerberg High.
One thing's for certain, though. Be careful what you wish for. In folklore dating back to the Middle Ages, when a Mermaid gets her wish for legs, it typically ends tragically – both for the mermaid and the [un]lucky man for whom she falls.
Perhaps that's because she no longer being true to her nature.
No chance of that happening where Bridger is concerned!
RELATED POSTS.