'Lost Springs' artist Margaret Ross Tolbert in the frame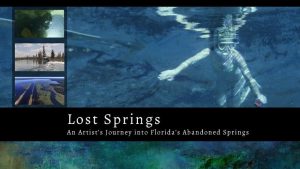 The 8th Annual Fort Myers Film Festival takes place March 21-25, 2018. Among the more than 90 films that will be screened during the festival's five-day run is Lost Springs, a 40-minute Matt Keene documentary that follows artist Margaret Ross Tolbert as she experiences a collection of freshwater Florida springs normally inaccessible due to a dam.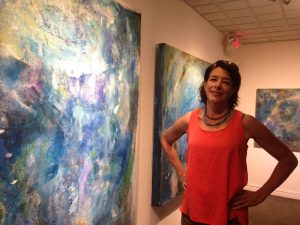 The springs of North Florida is a continuing area of focus for the Gainesville-based artist. She finds herself drawn to the motif because "its paradisiacal presence provides a sense of ideal destination and the exotic in the here- and-now that counterpoints the sense of passage, time and journey implicit in [my Door series of paintings]."
One of her most-viewed projects is Orlando Springs, an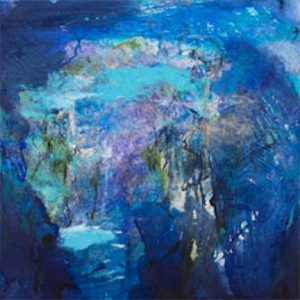 extensive installation of paintings, lenticular photography, etched glass and graphics of springs located in the Orlando area that she and co-collaborator Jarrod Ryhal created for the Orlando International Airport. During that same year, Tolbert was selected to be a LINC artist for the Everglades Art Atlas, initiating a series of paintings about the Fakahatchee Strand. [Other public art commissions include Springs Passage, paintings she rendered in 2002 for the Volusia County Courthouse (under Florida's Art-in-State Buildings program),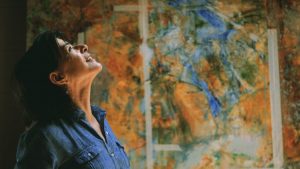 a series she installed in the Overtown Metrorail Station (under the Miami Dade Art in Public Places program) and a 2006 project with lenticular panels she installed in Weston Public Library (for Broward County Public Art and Design).]
In 2010,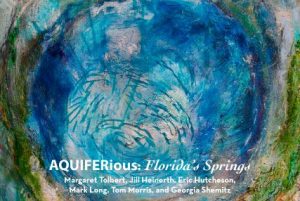 the artist collaborated with 13 other contributors on a book that features Tolbert's art, prose and twelve North Florida springs, including the popular Ichetucknee Spring located northwest of Tolbert's hometown of Gainesville (which is also home to the University of Florida. Titled AQUIFERious, the book showcases photos, paintings and artistic cave maps, as well as her long-standing passion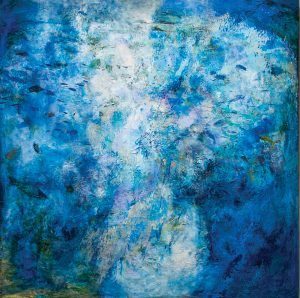 for fragile springs and the creativity they inspire. Including insights from the other contributors on cave diving, history, literature, science and the current state of the aquifer (plus useful links and ideas for helping conserve and protect the springs), the amalgam of scientific insights woven into AQUIFERious documents the urgent need for the preservation of Florida's freshwater springs and the Floridan Aquifer, a 100,000 square mile life force that reaches into neighboring states and feeds somewhere between 750
and as many as 1,000 freshwater springs throughout Florida. [AQUIFERious received a gold medal in Florida non-fiction and a silver medal in fine arts from the Florida Book Awards. An earlier book, GEZI, containing Tolbert's narrative and sketches of travels in Eastern Turkey, was released in 2006.]
Recent exhibitions have included dance performances and animations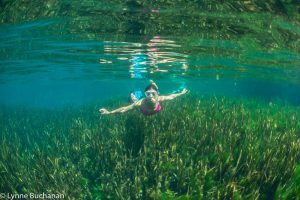 presenting the energy of the creative act of painting, ethnic dance, and exploration of the springs and the creative process. These include ENERGY performances for Shands Arts in Medicine, Edsvik Konsthall, and Marten Pers Skalla in Sweden, and Festival of the Moving Image in Tampa.
Tolbert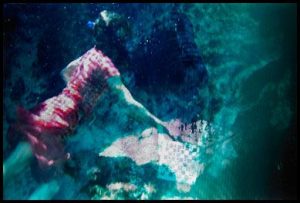 received her BFA and MFA in painting from the University of Florida, where she studied under Hiram Williams. She also minored in Linguistics.
Her solo exhibits include: Sirena in Rapture, 6th Street Container, Miami, 2012; AQUIFERious, Lemieux Galleries, New Orleans 2010; Sirena: At the Abyss,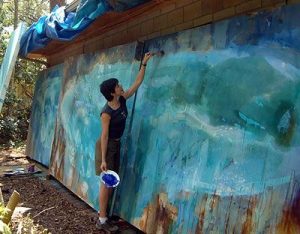 Edsvik Konsthall, Sollentuna, Sweden, and Edgezones, Miami FL; Margaret Ross Tolbert: Doors, University of Richmond Museums, 2005- 2006; Passages, Polk Museum, Lakeland, Florida, 2004, and Springs Eternal?, Gulfcoast Museum of Art, 2003; Aquifer, LeMieux Galleries, New Orleans, LA, 2002; Portals and Passages, Museum of Florida History, Daytona Museum of Arts and Sciences, Gulfcoast Art Center, and Northwest Florida State College, 1997-98;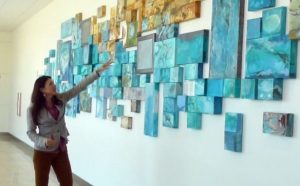 Palace/Spring,Galleri Max, Stockholm, Sweden, 1996.
Group shows include Eight from Florida, Mennello Museum of American Art, Orlando FL 2011, Region 4 : Superfund, at The Thomas Center, Gainesville, FL; American Confluence, Edsvik Konsthall , Sollentuna,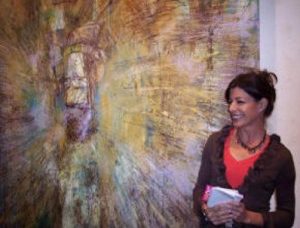 Sweden, 2006, Growth Spurt, Edgezones, World Arts Center, Miami, FL 2005-6, WET, World Arts Center, Miami FL, 2005,The Swamp: on the Edge of Eden, Harn Museum in Gainesville, FL, 2000; H 2 O; traveling group exhibit with venues in Florida and Georgia, 2000-2002, Han, an exhibit with Nitin Jayaswal based on the caravansaries of the ancient trade routes, Jacksonville and New Orleans, 2000-2001. Tolbert has received a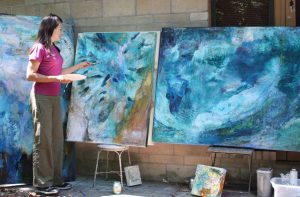 Visual Arts Fellowship(1997-8) from the State of Florida, and an Artist's Enhancement Grant, from the State of Florida.
You will have two chances to view the Lost Springs during the Fort Myers Film Festival. The first is at the Sidney & Berne Davis Art Center at 1:30 p.m. on Saturday, March 24. The second is at the IMAG History & Science Center at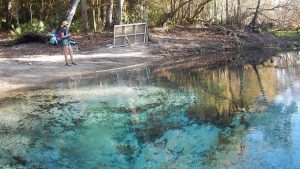 2000 Cranford Ave. during the 5:30 p.m. block on Saturday, March 24.
March 7, 2018.
RELATED POSTS.