Visual and Performing Artists and their Events in the news June 15-21, 2023
This is who and what's creating news in Southwest Florida's visual and performing arts community this week:
1     ACTORS
Aubrey Barnhouse reprises role of Cosette in 'Les Miserables' for Melody Lane Theatre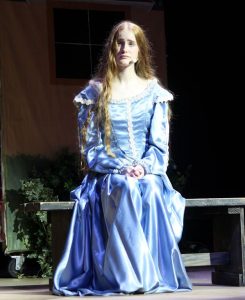 Aubrey Barnhouse reprises the role of Cosette in Melody Lanes Theatre's encore production of Les Miserables, which Melody Lane originally performed in 2021. plays the part of Katherine Plumber in Newsies for Belle Theatre. The 16-year-old is a member of TAG at Cypress Lake High School, where she is involved in many extracurriculars and AP classes (all while maintaining straight A's). Past roles include Katherine Plumber in Newsies for Belle Theatre, Jasmine in Aladdin Jr., Jack's Mom in Into The Woods, Morticia in Addams Family Jr. and the Baker's Wife in Into the Woods Jr.
_______________________________________________
Gerrie Benzing is Gertrude in 'Save Hamlet' at Lab Theater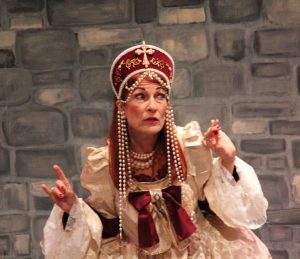 Gerrie Benzing plays Gertrude in Lab Theater's summer spoof Save Hamlet. Gerrie's recent credits include Raven in Trouble (at the Vista View Mobile Home Estates) for Florida Rep, Brooke in Other Desert Cities for The Studio Players, Florence Ungar The Odd Couple: Female Version (Belle Theatre, 2022), Madame de Volanges in Dangerous Liaisons (Lab Theeater, 2022) and Lee in Charles Busch's The Tale of the Allergist's Wife for New Phoenix Theatre (2022). Go here for Gerrie's full profile.
_____________________________________
Nick Beyor plays Lord Pinkleton in 'Cinderella'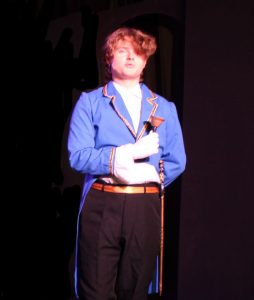 Nick Beyor plays the role of Lord Pinkleton for Belle Theatre in Rodgers & Hammerstein's Cinderella. Beyor's character is second in command to Prince Topher's Lord Chancellor, Sebastian. He also serves as town crier, is tasked with heralding all of the kingdom's important events such as the ball that takes place in Act One and the banquet that a week later. Beyor previously played Seymour for Belle Theatre in Little Shop of Horrors, Musidorus in Head Over Heels at New Phoenix Theatre and Billy Jr. in On Golden Pond at Cultural Park Theater.
_____________________________________________
Katae Boswell reprises role of Fantine in 'Les Miserables'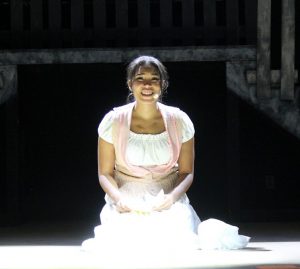 On the heels of her stint as The Balladeer in Assassins, Katae Boswell  reprises the role of Fantine in Melody Lane Theatre's encore production of Les Miserables. Katae's prior stage credits include the part of Little Red Riding Hood in Belle Theatre's production of Into the Woods, Bea Bottom in Something Rotten at North Fort Myers High School and Frances in Burnt Part Boys for the Alliance Youth Theatre.
________________________________________________
Sophia Brook in ensemble of 'Les Miserables' at Melody Lane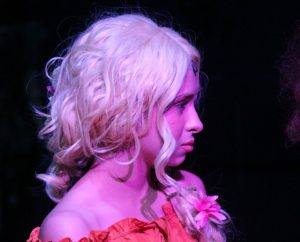 Sophia Brook appears in the ensemble of Les Miserables for Melody Lane Theatre. Sophia has been performing since a very young age. Her prior credits include Rapunzel in Stephen Sondheim's Into the Woods, Sandy in Grease, Margot Frank in The Diary of Anne Frank and Mary in Mary Poppins. In 2023, Sophia earned the All Star Award at the Atlanta Junior Theater Festival, and she scored five Superiors at the District Thespians with a Best in Room accolade.
______________________________________________
Jania Boucher is Marcella in 'Save Hamlet' at Lab Theater
Jania Boucher plays the part of Marcella in Save Hamlet for Laboratory Theater. Marcella is one of a bevy of women disguised as men who band together to prevent Hamlet's uncle, the new king, from murdering Hamlet. As in the actual play, Marcella's companion on the midnight watch is Bernadette, and together they convince Horatio to join them in their efforts to thwart the new king's plans to have Hamlet killed. Go here for more on Jania's stage credits.
____________________________________________________
Steven Coe is Hamlet in Lab Theater summer spoof  'Save Hamlet'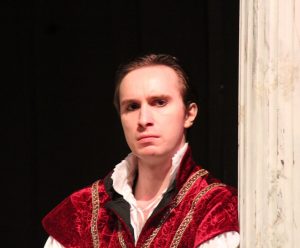 Actor Steven Coe plays Hamlet in Lab Theater's summer spoof Save Hamlet in June of 2023. Steven's most recent credits include David in The Foreigner for Players Circle Theatre, Happy Mahoney in Clown Bar for Theatre Conspiracy at the Alliance for the Arts, Mitch Brenner in The Birds: A Parody, the impudent, bitingly witty rake Vicomte de Valmont in Lab Theater's production of Dangerous Liaisons and Chris in Killer Joe. Read here to see the rest of Steven's stage and film credits.
____________________________________________
David Cooley is Laertes (Ophelia's dad) in 'Save Hamlet'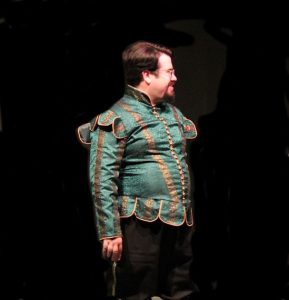 David Cooley plays the part of Laertes in Save Hamlet. His stage credits include Lorenzo de Medici in Botticelli in the Fire, Leonard in Let Nothing You Dismay, various roles in DMV and Starveling in Lab Theater's socially-distanced rendition of A Midsummer Night's Dream. He appears next as Laertes in Lab's summer spoof Save Hamlet. It may seem appropriate for David, a Collier County public defender, to perform in a parody of The Bard since Shakespeare is oft-quoted for the line from Henry VI that "the first thing we do, let's kill all the lawyers." But Shakespeare actually respected solictors because "for there to be tyranny, we must eliminate those who protect rights."
______________________________________________________
Emily Dunn appears for Broadway Palm in 'Footloose' as Ariel Dunn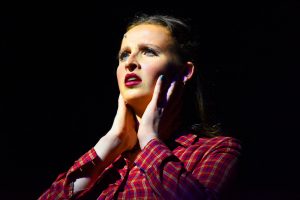 Emily Dunn plays the part of the rebellious preacher's daughter Ariel Moore in Broadway Palm Dinner Theater's production of Footloose, where she especially showed off her powerful vocals and skills in harmonizing with other singers in "Learning to be Silent," in which she combines with Moriel Behar, who plays her mother, Vi, and Jody Smith Harper, who plays Ren's mother, Ethel McCormack. Emily's previous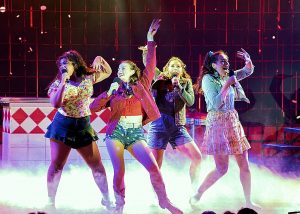 stage credits include Phoebe in Friends! The Musical Paroldy in the Off Broadway Palm and the Festival of New Musicals at Goodspeed Musicals. She holds a BFA in Musical Theatre from The Hartt School.
________________________________________________
Chloe Elliott-Chan is Bernadette in Lab's spoof 'Save Hamlet'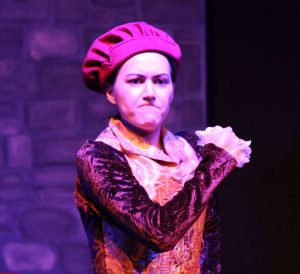 Chloe Elliott-Chan plays the part of Bernadette in Lab Theater's summer spoof Save Hamlet. The role signals Chloe's return to the Lab, where she previously appeared in the role of Madam de Tourvel in last season's production of Les Liaisons Dangereuses. A theatre major at Florida Gulf Coast University, Chloe has performed in a number of productions in FGCU's TheatreLab, including Hamlet, An Enemy of the People, Antigone and On Baile's Strand. Having just closed Hamlet at FGCU while simultanesously rehearsing this profane retelling of that classic play has been … unique. Read Chloe's full profile here.
_____________________________________________________________
Danielle Enderby enthralls as Marie in 'Rodgers & Hammerstein's Cinderella'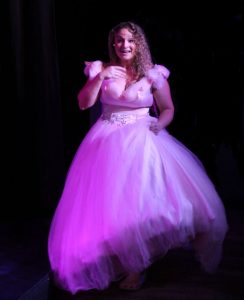 Danielle Enderby enthralls as Marie in Rodgers & Hammerstein's Cinderella. Marie presents as an incoherent, jabbering bag lady before she is breathtakingly revealed as Ella's exquisitely elegant fairy godmother in disguise. From hair to shimmering white gown, Enderby embraces the role. Her bearing is reminiscent of Galadriel from Middle Earth lore; her caring demeanor echoing that of the wise and nurturing Glinda from Wizard of Oz. And that's as it should be since Marie represents the power of hope and dreams, particularly when all seems lost. For more.
_________________________________________________
Harvey Evans reprises role of Jean Valjean in 'Les Miserables'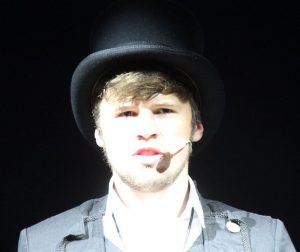 Harvey Evans reprises the role of Jean Valjean in Les Miserables for Melody Lane Theatre June 23-25. He originally played the part for Melody Lane in its 2021 production of the musical. Previous credits include Charlie Luther Mason in Admissions for Players Circle Theatre, Jack Kelly in Newsies, Ned Schneebly in School of Rock for Belle Theatre and Christopher Boone in The Curious Incident of the Dog in the Night-Time for Players Circle Theatre. Go here for Harvey's full profile.
_______________________________________________
Jorja Evans in ensemble of 'Les Miserables' at Melody Lane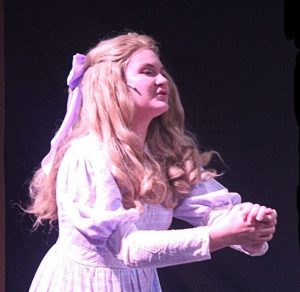 Jorja Evans appears in the ensemble of Les Miserables in Melody Lane Theatre's encore production of the musical June 23-25. Her previous credits include one of Jesus' modern-day disciples in Godspell for Fort Myers Theatre, Amy March in Little Women, work in the ensemble of Elf Jr., Miss Honey in Matilda, Jr., Mrs. McKee in The Great Gatsby, Margot Frank in The Diary of Anne Frank and Ursula in Fort Myers Theatre's summer show The Little Mermaid Jr. (2020).
_________________________________________________
Katie Freeman plays title role in 'Cinderella' for Belle Theatre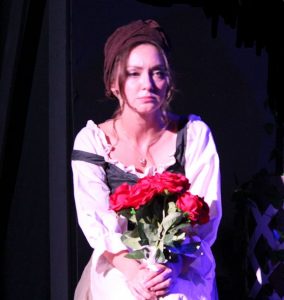 Katie Freeman stars in the title role of Rodgers & Hammerstein's Cinderella for The Belle Theatre. Freeman plays the part with charm and effervescence, infusing Ella, with all the warmth, kindness and patience that Rodgers & Hammerstein envisioned when they created their version of the timeless French fairy tale, Cendrillon, ou la petite pantoufle de verre (Cenderella, or The Little Glass Slipper).
Go here for all of Katie's stage credits.
___________________________________________
Elijah Grant reprises role of Injolras in Les Miserables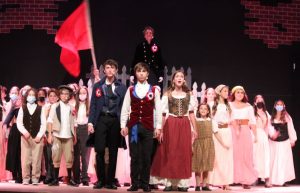 Elijah Grant is has been performing on stage since the third grade. Today, he delivers crisp, seemingly effortless performances on a routine basis. He reprises the role of Injolras in Les Miserables for Melody Lane Theatre, which he first played for Melody Lane in 2021. Go here to review Elijah's stage credits.
_____________________________________________
Art Keen is Claudius in Lab summer spoof 'Save Hamlet'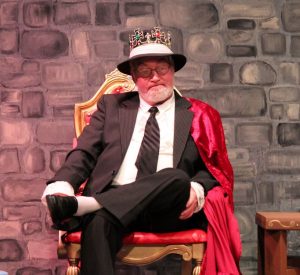 Art Keen appears in the role of Claudius in Lab's summer spoof Save Hamlet. Art's local stage credits include Alonso in The Tempest, The Crucible, Jimmy Rogers in Lab Theater's world premiere of Zalman Velvel's D.M.V. and Manolo Costazuela in Del Tura Repertory Company's production of The Odd Couple: Female Version.
______________________________________________
Mark King appears as Guildenstern in Lab's 'Save Hamlet'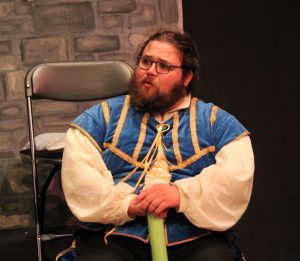 Mark King appears in the role of Guildenstern for Lab Theater in its summer spoof, Save Hamlet. Mark has previously appeared as Amos Hart in Chicago for Gypsy Playhouse, in the ensemble of Sweeney Todd: The Demon Barber of Fleet Street for Lab Theater, various roles (Sholes, Harry, Bird) in Lab Theater's 2022 summer spoof of the 1963 Alfred Hitchcock horror film The Birds, as Major Domo in Dangerous Liaisons, as Trekkie Monster in Avenue Q and comedian Eddie McCuen in The Musical Comedy Murders of the 1940s. For more on Mark, read here.
____________________________________ ________________________
Guinevere Bortnicker Kiniry is Horatia in Lab's summer spoof 'Save Hamlet'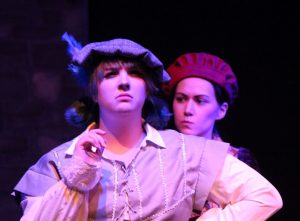 Guinevere Bortnicker Kiniry plays the part of Horatia for Lab Theater in Save Hamlet.  Her stage credits include the roles of the San Mateo auditioner Maggie Winslow in Fort Myers Theatre's production of A Chorus Line, Bakers Wife in Into the Woods Jr, numerous roles in Anastasia (2022), multiple parts in Bible Herstory (2021), Mimi in Pippin (2019) and a townsperson in Hunchback of Notre Dame (2018).
________________________________________________
Terry Lavy is the Ghost in Lab's 'Save Hamlet' summer spoof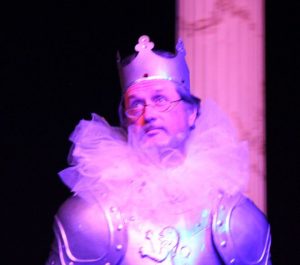 Terry Lavy appears as the Ghost in Lab Theater's summer spoof Save Hamlet.  Terry's previous credits include Cogsworth in Beauty and the Beast for Fort Myers Theatre, the detective, Hunyak's defense attorney and the prosecutor in Chicago for Gypsy Playhouse, Mr. Lawrence in Little Women, the Von Trapp butler, Franz, in The Sound of Music (2023), the Narrator in The Rocky Horror Show (2022), Uncle Fester in the Addams Family musical (2022) and the grieving killer, Wilson, in The Great Gatsby (2022).
___________________________________________
Eileen Little is Ophelia in 'Save Hamlet' at Lab Theater
Eileen Little appears in the role of Ophelia in Lab Theater's summer spoof Save Hamlet. Little was last seen as Roxie Hart in Chicago for Gypsy Playhouse, in the ensemble of Sweeney Todd: The Demon Barber of Fleet Street at Lab Theater. Musicals are Eileen's forte. She's an alumni of Florida Southern College with a BFA in Musical Theatre and minor in music.
_________________________________________________________
Ariana Milian is Francesca in Lab Theater's summer spoof 'Save Hamlet'
Ariana Milian plays Francesca for Lab Theater in the world premiere of Save Hamlet. Ariana's previous stage credits include the ensemble of Sweeney Todd: The Demon Barber of Fleet Street at the Laboratory Theater of Florida, Sister Sophia in The Sound of Music for Fort Myers Theatre, one of the phantoms in The Rocky Horror Show, a member of the ensemble of Rent, one of the cut dancers in A Chorus Line and Alice in Alice in Wonderland. The rest of this profile is here.
_____________________________________________
Samantha Pudlin plays stepsister Gabrielle in 'Cinderella'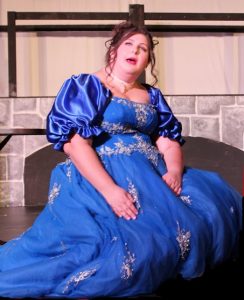 Samantha Pudlin  is a resident performer in the Southwest Florida theater community. She is appearing as Gabrielle in Rodgers & Hammerstein's Cinderella at The Belle Theatre. Ah, while she starts out as a self-absorbed somewhat heinous stepsister, in this version of the age-old fairy tale, Gabrielle finds camaraderie with Ella after confessing to her that she'd gladly give up all her wealth to be with her true love, a poor revolutionary by the name of Jean-Michel. Pudlin's recent stage credits include one of the disciples in Godspell at Fort Myers Theatre, the role of Meg in Little Women for Fort Myers Theatre, ensemble work in Head Over Heels for New Phoenix Theatre, the Lady of the Lake in Spamalot, Crystal in Little Shop of Horrors and Marcy Park in The 25th Annual Putnam County Spelling Bee, all for Cultural Park Theatre. Wait, there's more.
______________________________________________________
Tracy Weaver is Madame in Rodgers and Hammerstein's Cinderella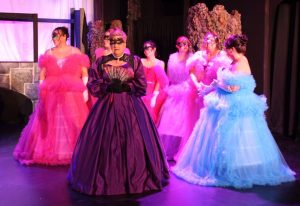 Originally from Pennsylvania, Tracy Weaver has performed at many community theater venues in Pennsylvania and Florida. Tracy currently appears as Madame, Ella's cruel and demeaning stepmother in Rodgers & Hammerstein's Cinderella at The Belle Theatre. Go here for all of Tracy's stage credits.
______________________________
2     ART SHOWS AND EXHIBITIONS
Joan Sonnenberg retrospective at Alliance for the Arts through July 29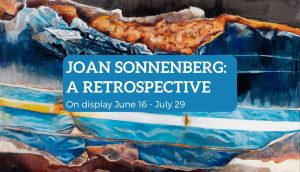 On display in the main gallery at the Alliance for the Arts now through July 29 is Joan Sonnenberg: A Retrospective Exhibition.
At the age of 5, Joan became interested in the real and imaginary facets of art and life which have formed the basis of her artwork ever since. Interested in geometric patterns achieved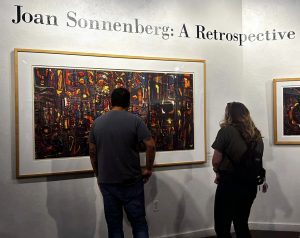 through multiple reverse etching processes, Sonnenberg superimposes and stacks up to ten images on top of each other, creating a complex montage of lines, shapes and patterns. "I strive to alter and combine abstraction with realism; capturing marks made over time through human intervention; the mundane, decaying worn objects, dumpsters, wall graffiti," relates the artist, who also portrays street people,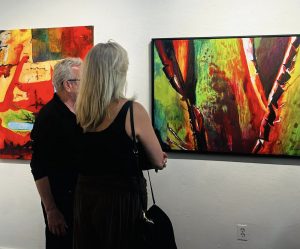 each embedded with stories to tell.
Evolving from printmaking to painting, much of the same kaleidoscope patterns and shapes remain.
"I photograph multiple images in one frame, automatically producing compounded/fractured imagery as a reference for painting," the artist explains.
After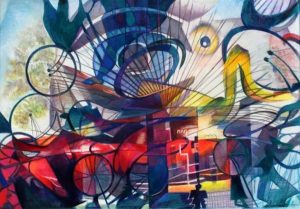 moving to Florida in 1997, Sonnenberg found similar subject matter along walks through urban southern streets, but since she is curious about all that she encounters, the tropical foliage, specifically the banana's multitudinous leaf patterns, inspired a new series of paintings.
Sonnenberg prefers to work on multiple series simultaneously and continually explores new approaches, using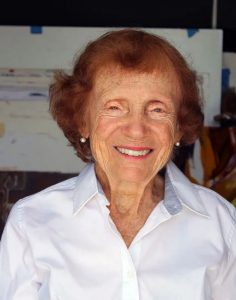 charcoal, pastel, watercolor, acrylic, gesso on both canvas and paper. Her practice has included printmaking, photography, painting and drawing. The 92-year-old artist maintains her lifelong daily art practice and four-mile walks to this day.
Displaying artwork from across an artistic career that spans more than 50 years (from the 1970s to 2023), Joan Sonnenberg Retrospective affords a peek into Sonnenberg's distinctive style and unique body of work.
_______________________________________________________________________
Danielle Branchaud's DAAS 'Thereafter' exhibition pictures world after human extinction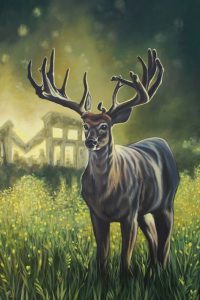 DAAS CO-OP Art Gallery & Gifts presents the artwork of visual artist Danielle Branchaud in July. The paintings in her Thereafter exhibition delve into the emerging recognition that humankind has entered a new epoch in our planet's history characterized by mass extinctions of plant and animal species.
Branchaud is known for enigmatic compositions that comment on timely social and environmental issues.
In the paintings she includes in Thereafter, Danielle documents species facing the threat of extinction and speculates about a future that may be devoid of many of the wondrous species with whom we share the planet.
"[It] gives me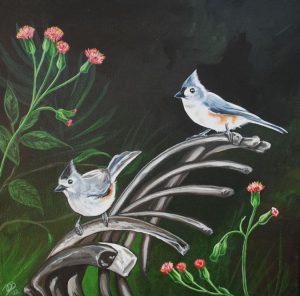 joy to bring to life on canvas … even the smallest and simplest of creatures … as if in preserving them there I might preserve something of them for posterity," Danielle notes.
Thereafter explores a variety of local flora and fauna in Branchaud's traditionally beautiful realist depictions, albeit with a dark touch-and-cheek twist to each one that belies the artist's profound sense of affection for the creatures she captures on canvas and awareness of our connection to every living being, whether flora or fauna.
Still,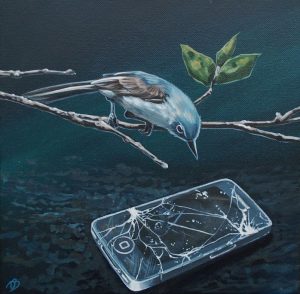 Branchaud cannot help but worry about the deleterious impact humans are having on climate, the world's oceans and all the creatures who inhabit the land, air and sea. A 2019 United Nations sponsored Global Assessment Report warned that as many as one in four plant and animal species are threatened by extinction due to human activities. While one million species currently face extinction within a mere matter of decades, the report predicts that the rate of extinction will accelerate unless action is taken to reduce the intensity of drivers of biodiversity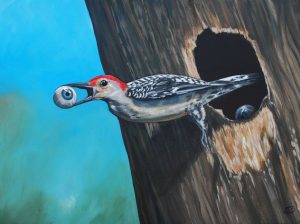 loss.
"There may be no real means of re–establishing that delicate balance – no matter how painful it is to acknowledge," says Branchaud. "The reality of our world now has forever changed, for us and for all that which lives and breathes alongside us. Only time will tell if we can possibly persevere despite of it."
This reality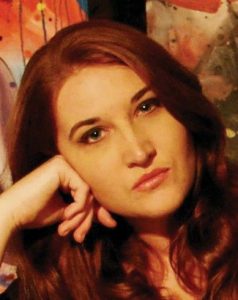 causes Branchaud to wonder if the world wouldn't be better off without humankind.
"I can't help but imagine how the world would thrive without us, that invasive human element. May they all live long after I am gone, and flourish in all that is left thereafter."
The paintings in Thereafter express this optimism that life will preserve notwithstanding the destruction we are causing. Branchaud sees a remarkable endurance in nature. She has witnessed it again and again, in every place where humans once thrived but have now abandoned. Each has been overtaken and reclaimed by new life.
"The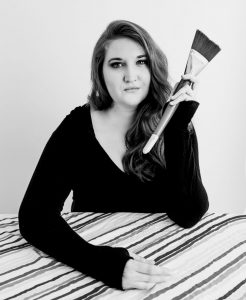 green and growing things will emerge and evolve long after we are gone. This belief – however dismal to some- gives me hope," Danielle concludes.
DAAS CO-OP Art Gallery & Gifts is located at 1815 Fowler Street, in the Butterfly Estates complex in Fort Myers, FL. The gallery's business hours are Wednesday to Sunday from 10 a.m. to 3 p.m. More information about the venue and/or how to become a member can be found at daascoop.com or by calling 239-590-8645.
_______________________________________________________
Alyona Ushe named Executive Director of Centers for the Arts Bonita
After an extensive executive search process led by a team of experts from Arts Consulting Group and a committee of Board members, Alyona Ushe has been selected as the new Executive Director  of the Centers for the Arts Bonita Springs.
"We are thrilled Alyona will be joining us to lead the Centers for the Arts in our commitment to enrich the lives of the community by providing opportunities for artistic expression,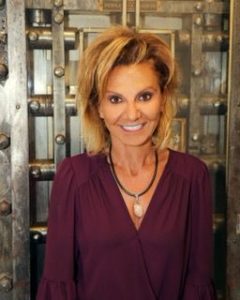 education, and appreciation for all," says CFABS Board Chairman Fred Weinman. "Alyona shares our commitment and passion for the arts and brings exceptional leadership experience to our organization. The future is bright!"
Alyona began her career by founding Classika-Synetic Theater in the Washington DC Metro area.
Go here for the rest of this story.
_____________________________________________________________________
New director of Bonita Springs' Center for the Arts is creating magic behind the scenes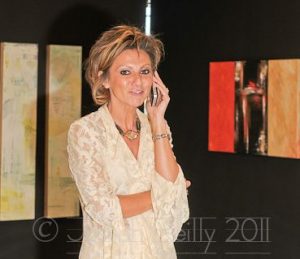 The new director for Bonita Springs' Centers for the Arts thinks that creating magic behind the scenes is an art form all of its own. WGCU's Tom Hall provides this insight into how Alyona Ushe's previous experience uniquely positions her to guide the Art Center into playing an even greater role in the local arts community. Listen here.
_____________________________________
3     THEATER PRODUCTIONS
Anti-drag law could spell death knell of SWFL theater industry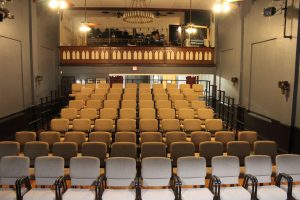 Florida's new anti-drag statute was intended to prevent children from seeing sexual content at drag shows, but the State's "Protection of Children" law applies to any adult live performance, including musicals and plays. That has Southwest Florida's 19 local theaters re-evaluating the shows they choose to produce and who they'll admit into performances.
________________________________________________________
Rodgers & Hammerstein's Cinderella comes to Belle Theatre June 9-18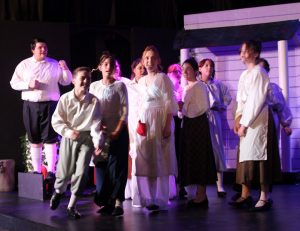 On stage at The Belle Theatre in Cape Coral Friday, June 9 through Sunday, June 18 is Rodgers + Hammerstein's Cinderella, a timeless fairy tale retold with grace, originality, charm and elegance.
Originally presented on television (starring Julie Andrews) in 1957, Rodgers & Hammerstein's Cinderella was the most widely viewed program in the history of television, drawing an astonishing 107 million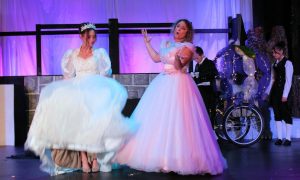 viewers. Its recreation (starring Lesley Ann Warren) in 1965 was no less successful in transporting a new generation to the miraculous kingdom of "Dreams Come True," and a second remake in 1997 set a new standard for representation and diversity in screen musicals when it cast Brandy as Cinderella and Whitney Houston as her Fairy Godmother.
_____________________________________________________
Footloose' plays at Broadway Palm Dinner Theatre May 16 to July 1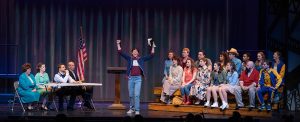 Playing on the main stage at Broadway Palm Dinner Theatre May 16 through July 1 is Footloose, the extraordinary musical that celebrates the exhilaration of youth, the power of forgiveness, and the community that's found in dance and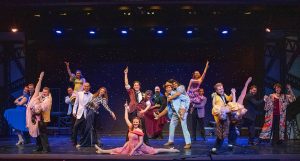 music.
With music by Tom Snow, lyrics and book by Dean Pitchford (who made some modifications to the original screenplay), the story revolves around a teen named Ren McCormack whose mother upends his life when she moves the two of them from Chicago to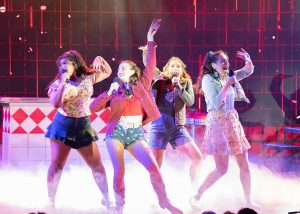 the small farming town of Bomont after his father abandons them. Upon arriving, Ren finds himself at odds with most of the town, including the Reverend Shaw Moore. The Reverend has convinced the town to outlaw dancing. But with the help of the Reverend's daughter, Ariel, and Willard (a country hick who becomes his best friend), Ren convinces the Reverend to let the teenagers dance,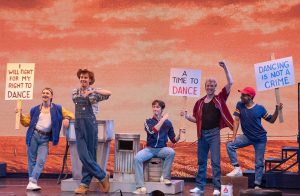 and in the process helps the town to heal from a tragedy that affected them all.
Including such popular songs as The Girl Gets Around, Holding Out For A Hero, Let's Hear It For The Boy, Almost Paradise and the title song, Footloose, the scores for the 1984 film starring Kevin Bacon and 1998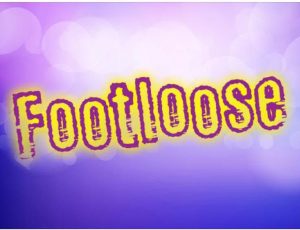 musical received two Oscar, two Grammy and two Tony Award nominations and the soundtrack displaced Michael Jackson's Thriller as #1 on the Billboard Top 200 after a year at the top of the chart.
Performances are Wednesday through Sunday evenings with selected matinees. Tickets are $55 to $85 with children and group prices available. Tickets are now 

on sale and can be reserved by calling (239) 278-4422, by visiting https://broadwaypalm.com/shows/footloose/ or by stopping by the box office at 1380 Colonial Boulevard in Fort Myers.
______________________________________________________
Broadway Palm producing 'Little Mermaid' July 7 through August 12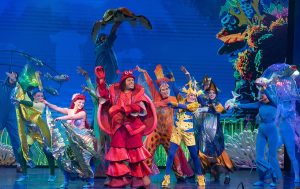 This summer, Broadway Palm Dinner Theater is going under the sea with Disney's The Little Mermaid, July 7 through August 12, 2023. This full-scale, stage production is based on the popular 1989 animated film of the same name that quickly became a Disney favorite.
Theater-goers of all ages will enjoy watching this Disney classic come to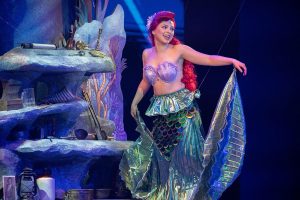 life on stage, where the beautiful mermaid, Ariel, longs to leave her ocean home to live in the world above. When Ariel falls in love with the human Prince Eric, she makes a bargain with the evil sea witch, but the bargain isn't what it seems. You'll see all your favorite characters and hear the irresistible songs including Under The Sea, Kiss The Girl, Part Of Your World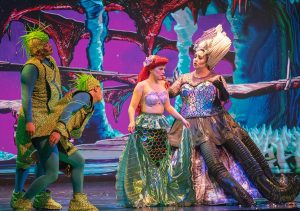 and more!
Performances are Wednesday through Sunday evenings with selected matinees. Tickets are $55 to $85 with group prices available. There is a summer special and tickets for anyone 16 and under are just $30 including the meal. Tickets are now on sale and can be reserved by calling (239) 278-4422, by visiting BroadwayPalm.com or by stopping by the box office at 1380 Colonial Boulevard in Fort Myers.
_______________________________________________
Centers for the Arts Bonita stages a weekend of 'Matilda JR'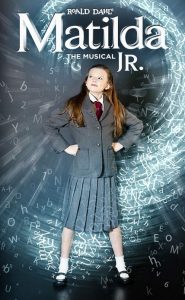 Matilda JR opens on June 16 at the Center for Performing Arts Bonita Springs. Inspired by the genius of Roald Dahl, this Tony Award-winning play is the captivating masterpiece that revels in the trials of childhood, the power of imagination and the inspiring story of a girl who dreams of a better life. Performances will be held in the Hinman Auditorium at The Center for Performing Arts, 10150 Bonta Beach Road SE, Bonita Springs, FL  at 7:00 p.m. on June 16th and 17th and 2:00 p.m. on June 17th and 18th. Tickets range from $10 to $25. The full advance is here.
_______________________________________________
Fringe Fort Myers wraps; announces Best of Venue awards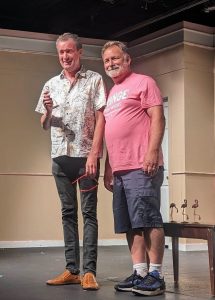 The first annual Fort Myers Fringe Performing Arts Festival wrapped on June 4th with an awards ceremony in which –
Frank Blocker in Southern Gothic Novel was chosen as Best of Venue for Off Broadway Palm;
Laila Lee in The Light Bringer took Best of Venue honors in the Alliance Classroom Theatre;
Dance Bochette Presents Future Perfect was named Best of Venue Foulds Theatre; and
tiny_Theatre Presents The Hunt for Milo Gatto was chosen as Audience Favorite.
Finish this announcement here.
_____________________________________________________________________
Some fringe shows go all the way to Broadway; others make it to Denver or New Albany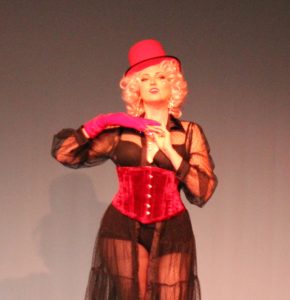 The first annual Fringe Fort Myers festival may be over, but the aftereffects are yet to be known. Carousel of Burlesque's Pixel Winters is performing tonight in Denver in Polka Dottie's Wonderful World of Burlesque. Best in Venue's Laila Lee is preparing to bring Light Bringer 2 to the stage at various venues. And Frank Blocker will be in New Albany, Mississippi at the end of July, where Six Shooter Productions will be converting Southern Gothic Novel: The Aberdeen Incident into a feature film that will be available on streaming services such as Netflix, Hulu and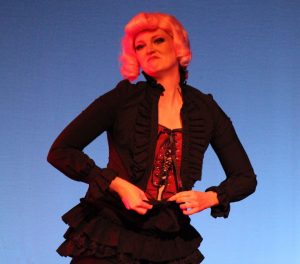 Amazon Prime.
Many shows debuted in fringe.
A case in point is Six: The Musical, which is currently blowing the roof off the Lena Horne Theatre. If that weren't enough, the Grammy Award-nominated first-ever live recording, Six: Live on Opening Night, is enjoying tens of thousands of downloads on Spotify, Apple Music, iTunes and Amazon Music, and will soon be available as a CD as well. You will find the rest of this story here.
_____________________________________________________________
Save Hamlet' continues Lab Theater's tradition of joke-laden summer spoofs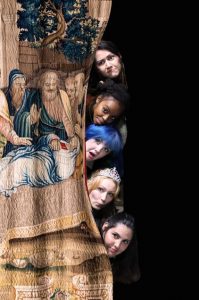 Extending its rich tradition of irreverent summer spoofs, the Laboratory Theater of Florida presents the world premiere of Mark Harvey Levine's Save Hamlet from June 2nd to June 24th. Save Hamlet is a goofy, charming, joke-packed spoof of Shakespeare's most famous play that's funny even if you don't know the difference between "where" and "wherefore." In addition to the prestige of being a world premiere, this show was a runner-up for the 2022 Louise Wigglesworth Excellence in Playwriting Award.
Read the rest of this advance here.
You will find play dates, times and a full cast list here.
______________________________________________________
Lab Theater's Season 15 now includes sensory friendly performances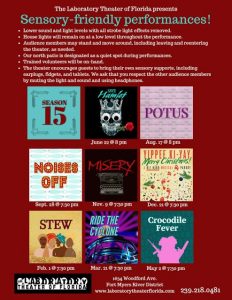 The Laboratory Theater of Florida will offer sensory-friendly performances of each show during Season 15. Starting with the June 22nd performance of Save Hamlet, one performance of each run will be modified to adhere to sensory-friendly practices.
These modifications include:
Lower sound and light levels with all strobe light effects removed.
House lights will remain on at a low level throughout the performance.
View the full announcement here.
________________________________________________________________________
Lab Theater Education presenting 'She Kills Monsters: Young Adventurers Edition' in July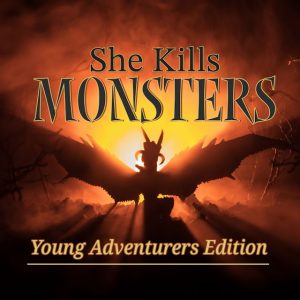 The Laboratory Theater of Florida's award-winning education department will present Qui Nguyen's She Kills Monsters: Young Adventurers Edition on July 13th – 16th. The story follows Agnes, who rediscovers her recently-deceased sister in a magical game of Dungeons and Dragons. As she slashes her way through orcs, dragons and cheerleaders, Agnes learns there's more to her sister than she ever knew. This funny and imaginative play is a universal story of honoring those we've lost.
The Laboratory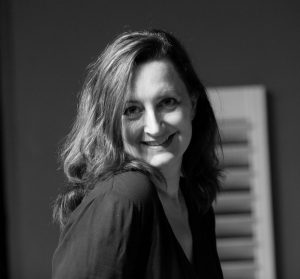 Theater of Florida takes a "whole actor" approach to acting. In addition to physical theater, stage combat, voice modulation, blocking, stagecraft and scene study, students also learn the basics of set design, lighting instruments and design, costuming, stage makeup, stage management, theater etiquette and best practices – and, of course, theater games.
"Quality education in theater includes valuable lessons in communication, teamwork, organization, and responsibility –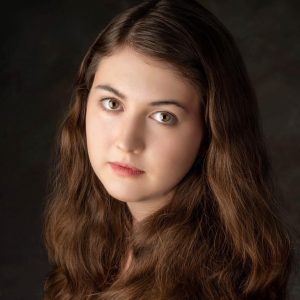 as well as specific skills on all elements of theater," says Lab Theater Artistic Director Annette Trossbach. "In this, our 15th year, I am proud of the high standard of education Lab Theater offers. Our campers are going to have a blast with the show and learn so many skills that will help prepare them for the world."
Madelaine Weymouth and Steven Michael Kennedy are returning as the camp's co-directors. Weymouth previously co-directed Trap, Failure: A Love Story,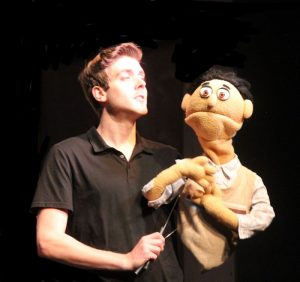 The Wolves (2019) and Evil Dead (2018) for Lab Theater's summer camp program. Weymouths' co-director for Trap and Failure was none other than Steven Michael Kennedy, whose directorial credits include 13: The Musical and Almost Maine for the Alliance Youth Theatre.
"One of the Lab's priorities when picking summer camp shows is to choose plays with teenage main characters to highlight the importance of telling authentic stories that resonate with our campers," observes Weymouth,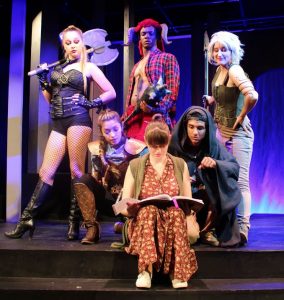 who most recently directed the world premiere of Mark Harvey Levine's Save Hamlet. "We work with them to shine a light on their dreams, fears, and emotions in a way that all audiences, not just teen audiences, can identify with. No matter your age or gaming ability, you'll be rooting for Agnes, Tilly, and their friends through the goofy shenanigans of She Kills Monsters."
"As a teaching theater, I love that the education team continues to find fresh and creative plays, like She Kills Monsters: Young Adventurers Edition, for our campers," adds Paula Sisk, the Lab's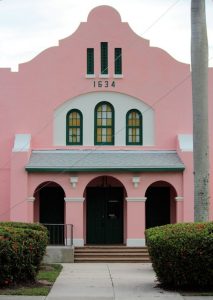 Director of Education. "I am excited to watch our students master the complexities of this comedic romp through the fantasy world created in a Dungeons and Dragons campaign."
This camp is sponsored by a grant from The School District of Lee County and Art Zupko.
She Kills Monsters: Young Adventurers Edition will be performed:
At 8:00 p.m. on July 13, 14 and 15; and
At 2:00 p.m. on July 16.
_____________________________________________________________________
'She Kills Monsters: Young Adventurers Edition' to be nostalgic for Gabrielle Landsden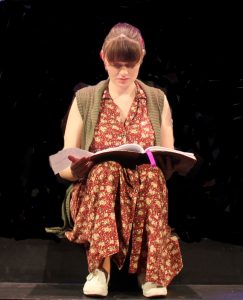 As campers settle in at Lab Theater this summer to learn all the ins and outs of theater from physicality,  stage combat, voice modulation, blocking, stagecraft and scene study in the lead up to their production of She Kills Monsters: Young Adventurers Edition, Lab Theater Production Manager and Set Designer Gabrielle Lansden will undoubtedly be following their progress with a touch of nostalgia. Lansden burst upon the Southwest Florida theatrical stage in the role of Agnes for Stuart Brown when Florida SouthWestern State College produced the adult production five years ago.
Lansden's performance as Agnes earned the following review: "Lansden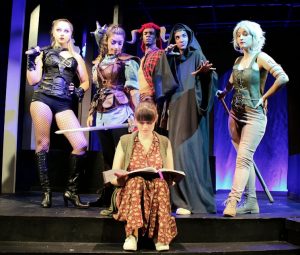 shows tremendous versatility as the stranger reluctantly venturing into a strange new land. Her initial encounters with Lilith and Kaliope are downright hysterical, particularly her reaction to Lilith's skimpy Dominatrix costume, fishnet stockings and imposing black boots. She's rewarded for her priggishness by being dubbed Agnes the Asshatter, but alas, she learns to unclench by the end of the show. Still, look up the word incredulity on Google, and chances are you'll find a photo of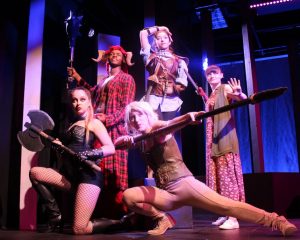 Lansden playing Agnes in New Landia's Enchanted Forest."
Stuart Brown's cast for that show has proven to be filled with some of Southwest Florida's brightest emerging stars. Joining Lansden in the cast were Broadway Palm Dinner Theater perennial Kiana Raine Pinder Cintron in the role of Tilly, George Luis Cabal as the dungeon master, Faith Detering as the Elven Kaliope, and Chloe Chan and Brithany Hernandez as
Evil Tina and Evil Gabbi, a pair of duplicitous cheerleaders on a par with the legendary Heathers. Of course, Brown is not only a good judge of talent, he's expert at developing the talent lurking inside young actors. Just ask Steven Coe.
In any case, Gabrielle Lansden is certain to have more than just a passing interest in what the kids are doing in summer camp … which is sure to inure to the benefit of the campers.
_____________________________________________________
Melody Lane producing encore of acclaimed 2021 musical 'Les Mis'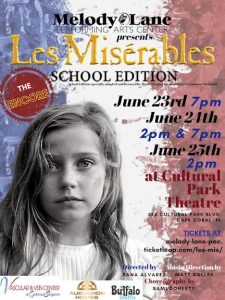 Melody Lane Theatre is producing an encore weekend of its highly-acclaimed 2021 production of Les Miserables School Edition, with many members of the original young adult cast returning from college to reprise their roles.
Seen by more than 70 million people and performed in over 40 countries and 22 languages, Les Mis brings Victor Hugo's revolutionary novel blazingly to life. With a lush, swelling score that features such famed songs as "I Dreamed a Dream," "On My Own" and "Bring Him Home," Les Miserables is one of the world's most iconic and longest-running musicals.