'Pop of Color' on display at Southwest Florida International Airport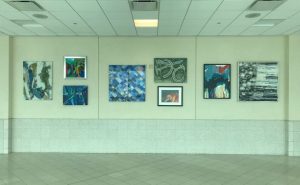 For the last 15 years, the Alliance for the Arts has partnered with the Lee County Port Authority on a project called Art in Flight, which brings art to the public spaces and the millions of travelers at Southwest Florida International Airport. Some notable past exhibits include Children of the Everglades, Louise Nevelson's Dawn Forest, and Honor,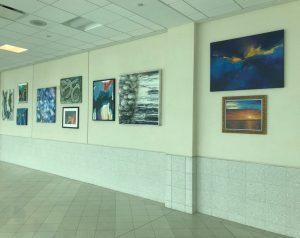 Country & Heroism.
Called Pop of Color, the current exhibition features a diverse collection of 29 artworks that use line, shape, texture and color to amaze the senses. From clean and crisp edges to wild and energetic strokes of paint, the work on display evidences the wide possibilities and varied styles and media employed by abstract artists. Found objects and sculptural, low-relief mixed media figure prominently among the various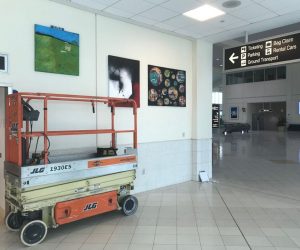 materials and textures explored in this tantalizing exhibition.
The artists on display in Concourse B are Stacey Brown, Deborah Butler, Betsy Djamoos, Anne Friedman, Janet George, Julie Griffin, Marilyn Hedlund, Karri Leamon, Bruce MacKechnie, Leila Mesdaghi, Roy Rodriguez, Caitlin Rosolen-DeJesus, Alyssa Stoff and Ronnie Walter.
The artists with work on view in Concourse D are Brooke Anderson,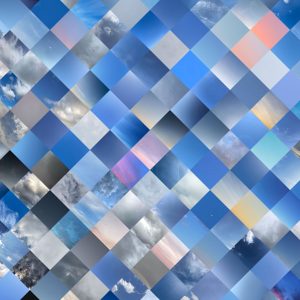 Katherine Boren, Annette Brown, Maria Collier, Paula Eckerty, Cheryl Fausel, Kate Ferriter, Kristin Herzog, Carol Imes-Luscombe, Nick Masiello, Caren Pearson, Alicia Schmidt, Grayson Stoff, Jennifer Unwin, and Barbara Yeomans.
"At first, it seemed easy to put bunch of photos next to each other to make a digital collage, but it turned out to be quite a challenge" discloses Leila Mesdaghi, who spent hours upon hours cropping, resizing, arranging and re-arranging the photos she transferred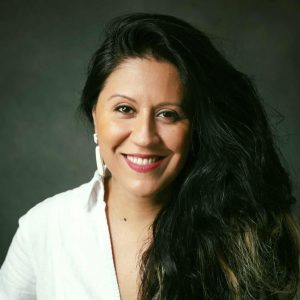 onto the 140 tiles that comprise her 45 x 45 inch artwork titled What Color Is Your Sky. Mesdaghi compiled nearly 400 photos for the project. But she didn't take them. Instead, the images were provided by her vast network of friends, and friends of friends, who began taking them after the COVID-19 quarantine first went into effect in mid-March.
"The idea was to make a large quilt together [to signify that] we are all in this together – and hoping for it to be gone soon."
Due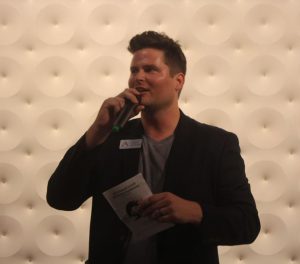 to size limitations, Mesdaghi was not able to use all of the photographs she received. No worries. She plans on creating a whole series of pandemic sky collages. Known for works that provide current social commentary, Mesdaghi is also contemplating a second series of COVID-free-sky collages once the pandemic ends.
"We are thankful for this continued partnership with the Southwest Florida International Airport to present the Art in Flight exhibit," says Alliance for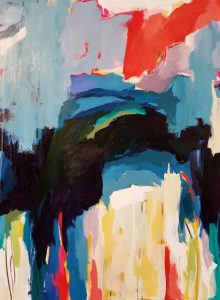 the Arts Gallery Director Ehren Gerhard (6th photo). "Each year, millions of travelers are welcomed to Southwest Florida. The Alliance for the Arts is honored to share the beautiful work of our local artists and celebrate the unique creativity of our region."
In 2019, RSW served more than 10.2 million passengers and is one of the top 50 U.S. airports for passenger traffic. Southwest Florida is known to people around the globe for its beautiful weather, pristine beaches and outdoor activities that include picturesque golf courses and Major League Baseball. But most vacationers, business travelers and other visitors are surprised to learn that this part of the country is an arts and cultural destination that is blessed with a plethora of art
galleries and the site of more than sixty outdoor art fairs and festivals between early October and the final weeks of the ensuing April each year. As a consequence, it is quickly becoming a favorite among a new wave of cultural tourists, immigrant artists, culturally-minded retirees, and creative class workers.
Through Art in Flight, the Alliance and Lee County Port Authority seek to draw travelers' attention to the value Southwest Florida places on art and culture and the skill and creativity of our growing pool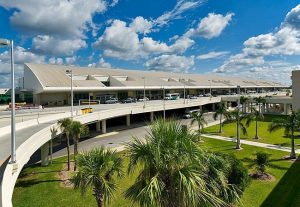 of talented visual artists. By turning the otherwise-antiseptic walls of Concourses B and D into vibrant discovery zones, the program provides airline passengers and those meeting or sending them off with a favorable first and last impression and enhanced visitor experience. Even if only a fraction of the passengers who pass through RSW each day pause for a look, that still means that Pop of Color will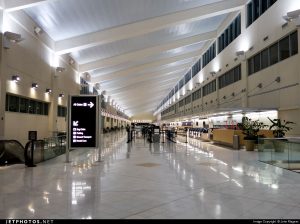 be seen by far more people than the median attendance for art museums in the United States of roughly 44,000 visitors each year.
For more information, visit ArtInLee.org or call 239-939-2787.
August 4, 2020.