CRA confirms selection of Cecilia Lueza for MLK-VSSB gateway artwork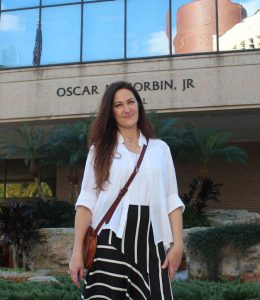 On Wednesday, February 23, the Community Redevelopment Agency Board of Commissioners unanimously ratified the selection of St. Petersburg, Florida sculptor Cecilia Lueza to design, fabricate and install a gateway art piece at the intersection of Martin Luther King, Jr. and Veronica S. Shoemaker Boulevards that expresses the themes of hope, dreams and civil rights. Tentatively titled Journey of Hope, the proposed artwork consists of a profile of an African American woman looking up with yearning and determination contrasted against a golden sunburst that symbolizes the arrival of a new day where justice, equality and freedom prevail.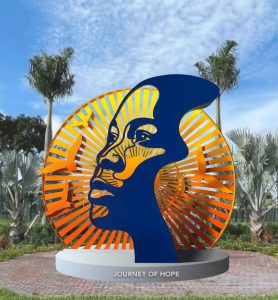 Ms. Lueza was chosen in January for the commission by a selection committee that consisted of members of the City's Public Art Committee and representatives of the CRA, Lee County Black History Society and the Dunbar community from a field of sixty-six highly-qualified applicants.
"Our goal for this very special project is to capture not only the brightness of hope and the power of dreams, but also the achievement of justice, equality and freedom pursued by extraordinary individuals like Veronica Shoemaker," said Lueza during her presentation to the selection committee.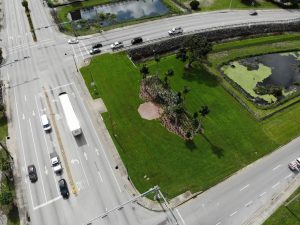 According to Lueza, Veronica Shoemaker's drive, determination and leadership provided the main inspiration for the gateway sculpture, which is to be fabricated and installed late this spring or early summer.
The woman's profile takes its color palette in part from the City's logo.
The sunburst transitions from orange at the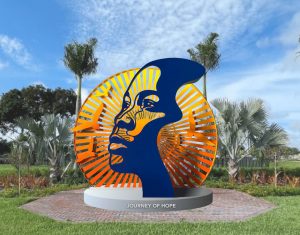 bottom to yellow at the top, "symbolizing the arrival of the future," as do the birds that are included in the design.
Birds are a recurrent theme is Ms. Lueza's artwork. "I love their beauty and the freedom they have," Cecilia said in an interview she gave to Point! Publishing Magazine writer Marie Puleo in October of 2016.
Contrast is another of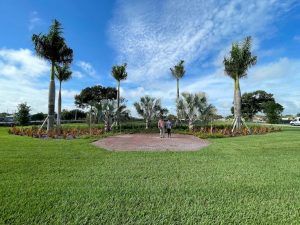 Lueza's artistic trademarks.
In connection with Journey of Hope, Lueza's " color palette creates a stark contrast and makes the sculpture stand out among the greenery of the landscape," notes Lueza, referring to the lush foliage that the City has already installed on the site and that will serve as a backdrop for the piece. The geometry of the sunburst will also serve to distinguish the artwork from the backdrop foliage.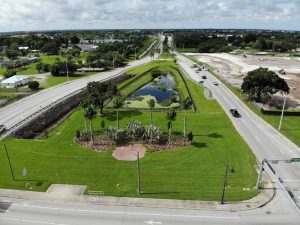 Lueza is known for bright, colorful, energetic sculptural installations. In choosing her as one of three finalists for the project, the selection committee admired several of Lueza's prior polychromed aluminum commissions, which sinuously soar into the sky during the day time and take on a magical aspect under the lights that Lueza typically incorporates into her sculptural work.
While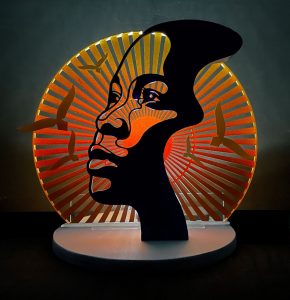 the site for the Martin Luther King & Veronica S. Shoemaker Boulevard Gateway Artwork has no electrical service, Lueza plans to install a 200-watt self-sustained solar lighting system with LED fixtures to illuminate Journey of Hope after dark.
Lueza's passion for art has been the polestar that guides both her personal and professional life since she was a child. Cecilia began her artistic journey as a ten-year-old in her hometown of Posadas in the Misiones Province in northern Argentina. After high school, she moved to Buenos Aires to study at the National University of La Plata, where she earned her master's degree in painting from Faculty of Fine Arts in 1994.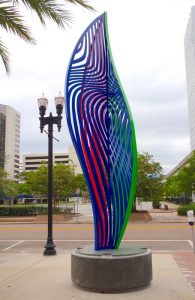 She moved to South Florida five years later to pursue the greater opportunities for artists that prevailed in Miami at the time. After working for a while as a foreign correspondent for an art magazine based in Spain, she secured an apprenticeship with renowned Argentinian artist Perez Celis, who maintained his studio in Miami. It was Celis who encouraged Lueza to "go beyond the canvas."
Lueza's paintings and studio work has been exhibited in group and solo shows in New York, Los Angeles, Washington, Tampa, Miami and Palm Beach as well as in Mexico City, San Juan, Madrid and Paris. Prior to the pandemic, she participated in two or three gallery and museum exhibits annually.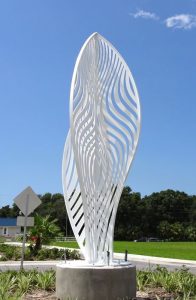 Lueza is also building a reputation as a muralist. Street murals comprise a large component of this body of work. Her participation in these projects gives her unique insight into the use of art to alert motorists that the intersections where they are installed are places frequented by pedestrians and bicyclists. This is an important consideration at the intersection of MLK and Veronica Shoemaker Boulevards, which experiences heavy traffic and numerous traffic accidents.
Public art has been Lueza's main focus for the past twenty years.
"I love public art, and I think it's one of the great things that I found here in this country," Lueza told Point! Publishing's Marie Puleo in 2016.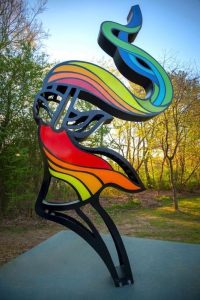 "The appreciation for public art, and the support, and the opportunities for public artists like me, that's something very great."
In spite of COVID, Lueza executes as many as eight public art commissions each year. Since 2013, Lueza has completed nearly sixty installations. In addition to commissions in Clearwater, Coral Springs, Fort Lauderdale, Jacksonville, Lakeland, Largo, Lauderhill, Ocala, Orlando, Pensacola, Pompano Beach, St. Augustine, St. Petersburg, Tamarac, Tampa, Tarpon Springs, West Palm Beach and Winter Garden, Cecilia's work can be found in public art collections in Alabama, Arizona, Colorado, Georgia, Iowa, Kentucky, Missouri, Nevada, New Jersey, North Carolina, Ohio, Tennessee, Virginia, Washington, Washington D.C. and the United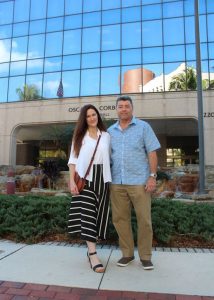 Kingdom.
As a public artist, Lueza's overarching goal is to create permanent, timeless artworks that will be enjoyed and provide inspiration for many generations. The gateway artwork at the corner of MLK and Veronica Shoemaker Boulevards is one such opportunity.
Of course, Ms. Lueza is well aware that creating exciting, colorful art pieces that connect with viewers, the built environment and the community into which they are placed can be a long and arduous process. That's why her short-term goal for each commission is the project's ultimate completion. In that, she'll be aided by her husband and business partner, Rick Munne'.
"Seeing the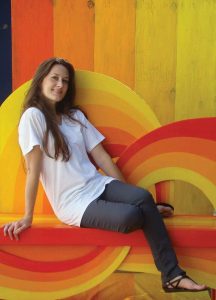 final product is always the best part for me," Cecilia told art journalist Cindy Stovall earlier this month.
That should happen with Journey of Hope sometime in this Fall.
February 25, 2022.
RELATED POSTS.