'Buck's Backyard' mural getting five new panels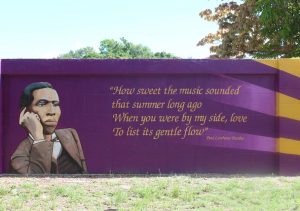 Buck's Backyard is a mural painted on the wall behind historic McCollum Hall. While members of the Dunbar community have wholeheartedly embraced the pictorial narrative conveyed by the mural's 17 panels, some feel that the mural is incomplete. That's because the five easternmost sections of the cinderblock wall were left unpainted as the wall extends beyond the boundary of the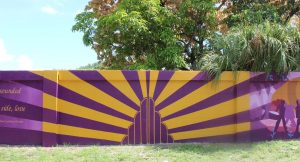 land encompassed by property that City's Community Redevelopment Agency acquired back in 2008. But now, with a grant from the City's Public Art Committee, muralists Erik Schlake, J.P. Almonacid and Roland Ruocco are finishing what they started in the Fall of 2020.
As the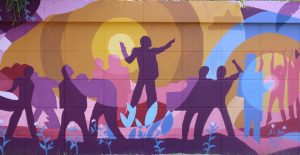 mural relates, McCollum Hall became the heart of Dunbar (which was then known as Safety Hill) in 1938 when entrepreneur Clifford "Buck" McCollum, Sr., and his wife, Gertrude, opened a much-needed commercial and recreational space at the intersection of Anderson Avenue (since renamed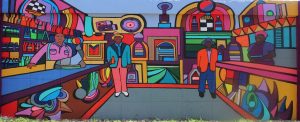 Martin Luther King, Jr. Boulevard) and Cranford Street. The Art Deco building's ground floor housed a liquor store, shoe store, clothier, barber shop, coffee house and grocery store. But it was the dance hall on the second floor that energized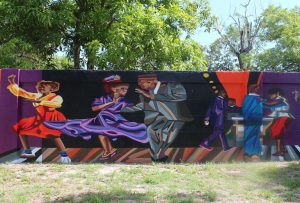 the community and contributed to Dunbar's social standing in the years preceding and following World War II.
Located a scant two miles east of Tamiami Trail, McCollum Hall was a convenient midway between St. Petersburg's Manhattan Casino and the Harlem Square Club in Miami. Both were well-established, vibrant and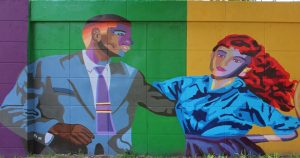 popular stops on the so-called Chitlin' Circuit, a network of tight, crowded nightclubs, dance halls, juke joints and theaters in African-American neighborhoods in the Midwest and Southeast that hosted some of the best talent in American music history. And mid-week and some weekends,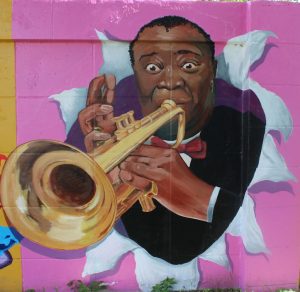 a number those entertainers played McCollum Hall – including Count Basie, Louis Armstrong, B.B. King, Lionel Hampton, Otis Redding, Lucky Milliner and Duke Ellington and his orchestra.
As its reputation grew both locally and regionally, McCollum Hall became a mecca not just for African-American patrons, but whites as well. On many a night, the ropes that segregated blacks from whites came down as dancers reveled in the sounds emanating from the stage. But the action just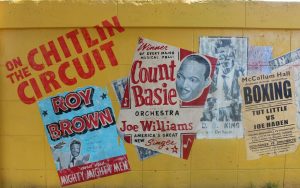 wasn't confined to the upstairs entertainment venue. Those who couldn't get in or couldn't afford the price of a ticket to the show inside often partied in the parking lot, which the local affectionately nicknamed "Buck's Backyard."
The mural tells these and related stories. There's one panel that pays tribute to the community's namesake, Paul Laurence Dunbar.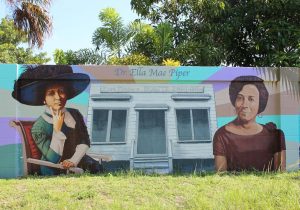 Another describes McCollum Hall's connection to the Harlem Renaissance, Art Deco and modern African-American Art movements. Some panels are based on historic old photographs, like the one depicting Buck and his wife, Gertrude, in their first-floor liquor store. Several more feature the folks who danced both upstairs and ground level in Buck's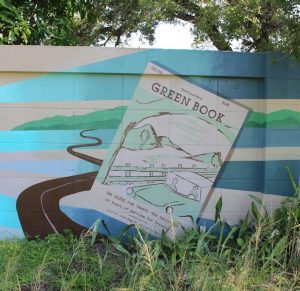 Backyard. In fact, one of the women who graced the McCollum Hall dancefloor all those years ago showed up while muralist J.P. Almonacid was painting. Now, 102, the venerable Miss Cox never dreamed that anyone would do a mural project on that wall behind McCollum Hall, never mind that she would be featured in one of its panels.
Spurred by happenings like that one, muralists Erik Schlake, J.P. Almonacid and Roland Ruocco continued to research the events in and surrounding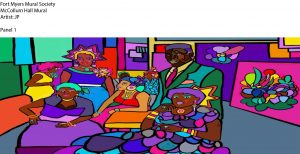 McCollum Hall long after they'd completed the mural's current 17 panels last year. So when resident prevailed upon the Community Redevelopment Agency and Public Art Committee to expand the mural to include the rest of the wall, they were primed and ready to go with newly-discovered and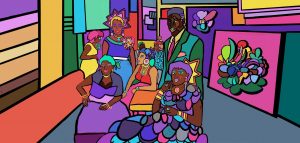 never-before-seen historic photos from inside the dance hall and the sidewalk out front.
The five new panels will be a rich addition to an already stellar placemaking artwork – and an early Christmas present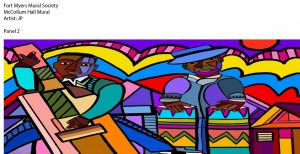 not just to the surrounding neighborhoods or the Dunbar community at large, but to all of us who live, work in and visit Fort Myers.
Schlake, Almonacid and Ruocco expect to complete work on the panels by December 10.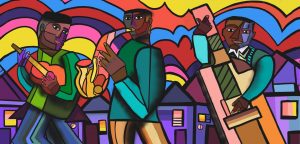 There is also a Guidebook in the offing that will provide the rich details and background that served as inspiration for each of the panels of Buck's Backyard.
Watch this space for future developments.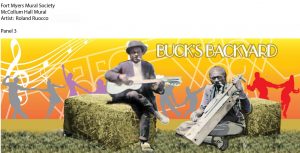 November 14, 2022.
RELATED POSTS.