'In the Heights' play dates, times and other information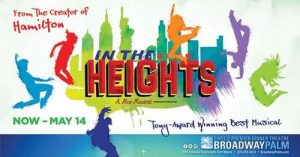 Play:  In the Heights
Book:  Quiara Alegría Hudes
Music & Lyrics: Lin-Manuel Miranda
Setting:  Washington Heights, New York City
Synopsis:  Change has come to the Latino community of Manhattan's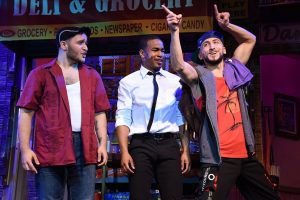 Washington Heights. Rents are rising. Businesses are closing. And a long-time resident by the name of Usnavi thinks this might be the perfect time to close his bodega and pursue his dream of opening a bar in his home country, the Dominican Republic, a place his parents spoke of often before they died when he was still a child. His story is intertwined with a fiery cosmetologist by the name of Vanessa,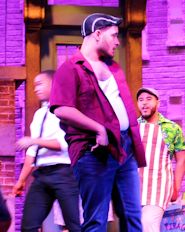 who works in a unisex beauty salon that is also in danger of closing, and his childhood friend, Nina, who is trying to decide if she should finish her studies at Stanford or pursue a romantic relationship with Benny, a shy young African-American guy who works for her parents. Iin the middle of all this drama, the kindly Abuela Claudia, the woman who raised Usnavi after his parents died, wins enough money in a numbers game to make everyone's dreams come true. In the Heights combines Latin rhythms and dance with hip-hop lyrics to tell a captivating story about what it means to chase your dreams as you cling to your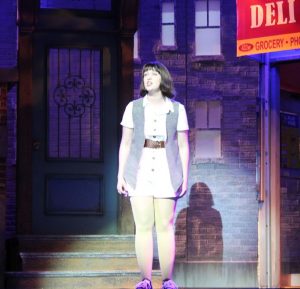 roots, and to celebrate the community from which you grew.
Director: Eliseo Roman
Asistant Director & Choreographer: Rebecca Kritzer
Cast:
Usnavi:  Justin Torres
Vanessa:  Jessie Del Rio
Nina:  Paula Figueroa Caunedo
Benny:  Luther Brooks IV
Abuela Claudia:  Leanne Acero
Sonny:  Darren Velardez
Camelia:  Tamarin Ythier
Kevin:  Rudy Martinez
Graffiti Pete:  Matt Rivera
Piragua Guy:  Jon Rodriguez
Carla: Annette Rodriguez
Ensemble: Christopher Alvarado, Robert Armstrong, Natalie Carrera, Michael Charles, Kiana Cintron, Jonathan Chase Everheart, Lexi Julian, Brittany Rincon, Cynthia Ana Rivera, Gabriel Rodrigues and Camille Graciella Theriault
Play Dates, Times and Ticket Information: April 8 through May 14. Go here for dates, times and  pricing options.
Location: Broadway Palm Dinner Theatre, Royal Palm Square, 1380 Colonial Boulevard, Fort Myers, FL 33907
More Information:  For more information, please call 239-278-4422.
April 1, 2022