Like Corden's Crosswalk segments, Lab's 'Let Nothing You Dismay' delivers tightly-choreographed zaniness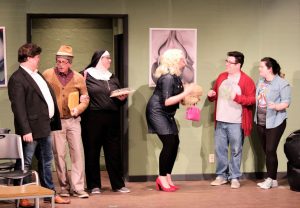 Topher Payne's Let Nothing You Dismay runs for two more weekends at Lab Theater. It's a quick-paced, frenetic farce that will appeal to anyone who's ever participated in a Chinese fire drill – or better still, has been lucky enough to catch an episode of Crosswalk the Musical on The Late Late Show.
Most today know Late Late Show host James Corden for his highly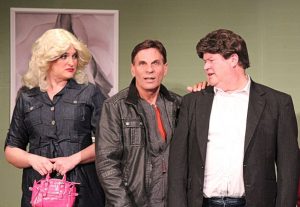 popular Carpool Karaoke segments, which have featured such notable singers as Sir Paul McCartney, Adele, Katy Perry, Shawn Mendes, The Jonas Brothers, Adam Levine, Christina Aguilera and Bruno Mars, to name a few. But it is his Crosswalk the Musical segments that especially resonate with theater aficionados, who know full well that Corden actually made his mark first on Broadway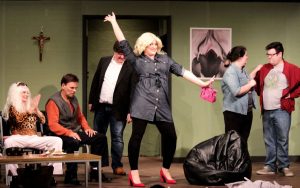 and the West End, where he played Timms in The History Boys.
In the segment, Corden, his company of Crosswalk performers and special guests from select Broadway musicals (e.g. Phantom, Lion King, Mary Poppin, Les Misérables and Aladdin) perform numbers in the crosswalk of busy intersections in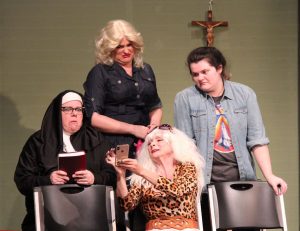 Los Angeles, New York, London and Paris. When the light turns red, Corden and company venture into the middle of the street pushing and pulling platforms and props, and when the light changes to green, they dart back to the sidewalks as traffic zooms by. It's all done in real time. While the police are on hand to oversee the shenanigans, they don't close the street. That means that Corden and company have just 30 to 45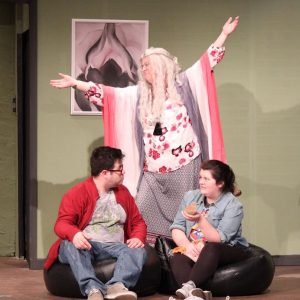 seconds to do their song-and-dance numbers before they have to clear the intersection so that traffic can resume.
And that brings us to Let Nothing You Dismay, in which 8 stalwart actors portray 22 separate characters and four hospital attendants over the course of the two-hour play. The action takes place in the minimalist waiting room of a hospital maternity ward on Christmas Eve, where an assortment of dysfunctional family members and eccentric friends and neighbors have gathered for the birth via surrogate of Allie and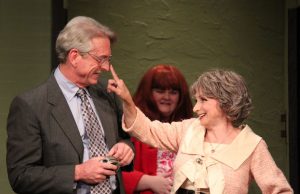 Kevin's new baby, much to their consternation and dismay. Most of them are madcap screwballs drawn in broad brushstrokes, and to add to the overall tension and comedy, Kevin's side of the family is Catholic, Allie's is Jewish, and there may even be a Wiccan or two in the mix.
It's not necessarily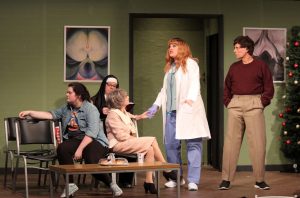 important to keep all the characters and their backstories and relationships straight to enjoy this show. Like Corden's Crosswalk the Musical, the fun here is in the pacing unfolding on stage. While the audience isn't privy to the split second costume and wig changes taking place off stage, it does get to watch the veritable turnstile of entrances, exits and activity on stage.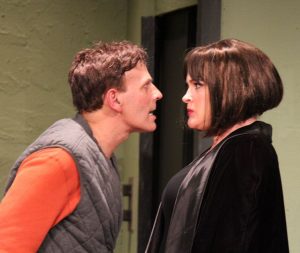 Multiple characters are moving all the time, and Directors Annette Trossbach and Steven Coe are to be complimented on the intricate blocking and choreography necessary to properly pull of a quick-change comedy such as this one.
As challenging as this aspect of the play may be, it pales in comparison to the personality changes and intersecting conversations that Topher Payne builds into his script. If you think it's tough to keep track of all the different conversations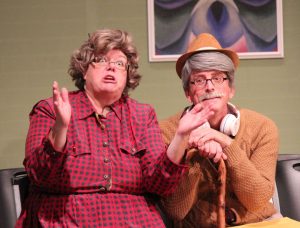 taking place, for example, around the Thanksgiving table or during other family gatherings, imagine how hard it is to replicate that kind of intertwined banter on a stage where the length of time any one character remains on stage can be measured with a chess timer.
With 22 characters from which to choose, everyone's likely to develop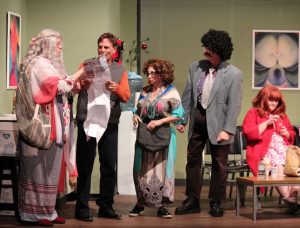 an affinity for one or more over the course of the play, and each of the cast members except David Cooley and Amanda Collins enjoyed the opportunity to portray a delectable sampling of idiosyncrasies, quirky personality traits and character flaws.
For example, Holly Bogert Zammerilla plays Noreen the sticky bun Nun, Bubbie, a feisty Jewish grandmother with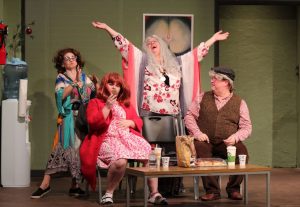 something of a death wish, and Charlotte, Kevin's egocentric mother who abandoned him as a boy to start a New Age artist colony. In the latter role, Zammerilla not only looks the part, but talks and waves her arms with all the flamboyance that one would expect of an aging Dylan-devotee flower child.
Todd Lyman finds his element in comedic roles, as he proved recently in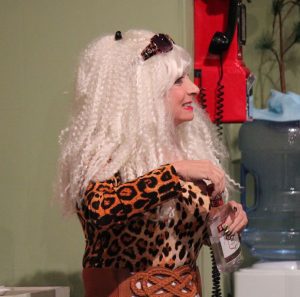 D.M.V. In Let Nothing You Dismay, he's the toupeed Assemblyman Paul Gordon, a bespectacled Mr. Yarmowich and jovial red-sweatered Dr. Tim who could pass as Cameron Tucker's (Modern Family) long lost brother or Doppleganger.
Ken Johnson spans the emotional spectrum, portraying Kevin's Red Lobster-loving grandpa and the heavily mustached Ivan along with Allie's comparatively stable but boring dad Oscar Saperstein. And Scott Davis adds to the mix with the earnest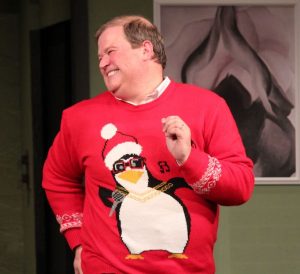 Dennis Gordon, Dr. Tim's red-sweatered partner Jerry and Rich.
Besides doing the costumes for the show and serving as its Production Manager, Kristen Wilson is hysterical as Kevin's frozen-faced, Vodka-swilling grandmother Tawny, a Chapstick lesbian childbirth companion by the name of Deb and Allie's elegant straight-laced mom, Linda Saperstein.
Danielle Channell doesn't just make the most of her time on stage.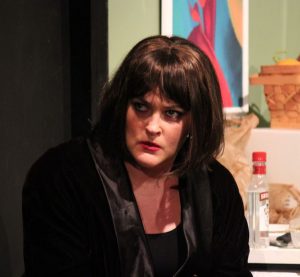 She's missed when she's offstage and the center of attention each time she returns, once again validating her well-deserved reputation as Southwest Florida's Queen of Farce. She's appropriately abrasive as Allie's ultra-competitive brain surgeon sister Angela. She's spooky but strangely seductive as the dark and cynical e-cigarette and soul sucking author Brianna who, like a mythological basilisk, can kill with a homicidal stare. But she absolutely, positively slays the role of Kaitlyn,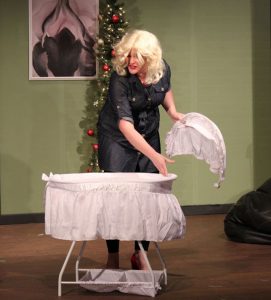 a seemingly vacuous former beauty queen who is regarded by the family as just Kevin's father's blond bombshell trophy wife. Ah, but appearances are often deceiving, and that's certainly the case with Kaitlyn, who has the distinction of delivering a highly intuitive and emotional monologue at the end of the show which sums up the importance of family while assembling the Sweet Beginnings baby basinet that no one else was able to put together.
For good or ill, David Cooley and Amanda Collins don't get to wring as much comedy from their roles as adoptive parents Kevin and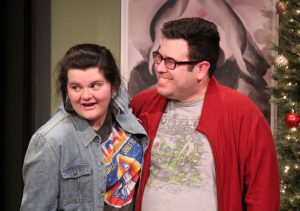 Allie Gordon, but their function within the structure of the play is equally important. The newlyweds serve as foils – and a much-needed counter balance to all the zaniness swirling around them. But they do get to dabble in the craziness a little when they switch roles and play the couple's surrogate, Lizzie, and her boyfriend Leonard.
As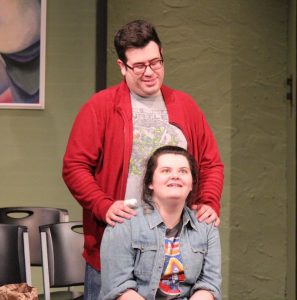 is evident from this brief survey of the characters in this play, there's a lot going on in Let Nothing You Dismay. While the actors may not have to dodge traffic each time the lights turn green, they're similarly challenged to display their wares in impossibly short, staccato bursts of bedlam that will have you roaring with laughter and dabbing away tears of joy.
Let Nothing You Dismay runs now through December 22 at the Laboratory Theater of Florida.
November 9, 2019.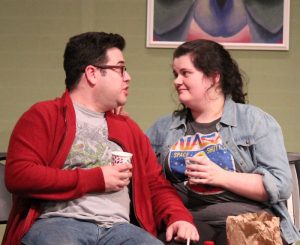 RELATED POSTS.