'Dangerous Liaisons' play dates, times and ticket information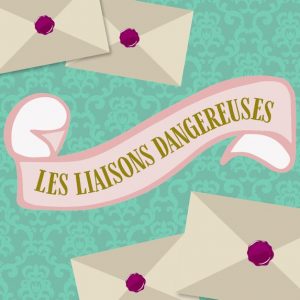 Play:  Les Liaisons Dangereuses
Playwright:  Christopher Hampton, adapted from the 18th-century novel by Pierre Choderlos de Laclos
Synopsis:  Set in France around 1760, the Marquise de Merteuil needs a favour from her ex-lover, Vicomte de Valmont. One of the Marquise de Merteuil's ex-lovers, Gercourt, is betrothed to a virtuous young woman called Cecile de Volanges, who has only recently been presented to society after spending her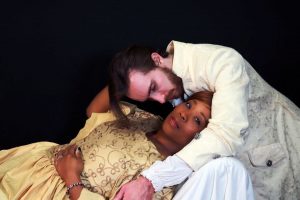 formative years in the shelter of a convent. The Marquise would like Valmont to seduce Cecile before her wedding day, thus humiliating Gercourt. But Valmont has a conquest of his own in mind: Madame de Tourvel, the beautiful, virtuous and God-fearing wife of a member of Parliament. The Marquise doesn't think that Valmont can seduce Mme de Tourvel. She tells him
that if he can provide written proof of a sexual encounter with Mme de Tourvel, she will offer him a reward: one last night with her. Valmont, however, will find himself falling in love with Mme de Tourvel, and facing the deadly jealousy of the Marquise de Merteuil. All along, Cecile de Volanges is used as a pawn in this game of sexual conquest and scorned love.
Critic's Comment:  "… Hampton's play is sensual, oddly naughty and totally, impassively immoral." – New York Post.
Director:  Paul Graffy
Cast: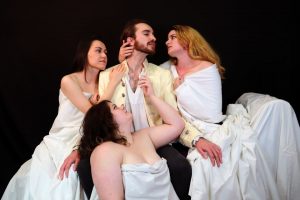 Costume Design:  Ariana Davis
Play Dates and Times:
Half-Price Previews:  April 13 & 14 at 8:00 p.m.
8:00 p.m. performances:  April 15, 15, 21, 22, 23, 28, 29 & 30 and May 5, 6 & 7
2:00 p.m. matinees:  April 17 & 24 and May 1
NOTICE:  Due to mature themes and nudity, no one under 18 will be admitted.
Tickets: Tickets are $30 each or $10 for students with valid student IDs. There are two half-priced previews on April 13th and 14th, and there is a Thrifty Thursday special ticket price of $25 each for adults. For tickets, guests may call the box office at 239.218.0481 or go online at www.laboratorytheaterflorida.com.
COVID Precautions: If socially distant seating is required, please call the box office to arrange it. Masks are required to be worn when inside the theater. There will be no refunds for patrons asked to leave for refusing to honor our mask requirement.
Sponsors: Les Liaisons Dangereuses is sponsored by Ella Nayor and Jeffrey Cull.