Admittedly a farce, 'Marian' denoted by outstanding performances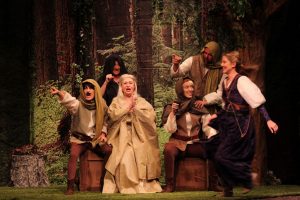 Only three performances of Marian, or the True Tale of Robin Hood remain. Alas, were that it isn't so. It's clear that a lot of hard work has gone into this production, from set to costumes to direction and cast. It's an hilarious good time with moments of exceptional acting, sword play, word play, puns and theatrical surprises that warrant your participation. So make plans to spend time in Nottingham and Robin's
enclave deep inside Sherwood Forest.
Any discussion of this play should start with a shout out to Adam Trummel for a set that infuses the audience with a sylvan feel from the instant they enter the theater and take their seats. The backdrop consists art panels that Trummel's used before. But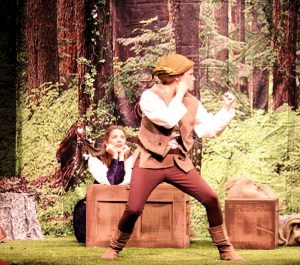 the rolling gantries and turnstiles are new and work well to instantaneously transform the stage from a restful woodland hideout to Prince John's bedroom chamber and the prison tower where Prince John attempts to sequester the fair Maid Marian.
Unlike historical iterations heretofore told of the legendary robber who stole from the rich to give to the poor, playwright Adam Szymkowicz postulates that Robin Hood wasn't merely in love with Maid Marian. Rather,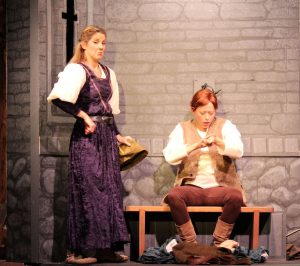 the winsome maiden was actually Robin. Or to be more precise, Robin is Marian's alter ego or nom de plume. That leads to all kinds of hijinks, beginning with Little John, played by Grant Cothren, who is making his Theatre Conspiracy debut.
Although a newcomer to the live stage (he was previously in Don't Dress for Dinner at Cultural Park Theatre), Cothren does a fine job of playing the quick-footed but slow-witted Little John. The only male among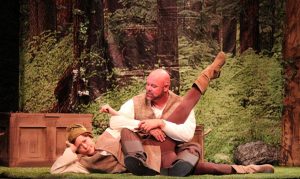 Robin's merry "men," the only thing Little John enjoys more than mixing it up with Prince John's soldiers and the Sheriff of Nottingham is wrestling with Robin in between skirmishes. Cothren delivers one of the funniest sight gags in a play filled with a plethora of situational comedy when he quickly sits down on a rock to conceal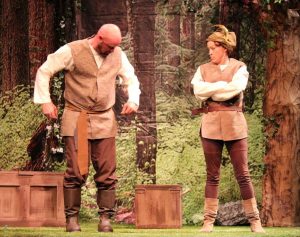 the erection he's gotten after pinning Robin following a particularly intense Greco-Roman bout.
Patrick Day plays Prince John as a pompous, pedantic, self-indulged monarch who beds a bevy of concubines while professing his undying love for the Marian. A character actor par excellence, Day portrays the Prince as an unprincipled, greedy usurper (his brother, Richard the Lionhearted is away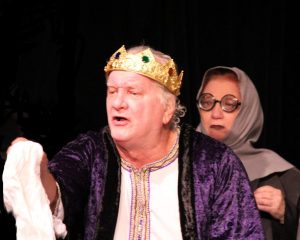 fighting in the Third Crusade) eager to enrich himself at the expense of his minions. He has two seemingly good reasons to loath Robin Hood. Not only is Robin stealing the Prince's gold, he's stolen Marian's heart as well. A handkerchief-waving fop, John doesn't seem to be capable of capturing or killing the legendary yeoman. But never underestimate the likes of a soulless man who would be king.
The incomparable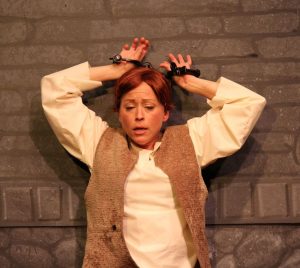 Shelley Sanders plays the role previously made famous by the likes of Errol Flynn, Sean Connery, Taron Egerton, Russell Crowe and Kevin Costner. Before this season started, Sanders was already a good comedic actor, but she's really upped her game this season with break-out performances in Murderers and especially Hand to God.
Sanders is a complete actor. She's smart, committed, possesses impeccable comedic timing and subtle facial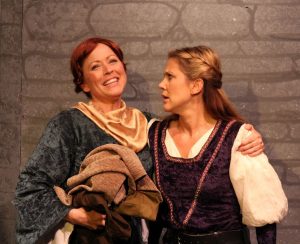 expressions that speak volumes in the tradition of a Debra Messing or Cameron Diaz. But her best attribute is self-discipline. In a farce like Marian, it would be easy, even forgivable, to give in to the temptation to overact. Sanders' restraint sets her up perfectly for the quieter, more serious moments that Szymkowicz has included in the script to make his points about the role of deferred love, self-sacrifice and even the loss of life in the seemingly never-ending fight to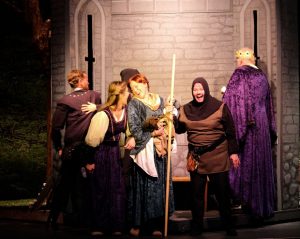 speak truth to power and reign in unabashed avarice, whether in the 15th Century, the Gilded Age or present times.
Lisa Kuchinski and Tamicka Armstrong also turn in outstanding performances as Alanna Dale and Will Scarlett, respectively.
From her opening monologue and the ensuing archery competition,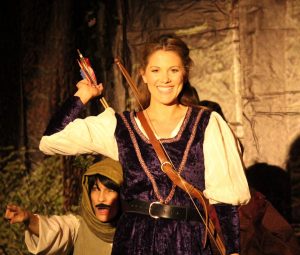 Kuchinski commands the stage. It's an attribute that will serve Lisa well when she reprises the role of Roxy Hart in Cultural Park's production of Chicago opening March 1. While Kuchinski may have her sights set on musical theater (she received a Cultural Park Theatre Marquee Award for Outstanding Featured Actress in a Musical for her performance as Sister Mary Theresa in Sister Act and has appeared such other musicals as Irving Berlin's White Christmas, 
Godspell, South Pacific and Sweet Charity), she possesses the range and talent for both comedy and drama. Her love scenes with Linstead couple pure and innocent sweetness with the hilarity of discovering (like Little John) that she'd actually fallen for a woman rather than one of Robin's merry "men."
Armstrong appeared earlier this season alongside Rachel Burttram and Brendan Powers in Repossessed. Like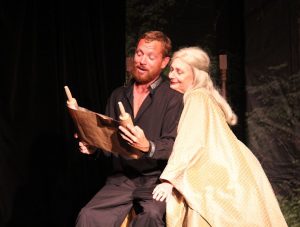 Kuchinski, her performance was nuanced in a role that could have otherwise been one-dimensional.
To no one's surprise, Joann Haley stole virtually every scene in which she appeared. Her character was the libidinous Lady Shirley, a Robin Hood double agent who spent the show hopping from one bed to another as she gathers intelligence from her clueless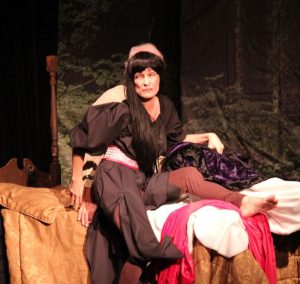 paramours such as the Sheriff of Nottingham (played by Justin Larsche).
It's a credit to Rachael Endrizzi's mad skills as a director that everyone in her extended cast did a terrific job with the roles they were given, including Gerri Benzing as unloved Lucy and poor Tommy of No Consequence, Angel Christine Duncan as Tanner and Sir Theo, Karen Goldberg as Friar Tuck, Kathy Grey and Lauren Drexler as Guards 1 and 2, Anna Grilli as Much the Miller's Son,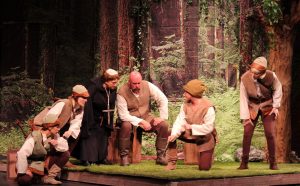 June Koc as Sir Lenny and Guard 4 and Justin Larsche as the Sheriff of Nottingham.
With ample sword play, word play, puns at the ready and acting such as this, Marian, or the True Tale of Robin Hood really has it all. And equally important, it furthers Theatre Conspiracy's rich tradition of producing plays with strong roles for women and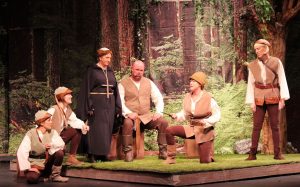 providing opportunities for female directors (Endrizzi), assistant directors (Gwen Salata) and crew (Tiffany Campbell, lights; June Koc, props; and Diana Waldier, costumes).
February 14, 2019.
RELATED POSTS.