Art Walk December 6, 2013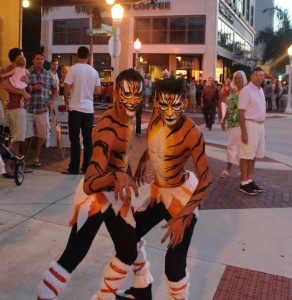 Art Walk returns to the downtown Fort Myers River District on Friday, December 6. The event takes place from 6-10 p.m. With exciting venues like the Art League of Fort Myers on Monroe, Articulture Gallery & Tattoo Studio, Arts for ACT Gallery & Boutique, Enjewel, Ocasiocasa Studio Gallery, Reverie & Rock Art Gallery, the Sidney & Berne Davis Art Center and UNIT A Contemporary Art Space on Evans Avenue, there's much to sample and savor. And to enhance the Art Walk experience, organizers have added live artist demonstrations throughout the downtown are to the popular monthly event.
Here's a summary of everything there is to see and do in the River District on December 6: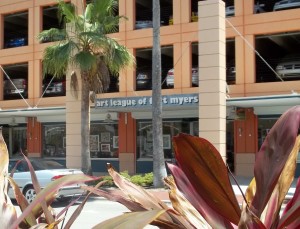 1. The Art League of Fort Myers features "Transition" in December. This show includes work in two separate categories: (1) two-dimensional works in fine art and mixed media, including oils, acrylics, watercolors, pastels, collage, original prints (including etching, lithographs and wood block,) and fiber art; and (2) photography and digital art. Each category will be judged separately and the Art League has announced a $500 cash prize for Best of Show, which means that you will find some excellent work on display at this show. In addition, all of the artworks will be subject to a silent auction, with the results being announced at 8:30 p.m. Twenty-five percent (25%) of the proceeds of each sale will be donated to Footsteps to the Future, a local charitable non-profit organization that assists young women who are transitioning from foster care to independent living.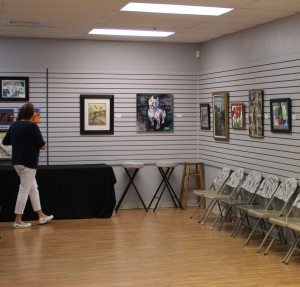 The Art League of Fort Myers has been an active part of the Fort Myers art community since 1956.  It was organized with the goal of advancing the application, enjoyment and distribution of the Fine Arts by providing classes of instruction, workshops, and a gallery for artist exhibition of work. The Art League is located at 1451 Monroe Street, on the ground floor of the City of Palms Parking Garage. For more information, please visit www.artleagueoffortmyers.org or telephone 239-275-3970.
2. Articulture Gallery & Tattoo Studio is holding a group exhibit. Articulture's tattoo artists have had work featured in numerous online magazines. They specialize in original art, cover ups, and all around quality tattoo work.
3. Arts for ACT Gallery & Boutique is featuring two photographers, Lynn Berreitter and Pam Brodersen, the art of Carol Anfinsen and mixed media art by Alisha Koyanis. Students from the Young Artists Awards program will sing Christmas songs.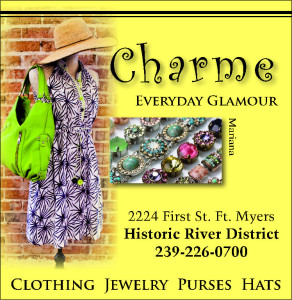 4. Charme carries women's clothing and accessories, including purses, jewelry, hats and shoes. It also stocks the very funny "Laugh with Leslie" cards along with "Dolly Mama." During this Friday's Art Walk, artist Sarah Kiser will provide a free demonstration outside the boutique. For the last decade, Kiser has studied art and taught herself to paint by copying famous portraits. In the process, she's evolved into her own brand with a fan base to match. Several galleries represent her jewelry, paintings and "Eco-Fish," including Island Visions in Matlacha and Arts for ACT Gallery on First Street.
5.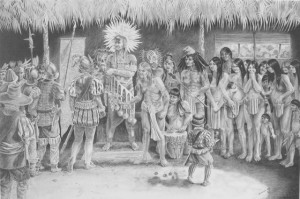 A one-man play based on the life of shipwreck survivor Hernando d' Escalante Fontaneda premiers at ArtCalusa on December 6 at 7 p.m. Written and directed by Shawn Holiday and performed by Carlos Bicho, Captive of the Calusa explores the tragic yet intriguing life of Fontaneda, who grew up among the Calusa after wrecking along Florida's reefs at age 13, a shipwreck in which no other passengers survived. Tickets for the play are $10/person and includes a light reception preceding the show. Following the performance, the free ArtCalusa exhibition galleries will open from 8 to 10 p.m. for ArtWalk.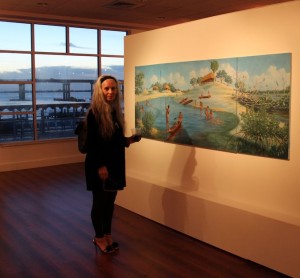 Designated a signature Viva Florida 500 event by the Florida Department of State, ArtCalusa:  Reflections on Representation, is a nine-artist exhibition featuring Florida's leading historical illustrators. The exhibition visually interprets the life and experiences of Florida's indigenous peoples, particularly the Calusa Indians through their contact with early European explorers. ArtCalusa is on display weekdays through December 11 at the City Pier Building (formerly Art of the Olympians Museum), 1300 Hendry Street in downtown Fort Myers. The exhibition will also be open on Saturday, December 7, for the benefit of families and working adults.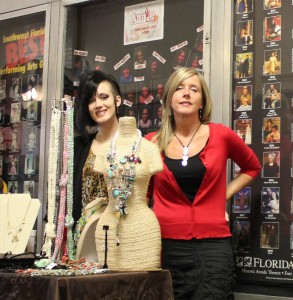 6. Enjewel is the hip First Street boutique that caters to confident and fashion-forward women. Operating under the banner that "with the right accessories [a woman] can do anything," Enjewel offers vintage purses, handmade Mother of Pearl and natural horn bags, faux fur scarves with pockets, and chic dresses galore. "We love supporting local designers with our made in the USA collections," Lynne Routhier posts on Facebook. "These apparel pieces will provide your wardrobe with classic colors and fun prints and you'll be sure to turn a few heads."
7. The Franklin Shops on First are home to permanent exhibits by the Fort Myers based sculptor Steven Swenor – aka The Dragonfly Guy – and to the local painters Jerry McGreens, George Settos, Lourdes Mora-Shay, Lilia Lopez, and Joe Rossi.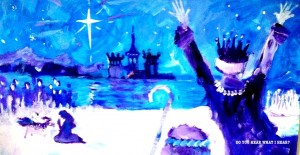 Beginning at 6:00 p.m. and each half-hour after that, Matlacha phenom Leoma Lovegrove will create a new Christmas-themed painting while accompanied by a different musician or group of musicians performing the Christmas carol "Do You Hear What I Hear?" from inside the Shops' front windows.
Michelle Caulkins of Vocal Artistry, Terry Stewart, Jim Tucke and Kip Lawrence are among the well-known local musicians who will join Leoma in this festive celebration of the spirit of giving. The event is free, but donations will be collected for the Salvation Army of Lee County. (If you've never seen Lovegrove "Paint Out Loud," then you're in for a real treat. She uses brushes, spray bottles and even her hands and fingers to create treasured works of art in a mere matter of minutes to the astonishment, applause and appreciation of her live audience so the Art Walk crowd is sure to enjoy the December 6 event.
Kids book author D.G. Stern and his famous dog detective Upton Charles will also visit the shops for a book signing during Art Walk.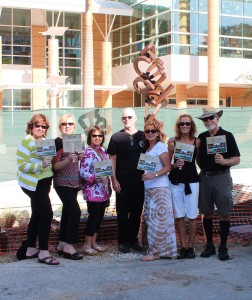 8. The Franklin Shops on First is also home to True Tours, which offers a highly informative historical walking tours, spooky haunted history tours, architectural and public art walking tours. So if you've ever wondered about the history of the old buildings downtown or the public artworks that dot the River District, then stop into the Franklin Shops during Art Walk and book your tour with Gina Taylor. (For more information, you can reach Gina by phone at 239-945-0405 or at www.TrueTours.net.)
The Franklin Shops are located at the corner of Broadway and First in the downtown Fort Myers River District.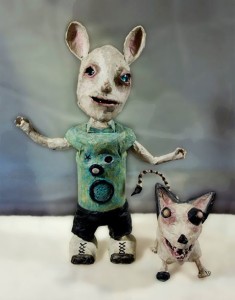 9. Ocasiocasa Studio Gallery presents new artwork by owners Jeff and Dale Ocasio. In the House of Ocasio, sculpture is molded, modelled, crafted and formed through the successive application of layers of masking tape over old vinyl dolls and other found objects that are recycled, upcycled, modified, customized and re-purposed into other-worldly creatures that spring from the fertile imaginations of Jeff and Dale Ocasio. Jeff experiments on these "found canvases," using masking tape to give life to his one-of-a-kind designs. When he's done, Dale takes over, adding water-based professional glue, acrylic paint and varnish. She also photographs each piece at varying stages throughout the creative process and collages the digital images into illustrations that hang on Ocasiocasa's cream-colored plaster walls.
December's new show is a collection of altered, recycled battery operated toys. Months in the making, these one-of-a-kind sculptures perform a range of actions from talking in unison, singing and hopping, barking, crawling, crying, laughing, and more.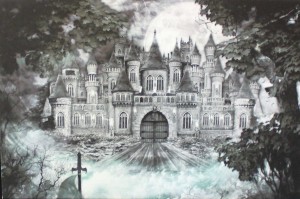 10. Reverie & Rock Art Gallery features the digital surrealism of Kathy Kuser and the rock and country concert photography of Jamie Kuser. "With my art, I want to bring a fresh and contemporary twist to a long established medium – surrealism," says Kathy Kuser. "I find that through tragedy comes hurt and healing. At 50, I am at a point of re-evaluating life's direction and I find myself invigorated by my new form of artistic expression. Using my skills as a graphic designer, I create 2D/3D digital surrealism. Through a mystical and fantasy driven vision, a story emerges from my canvas. I use stark details with transitional blending; thus my art takes flight."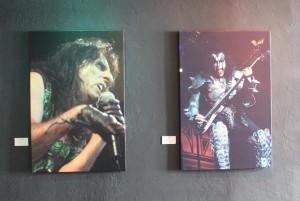 The new downtown Fort Myers art space also showcases the concert photography of Jamie Kuser. For more than 15 years, Jamie has been photographing national recording artists while they perform on stage. From AC/DC to ZZ Top, and from Alan Jackson to Sugarland, Jamie has photographed more than 150 national artists live in concert. His photos have appeared on national tour T-shirts, VH1's Behind the Music, the Associated Press Photo Archives, published in daily newspapers and, of course, in Southwest Florida's own Happenings Magazine.
Also on display for Art Walk is the spray artwork of East Lee County High School artists Jose Guzman, Angelica Salinas and Debbie Orozco.
11. Friday marks the final day to visit the Goodwill Festival of Trees inside the Sidney & Berne Davis Art Center before they are auctioned off on Saturday at the Tux and Trees Gala.
12. The Southwest Florida audience is always the first to see new works by internationally-renowned artist Marcus Jansen. Before they leave Fort Myers bound for exhibitions around the globe, Jansen's newest compositions are hung in UNIT A Contemporary Art Space for the viewing pleasure of art enthusiasts and collectors during Art Walk each month. The private 7,000-square-foot studio-museum does not operate as an ordinary gallery. Rather, it serves as the artist's international headquarters for arranging and coordinating shows with its partnering agents, galleries and museums around the nation and abroad.
By the way, Marcus Jansen will be showing during Art Basel with Galleri Urbane Marfa + Dallas at Art Miami CONTEXT at booth: E38. UNIT A Contemporary Art Space is located at 1922 Evans Street. For information please contact: unitaspaceinfo@gmail.com.
More than 35 participants make Art Walk successful each month and they include the Art League of Fort Myers, Art of the Olympians, Arts for ACT Gallery and Boutique, Charme, Cigar Bar, The Deli, Downtown House of Pizza, Enjewel, First United Methodist Church, Florida Repertory Theatre, Ford's Garage, Fort Myers Community Redevelopment Agency, French Connection, Franklin Shops, Gulf Coast Times, Happenings Magazine, Hotel Indigo, Legacy Harbour Hotel & Suites, Linen Cottage, Lush Bakery, Market America Realty & Investments, The Nest Home & Garden, Ocasiocasa Gallery Studio, The Open Door Shoppes on Hendry, Palm Printing, River District Alliance, The Shoppes at Broadway, Sidney & Berne Davis Art Center, Spirits of Bacchus, Twisted Vine Bistro, UNIT A Contemporary Art Space, United Café Bar & Bistro, The Veranda Restaurant and the Young Artists Awards Program.
Held the first Friday of every month from 6 to 10 p.m., Art Walk features local and national artwork in the downtown art galleries and several art stops in the Fort Myers River District. While thousands will be making their way to the River District for this month's Art Walk and party opportunities, fret not. There's plenty of free parking within easy walking distance of the galleries, shops, restaurants and bars along First and adjoining streets. So call your friends and meet downtown in the city on the Caloosahatchee that's quickly gaining a worldwide reputation as the art center of southwest Florida.