What's Melissa wearing?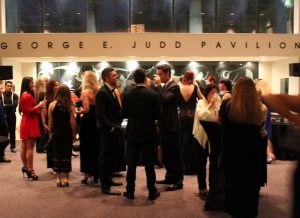 "What's Melissa wearing this year?"
It was the question on everyone's lips at last year's opening night gala at the Barbara B. Mann Performing Arts Hall – or at least the refrain playing across the mellifluous lips of the beautifully coifed and attired female attendees.
It was a fair question. After all, the Fort Myers Film Festival co-producer and co-host had stopped the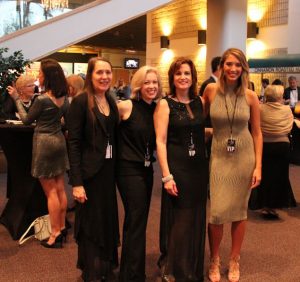 filmmakers, local dignitaries and cineastes who'd attended the festival's glitzy opening night red carpet affair the previous three years dead in their tracks.
At the Sixth Annual Fort Myers Film Festival in 2016, Melissa had arrived in a crystalline white plexiglass gown that shimmered under the lights from the top of its strapless bustier to the wide circular hoop hovering inches above the red carpet and Performing Arts Hall floor.
The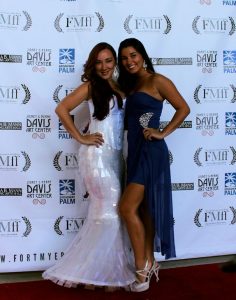 year before, DeHaven channeled her inner Lady Curzon in a eye-popping strapless pink and puce peacock dress that showed off her décolletage and flat tummy before billowing around the gentle sway of her hips, cascading to the ground, and gathering around her comely ankles in a truncated asymmetrical train that would have delighted the designers in gay Paris' venerable House of Worth back in 1903.
And for the 4th Annual Fort Myers Film Fest gala, Melissa made a splash in a snug, form-fitting jet black number that culminated in a mermaid-evoking handkerchief hem composed of tiers of sparkly silver plexiglass that Daryl Hannah would have killed for.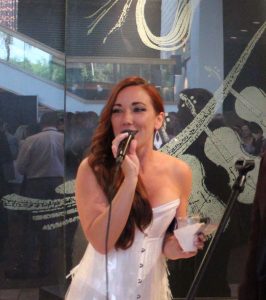 Yes, it was that kind of dress.
Admittedly, the allure of any dress is a product of the designer's vision and the joie de vivre of the woman wearing it. In the latter regard, DeHaven's special combination of sophistication, intellect and bubbly, outgoing personality enable her to uniquely animate whatever she chooses to wear. (No lie, the woman could make burlap seem like haute couture.) But on top of how they made Melissa look or the way they made her feel inside, the dresses themselves have such a strong appeal because of the overt and subliminal statements they make to everyone lucky enough to encounter them.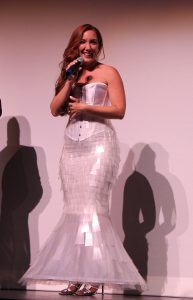 No surprise, all three dresses were designed by imaginative Italian artist Mariapia Malerba, who has built an enviable reputation for transforming materials from everyday life into paradigm-shifting consciousness-raising examples of haute couture. The two plexiglass gowns, for instance, utilized bits and scraps of plexiglass otherwise bound for the trash.
"We live in a throwaway culture in which used materials are typically discarded rather than being repurposed or recycled," notes Malerba thoughtfully. Not only are the discarded items contributing to landfills that rise like mountains into the skies adjoining every community, the natural resources being extracted from the ground to make their replacements are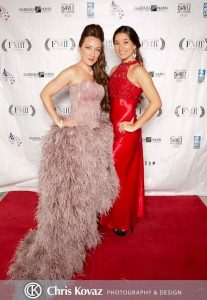 wreaking an equally profound magnitude of environmental damage worldwide.
"What I'm trying to show is that things you throw away can be recycled into something beautiful like haute couture."
It's a sentiment that, some say, was pioneered by Captiva icon Robert Rauschenberg, who merged the realms of kitsch and fine art by melding found objects with traditional media into his Combines and later works.
But Rauchenberg was far from alone in the effort to incorporate objet trouve' into works of art. Picasso incorporated newspapers and matchboxes into this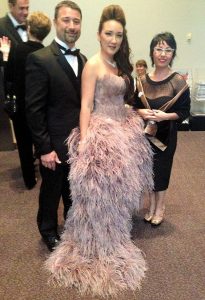 Cubist collages, and dada, surrealist and pop artists have carried on the tradition of using recycled, repurposed and upcycled items in collage and sculpture. Just look at the work of such prominent artists as Marcel Duchamp, Salvador Dali, Louise Nevelson and Damien Hirst.
Through the plexiglass dresses (which come from her appropriately-titled Metamorphosis collection), Mariapia is transferring this very same sentiment into the realm of haute couture.
Even the peacock dress was ecologically friendly.
The feathers she used to make the dress were recycled in much the same way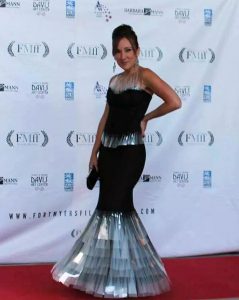 that local artist Alina Eydel incorporates the wings of Blue Morpho Butterflies and Madagascan Sunset Moths harvested from farms in Peru, Columbia, Brazil, Madagascar, Thailand, Vietnam, Sri Lanka and other places into her stylized, acrylicalized mosaics.
The effect is even more stunning in fashion because of the kinetics involved.
But last year, other demands on Malerba's time precluded her from making a new dress for the FMff opening gala.
So Melissa donned a simple, demure floor-length black gown. She looked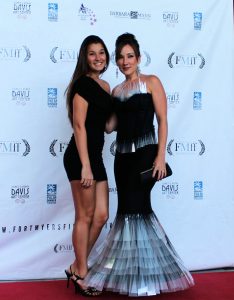 beautiful, of course. She always does. But the opening night crowd murmured their disappointment in much the same way that red carpet gawkers at this year's Golden Globes lamented celebrities' decision to wear black in unified acknowledgement of the #MeToo movement and freshly-announced Time's Up campaign.
But Mariapia is back for this year's FMff opening!
She has a special gown in store for Melissa to wear this year.
What's "the dress" look like? What statement does it strive to make?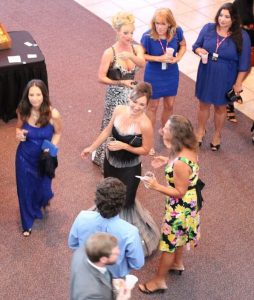 I'll tell you a little more in tomorrow's post.
But while you're waiting, there is action you can take. Tickets to the opening night film, Melody Makers, are just $12 each, tickets are just $9 to the opening night film and VIP after-party, a star-studded backstage affair that allows you to rub shoulders with filmmakers, directors, actors and local luminaries with music, dancing and a fully-stocked bar. The event will provide delicious culinary samples from LYNQ, dessert by Norman Love Confections and spirits by List Distillery. Just click here.
March 16, 2018.