'What's the Point' co-star Kaycie Lee in the frame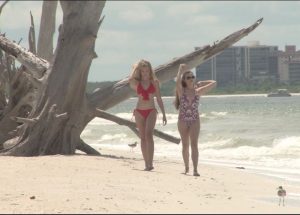 The 8th Annual Fort Myers Film Festival wrapped last Sunday night at the Broadway Palm Dinner Theatre with a champagne and dessert awards ceremony, and taking top honors as Audience Favorite was a 2016 short film by Mario K. Maturo titled What's the Point? The film includes a number of popular local actors (such as Mike Dinko and Marta Sand) and stars Cassidy Reyes and Kaycie Lee.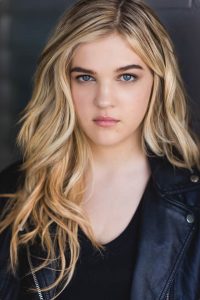 Lee is a young SAG-eligible film actress who lives and goes to school in Cape Coral. Her film credits include the lead in Shapeshifter (Ringling/Darrien Land), Blue Guitars (JemStar Media), The Scent of Her Soul (I Am Resistance Productions) and Fallaway (Aurora Jar Productions), as well as supporting roles in WYDSN (Mountview Creative), Hanging Millstone (Curtis Collins Productions) and a 2016 short science fiction film titled Seers of Light in Shadows. Her work in television includes guest starring in the pilot for Fox's Ana Polo and GymBrats 2.0, a recurring role in S.O.L.I.S. for GetLive TV and the pilot for Believe TV.
"I don't just want to entertain people," Kaycie insists. "I want to improve people's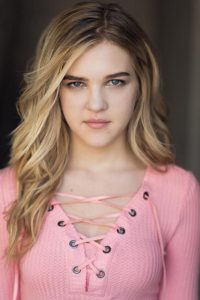 lives and the communities in which they live." Toward that end, she seeks out raw, edgy roles. In The Scent of Her Soul, for example, Kaycie portrays a brutalized sex trafficking victim. Based in part on true events, Fallaway tackles hot button issues like child abuse, sexual abuse and bullying, all wrapped in a compelling crime drama. And Hanging Millstone portrays the choices parents sometimes make and the repercussions they have not only for themselves, but their children as well.
To understand and give poignant performances in these films, Lee has been constrained to grow up fast. "Empathy is key to acting," Kaycie professes. "It's important to me that the audience see my character's world through her eyes,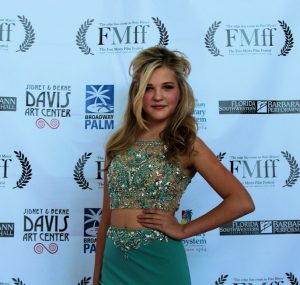 so that the character can come to mean something to the audience; so that the audience may be touched in some way. Characters are flawed and so am I. If not for this, things would be very unrealistic and boring."
Lee began her professional acting career at age 13. She is a Stars of Tomorrow winner in the dramatic category and a Florida State Thespian Superior. She received a Platinum Award in the national Turn-It-Around Tour for her performance in Joan of Arc.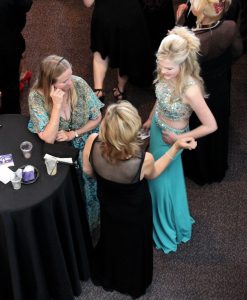 She has studied intensively, taking many on-camera acting classes, intensive scene study workshops and has trained with an acclaimed acting coach in L.A. to further develop her craft. But it was when she began preparing to play the lead in Lab Theater's 2015 production of The Diary of Anne Frank that she realized that her dream and life ambition is to bring characters to life in a realistic, heart-touching and meaningful way.
Kaycie credits much of her early success to her acting method, which involves immersing herself in her roles, no matter how troubling or horrific they may be. For example, in Anne Frank, Kaycie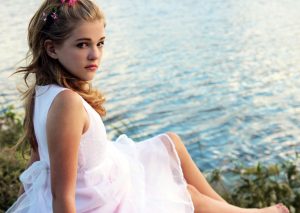 not only devoured all three versions of the diary, she studied documentaries on the Holocaust, dragged her mother to the Holocaust Museum in Naples and attended a talk at a university that was given by Shoah survivors. She even tried to obtain a video of the 1997 Broadway play starring Natalie Portman, but couldn't obtain a copy from the National Archive. While she admits to being horrified by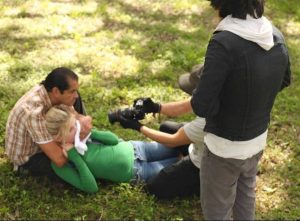 what she read, heard and saw ("humanity's destructive urge … to rage, murder and kill" to quote Anne Frank herself), these experiences enabled the then-13-year-old to better appreciate Anne Frank's unshakable belief that in spite of it all "people are truly good at heart."
"She is a very strong actor who is going places," predicts Anne Frank director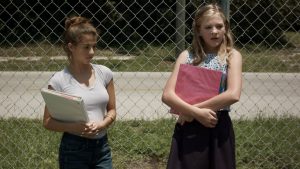 and Lab Theater founder Annette Trossbach. Scent of Her Soul director Jonathan Sapienza calls her a "true gift."
Lee is particularly proud of Blue Guitars, for which she wrote the screenplay. She stars in the film along with Miami singer/songwriter Priscila Marie and Deborah Ford Smith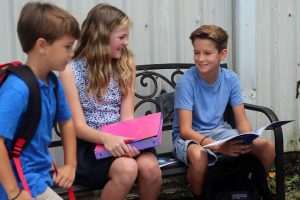 in the role of Gwendolyn. Not content to merely mouth the lines written by others for the characters she plays, Kaycie is promises to do more screen and play writing in the future, noting that her interest in writing and animating stories goes back to when she was just six years old.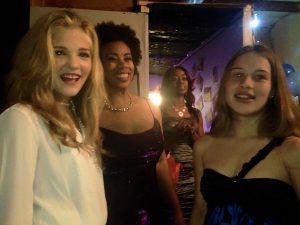 What's the Point? is not Lee's first award-winning collaboration. Hanging Millstone won Best Local Film honors at its debut in the 2016 Fort Myers Beach Film Festival. The thriller's short film predecessor, The Hanging Millstone, won a People's Choice Award at the 2015 Fort Lauderdale International Film Festival.
Kaycie missed this year's Fort Myers Film Festival because she was in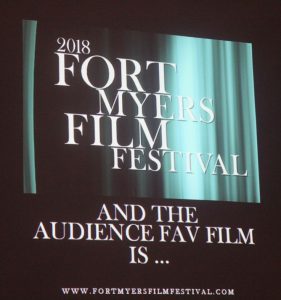 Orlando shooting a commercial for Disney World.
March 29, 2018.
RELATED POSTS.